PRINCETON, NJ -- A new USA Today/Gallup poll documents the net effect of the mixed results from the Jan. 3 Iowa caucuses and Jan. 8 New Hampshire primary on national preferences for the Republican and Democratic presidential nominations.
On the Republican side, John McCain and Rudy Giuliani have essentially swapped positions since a mid-December USA Today/Gallup poll. According to the weekend survey, conducted Jan. 10-13, McCain now leads the GOP field with 33% of the vote of Republicans or Republican-leaning independents. Giuliani has traded his front-runner position for third place (although he is just two points ahead of Mitt Romney), with 13% now supporting him for the nomination, down from 27% in the Dec. 14-16 poll. Mike Huckabee is in second place with 19% -- similar to where he was before the real voting started. He was tied for second place with 16% in mid-December, though he briefly rose to first place with 25% support immediately after his strong win in Iowa.
Romney is hanging on to his second-tier position with 11%. Support for Fred Thompson, at 9% in the new poll, has faded from the 14% recorded in December, and is his worst showing since he entered the race last spring.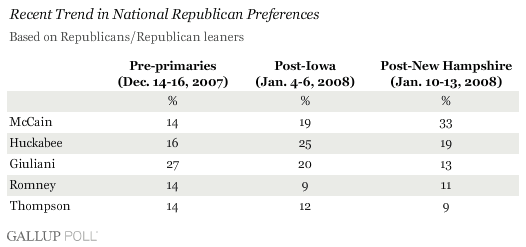 Ron Paul, Duncan Hunter, and Alan Keyes share the support of 6% of Republican voters among them, the same as in mid-December.
Clinton On Top
On the Democratic side, Hillary Clinton leads Barak Obama by a 12-point margin -- 45% vs. 33% -- among Democrats and Democratic-leaning independents. This is slightly narrower than her 18-point lead in mid-December.
That narrowing is entirely because of an increase in support for Obama since December, from 27% to 33%. At 45%, Clinton's support is exactly the same today as it was in December. An interim Gallup Poll, conducted immediately after the Iowa caucuses in early January, showed Clinton and Obama tied at 33%. However, that bounce for Obama -- coming off his big win in Iowa -- was largely, though not entirely, erased by his unexpected second-place showing in New Hampshire.
After jumping up to 20% immediately after Iowa, John Edwards' support is back to its December level, in the low double digits. Since December, Bill Richardson, Joe Biden, and Christopher Dodd have all dropped out of the race, and at least by the overall numbers, it appears that their support has mostly gone to Obama. The only remaining lower-ranked candidates still in the race are Dennis Kucinich and Mike Gravel, both with 1%.

Survey Methods
Results are based on telephone interviews with 2,010 national adults, aged 18 and older, conducted Jan. 10-13, 2008. For results based on the total sample of national adults, one can say with 95% confidence that the maximum margin of sampling error is ±2 percentage points.
For results based on the sample of 831 Republicans or Republican leaners, the maximum margin of sampling error is ±4 percentage points.
For results based on the sample of 1,021 Democrats or Democratic leaners, the maximum margin of sampling error is ±3 percentage points.
Interviews are conducted with respondents on land-line telephones (for respondents with a landline telephone) and cellular phones (for respondents who are cell-phone only).
In addition to sampling error, question wording and practical difficulties in conducting surveys can introduce error or bias into the findings of public opinion polls.