PRINCETON, NJ -- Investors were pleasantly surprised last Friday when it was reported that the Reuters/University of Michigan preliminary index of consumer sentiment increased to 80.5 in January from December's 75.5. To many economic observers, this finding seemed highly counterintuitive given all of the economic pressures on the average consumer -- including high energy prices, the housing debacle, a consumer credit crunch, and, most recently, a plunging stock market.
Unfortunately, Gallup polling conducted over the last several weeks does not show any sustained post-holiday uptick in consumer optimism. In fact, Gallup measures show that consumer confidence has declined even in the weeks since the new year began. Any positive consumer reaction to proposed interest-rate cuts and fiscal stimulus plans prior to Tuesday's Federal Reserve Board rate cut is not yet measurable.
Consumer Expectations Back Near Historical Lows
Right now, 30% of U.S. consumers rate current economic conditions as "poor," according to Gallup Poll measurements involving more than 2,000 interviews conducted on Jan. 19-20, 2008. This is up from 25% in a Jan. 4-6 Gallup Poll and is the highest percentage providing this rating since Oct. 24-26, 2003, when 30% held a similar view of the U.S. economy during the first year of the war in Iraq.
Even more significantly, in the most recent poll, only 12% of U.S. consumers say current economic conditions are getting better while 82% think they are getting worse. This marks a drop from the 15% who said conditions were getting better and 77% who said they were getting worse earlier this month. It also brings consumer expectations below the historical low point they hit two months ago, when 13% said conditions were getting better and 78% said they were getting worse. Gallup began measuring consumer expectations with this question in July 1991.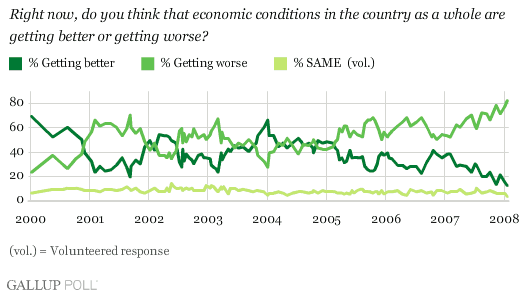 Will Fiscal Stimulus Change Expectations?
During recent weeks, Fed Chairman Ben Bernanke has made it clear that monetary policy-makers will continue to lower interest rates; many observers assume the Fed will do so even after the ¾-point reduction Tuesday. Late last week, Bernanke also endorsed a new fiscal stimulus plan, and the president -- along with key members of Congress -- put forth their ideas about how such an immediate effort might be structured. Still, the stock market continues to tumble and current consumer expectations remain below those that existed just prior to Sept. 11, 2001, when 19% of consumers said economic conditions were getting better and 70% said they were getting worse.
Obviously, the acknowledgment by the Fed and the president that the current economic situation demands immediate action on their part is something of a "two-edged sword" in terms of consumer and investor psychology. On the one hand, the willingness of public policy-makers to respond immediately to deteriorating economic conditions should bolster consumer confidence. On the other, the acknowledgment that action is urgently needed to bolster the economy confirms the fears of many that the economy is entering a significant recession if one hasn't already begun.
So far, the polls and the markets suggest that consumer and investor fears are winning out. Of course, the impact of Tuesday's interest-rate cut on consumers is yet to be measured and it is possible that the beneficial impact of an immediate fiscal stimulus plan on current consumer psychology has yet to be reflected in Gallup's polling conducted as of Sunday night. However, the fear of a significant recession may more than offset the psychological benefits on consumers of both the Fed's action and the proposed fiscal stimulus -- at least until federal checks begin appearing in consumer mailboxes.
Survey Methods
These results are based on telephone interviews with 2,053 national adults, aged 18 and older, conducted Jan. 19-20, 2008. For results based on this sample, one can say with 95% confidence that the maximum margin of sampling error is ±2 percentage points. Other results are based on telephone interviews with 1,023 national adults, aged 18 and older, conducted Jan. 4-6, 2008. For results based on this sample, the maximum margin of sampling error is ±3 percentage points.
In addition to sampling error, question wording and practical difficulties in conducting surveys can introduce error or bias into the findings of public opinion polls.