PRINCETON, NJ -- Early this week, the Federal Reserve Board reported that according to its January 2008 Senior Loan Officer Opinion Survey on Bank Lending Practices, financial institutions tightened their lending standards over the past three months. Although it usually takes some time for the average American to feel this kind of credit crunch, recent Gallup polling suggests that consumers are already getting the message.
More Consumers Know People Turned Down for Credit
According to a new USA Today/Gallup poll, conducted Jan. 30 to Feb. 2, nearly one in four consumers (23%) say they know someone close to them who has been turned down for credit over the past three months. This is technically the highest percentage that has been recorded on this measure since Gallup began tracking it in April of last year. It is up slightly from the 21% who said the same thing in December, and significantly from the 18% of November and the low point of 16% seen in April and June 2007. Gallup does not have a reading on this measure from previous years, when credit policies were looser and, presumably, the percentage who knew someone who was turned down would have been still lower than the lowest reading from 2007.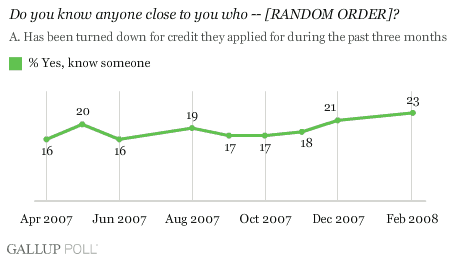 Middle-, Lower-Income Consumers More Likely to Know People Turned Down for Credit
One in four consumers (25%) making less than $30,000 a year, and 28% of those making between $30,000 and $74,999, said they know someone close to them who has been turned down for credit they applied for during the previous three months. This compares with about one in five consumers (19%) making $75,000 or more annually.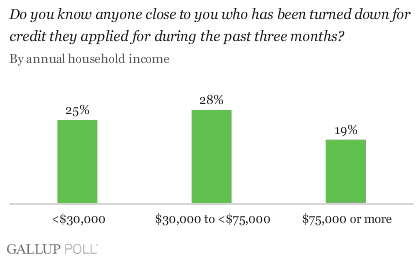 Is the Fed "Pushing on a String"?
Over the past few weeks, the financial markets have demanded lower short-term interest rates, and the Fed has complied. While some have argued that lower interest rates are essential to cushion the current economic downturn, the steadily expanding consumer credit crunch shows that the Fed's ability to expand consumer credit availability in the current economic environment is highly limited. The Fed can make money cheaper and readily available to the nation's financial institutions but it can't make them lend -- essentially this is like pushing on a string from a Fed policy perspective.
Lower interest rates can help financial services firms' earnings, but they shouldn't and won't undo the need to go back to the more reasonable loan underwriting standards that prevailed prior to the creation of the so-called "subprime" debacle. And this tightening of lending standards seems to be having a significant impact already, according to Thursday's Fed report, which showed consumer debt expanded at the slowest pace in eight months during December.
Gallup's polling also indicates that the consumer credit crunch is spreading; it appears to be having the greatest proportional effect on middle-income rather than on lower-income households. Of course, the former tend to be bigger users of consumer credit than their lower-income counterparts. In turn, this suggests a growing impact on consumer spending, particularly as far as larger purchases are concerned.
Significantly, the Fed's Loan Officer Survey shows that financial institutions are tightening their lending standards for small businesses and larger companies as well. This suggests that the current consumer credit crunch is expanding to ensnare the nation's businesses.
In sum, the Fed's lowering of interest rates is a lot more like pushing on a string than it has been in past recessions. The Fed's actions may help the consumer and business psychology, but the Fed's ability to significantly moderate the current economic downturn is extremely limited right now.
Survey Methods
Results are based on 995 telephone interviews with national adults, aged 18 and older, conducted Jan. 30-Feb. 2, 2008. For results based on the total sample of national adults, one can say with 95% confidence that the maximum margin of sampling error is ±3 percentage points.
Interviews are conducted with respondents on land-line telephones (for respondents with a land-line telephone) and cellular phones (for respondents who are cell-phone only).
In addition to sampling error, question wording and practical difficulties in conducting surveys can introduce error or bias into the findings of public opinion polls.