PRINCETON, NJ -- More than half of 30- to 64-year-olds in the United States say they are worried they will outlive their money after they retire.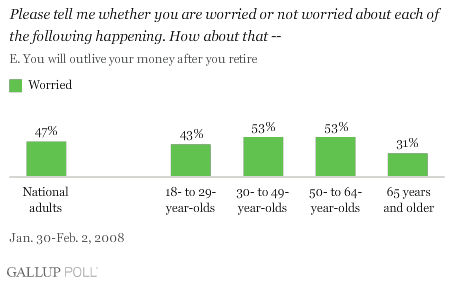 More Fallout From the Current Financial Squeeze
On Tuesday, the Labor Department reported that producer prices surged in January, reflecting soaring food and energy prices. At the same time, Federal Reserve Vice Chairman Donald L. Kohn noted that while price increases are of concern, the slowing of the U.S. economy is an even greater potential problem right now, thereby implying that more interest-rate cuts may be on the way. While lower interest rates are good for borrowers, the same cannot necessarily be said for those seeking a safe and secure way to obtain a reasonable return on their savings and investments.
The financial squeeze that results for many Americans, as they must spend more for necessities while getting less return on their investments, may be one of the reasons why 47% say they are worried they will outlive their money after retirement. While 31% of those aged 65 or older and 43% of those aged 18 to 29 hold such fears, a substantially higher 53% of both 30- to 49-year-olds and 50- to 64-year-olds say they are similarly worried about outliving their money.
One Result Is to Delay Retirement
Faced with today's financial squeeze and fears of outliving their savings during retirement, many Americans seem to have concluded that one way to address their fears is to delay their retirement. Forty-five percent say they are worried they will have to retire at a later age than they had originally planned. Not surprisingly, higher percentages of those in the younger age groups are worried: 57% of those aged 18 to 29 and 55% of those 30 to 49 hold this view. Among those closer to retirement (50- to 64-year-olds), 43% worry they will have to retire later than they had planned, while only 14% of those at retirement age (65 years of age or older) are worried.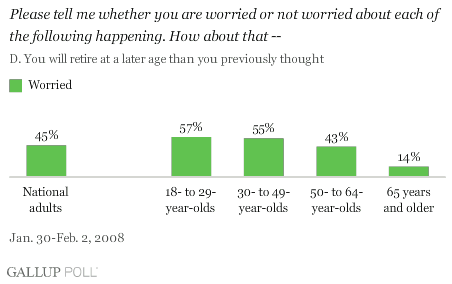 The Inflation/Deflation Simultaneous Squeeze
As many baby boomers and their younger counterparts look toward retirement, they may find themselves on the wrong side of both parts of the current inflation-deflation debate. On the one hand, as consumers, they are experiencing a surge in inflation as food and energy prices soar, along with ever higher healthcare and college costs. Forty-four percent of Americans worry they will not be able to afford college tuition for a child or someone else in the family while 26% worry they won't be able to pay off college debts. Thirty-three percent worry they will not be able to pay medical or health costs over the next 12 months.
On the other hand, many of these same consumers are experiencing significant deflation as the value of their homes has declined. According to Tuesday's Case-Schiller index report, housing values have tumbled 8.9% over the past year -- the largest drop in the 20-year history of the index. Given this context, it should not be surprising that 43% of Americans worry about their homes losing value over the year ahead.
As a result, anyone planning for retirement right now has reason to worry as their basic cost of living increases, their investment income declines, and the value of their major asset -- their home -- declines. Of course, if the current financial squeeze on consumers continues or intensifies, many Americans will be worried about much more than just how long their retirement may be delayed.
Survey Methods
Results are based on telephone interviews with 2,020 national adults, aged 18 and older, conducted Jan. 30-Feb. 2, 2008. For results based on the total sample of national adults, one can say with 95% confidence that the maximum margin of sampling error is ±2 percentage points. For results based on the 995 national adults in the Form B half-sample, one can say with 95% confidence that the maximum margin of sampling error is ±3 percentage points.
Interviews are conducted with respondents on land-line telephones (for respondents with a land-line telephone) and cellular phones (for respondents who are cell-phone only).
In addition to sampling error, question wording and practical difficulties in conducting surveys can introduce error or bias into the findings of public opinion polls.