PRINCETON, NJ -- John McCain continues to be the front-runner among Republican voters in the national presidential race. Two Republican candidates -- Mike Huckabee and Mitt Romney -- are essentially tied for second place behind McCain, with Rudy Giuliani still further behind. Huckabee, who lost his first-place positioning soon after the New Hampshire primary (which McCain won), is now just one point ahead of Romney. McCain's position has strengthened since his victory in South Carolina last Saturday. He was leading by only six points in polling conducted last Thursday through Saturday, but his lead has expanded since. The next major shift on the GOP side could come after next Tuesday's Florida primary.
Among Democrats, Hillary Clinton has a significant lead over Barack Obama, albeit slightly diminished compared to last weekend. John Edwards remains mired in a deep third-place position. Dennis Kucinich, who dropped out of the race Friday, has been receiving only 2% of the vote; his departure is unlikely to have any significant impact. The next event that could produce substantial change in these national numbers is Saturday's South Carolina Democratic primary. The current data include interviewing conducted Tuesday, Wednesday, and Thursday. -- Frank Newport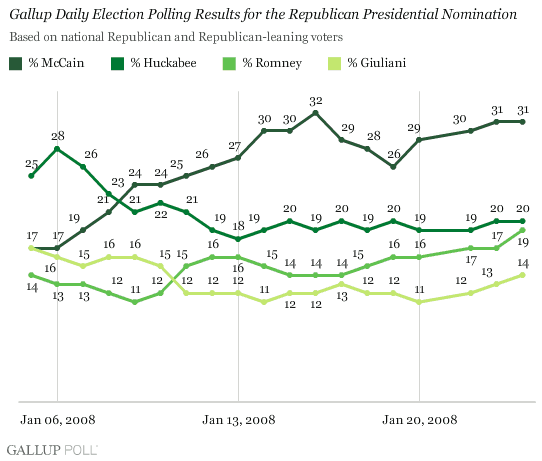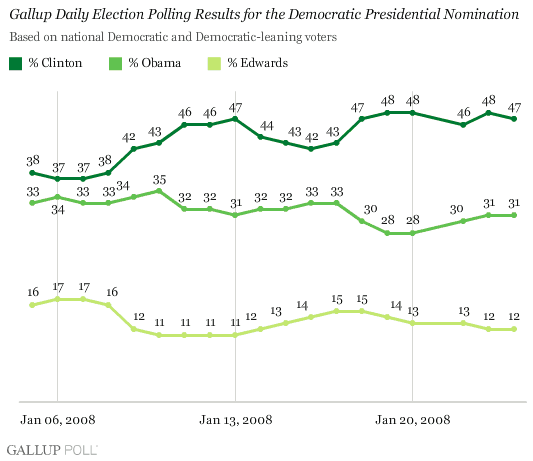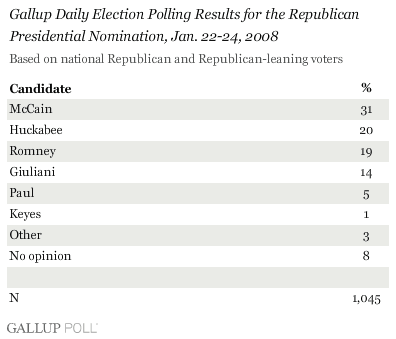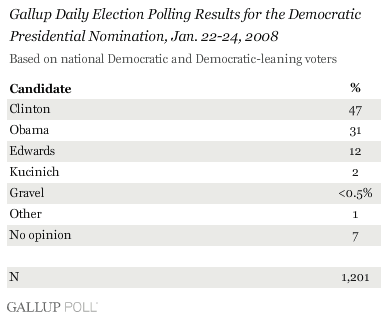 Methodology: Gallup is interviewing 1,000 U.S. adults nationwide each day during 2008. The results reported here are based on combined data from Jan. 22-24, 2008, including interviews with 1,045 Republican and Republican-leaning voters and 1,201 Democratic and Democratic-leaning voters. For results based on these samples, the maximum margin of sampling error is ±3 percentage points.