PRINCETON, NJ -- Mitt Romney continues his slow rise in the national Republican nomination horse race, pulling even with Mike Huckabee in second place, although both are still 10 points behind front-runner John McCain. Just eight days ago, Romney was 6 points behind Huckabee (and 15 points behind McCain) and essentially tied for third with Rudy Giuliani. Current trends appear to indicate that while support for McCain, Huckabee, and Giuliani has remained roughly constant over the last week, Romney has gained, correlated with Fred Thompson's exit from the race. These latest data are from interviewing conducted Wednesday, Thursday, and Friday nights. The next significant "real world" event that could shake up the GOP race will be Tuesday's Florida primary.
Among Democrats, little change on the eve of Saturday's South Carolina primary. Hillary Clinton maintains a significant lead over Barack Obama at the national level. Despite some discussion of polling showing John Edwards gaining in South Carolina, among Democrats nationally, Edwards remains in deep third place, 21 points behind Obama and 36 points behind Clinton. Internal analysis shows that nationally, Obama leads Clinton by roughly a 2-to-1 ratio among blacks, while Clinton leads Obama by more than 20 points among whites. Saturday interviewing will be conducted for the most part before the results of the South Carolina primary are known. The impact of the Democratic vote in the Palmetto State will thus begin to be reflected in Sunday's interviewing. -- Frank Newport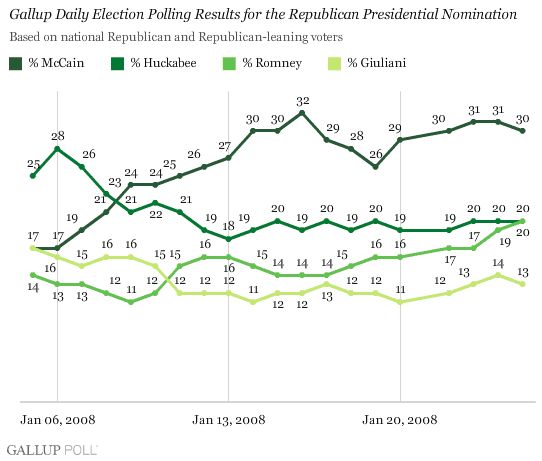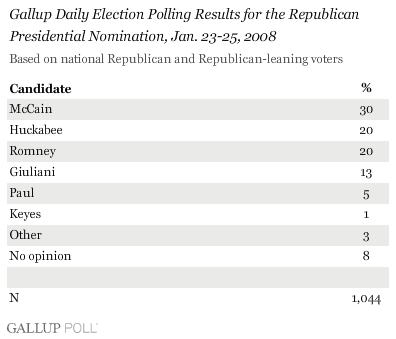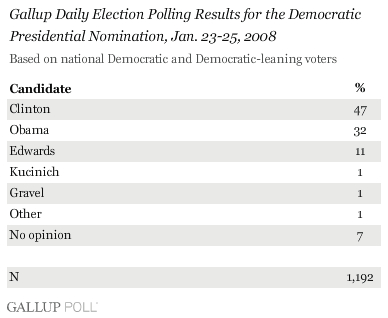 Methodology: Gallup is interviewing 1,000 U.S. adults nationwide each day during 2008. The results reported here are based on combined data from Jan. 23-25, 2008, including interviews with 1,044 Republican and Republican-leaning voters and 1,192 Democratic and Democratic-leaning voters. For results based on these samples, the maximum margin of sampling error is ±3 percentage points. In addition to sampling error, question wording and practical difficulties in conducting surveys can introduce error or bias into the findings of public opinion polls.