PRINCETON, NJ -- John McCain continues to be the primary beneficiary of Rudy Giuliani's recent exit from the Republican race for president. The percentage of Republican primary voters nationwide favoring McCain for the nomination rose from 39% in interviews conducted Jan. 29-30, to 44% in Jan. 30-Feb. 1 polling. Neither Mitt Romney nor Mike Huckabee picked up any additional support.
As a result, McCain now holds a 20-percentage point lead over Romney in the Jan. 30-Feb. 1 Gallup Poll Daily tracking results. It is McCain's largest lead since he assumed the front-runner position following the New Hampshire Republican primary.
There is further clarification in the GOP race in terms of second place. Whereas Romney and Mike Huckabee were about tied in Jan. 23-25 polling, Romney's lead over Huckabee has gradually increased to a solid, if not substantial, eight points.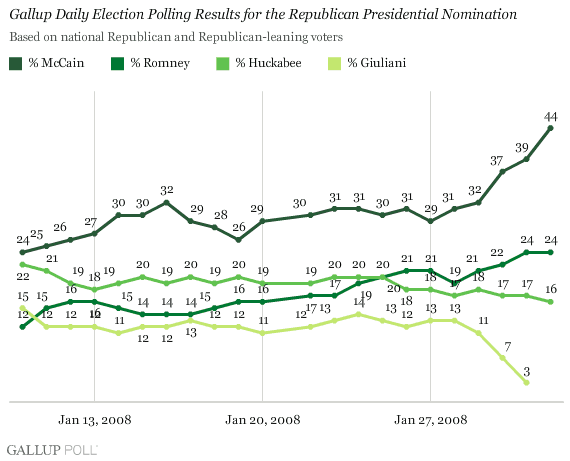 The gap between Democratic front-runner Hillary Clinton and Barack Obama remains in the single digits. In the most recent tracking period, Clinton holds a seven-point lead over Obama among Democratic primary voters nationwide, 48% vs. 41%. This is up from three- to four-point leads Clinton had the previous two days, but it is still a much closer race than a week ago when Clinton led Obama by 15 points. -- Lydia Saad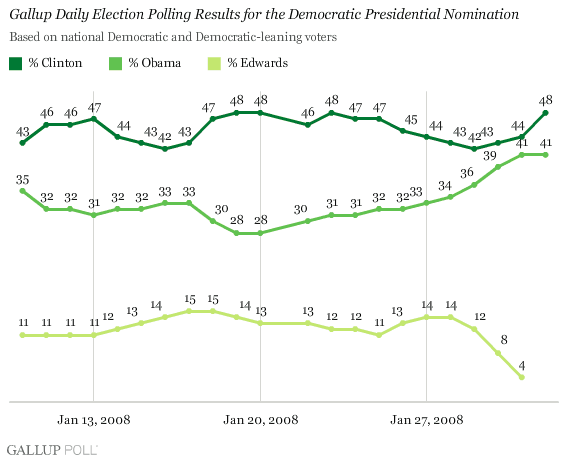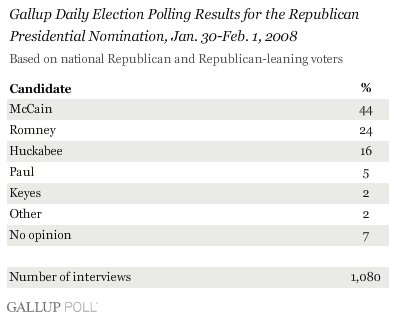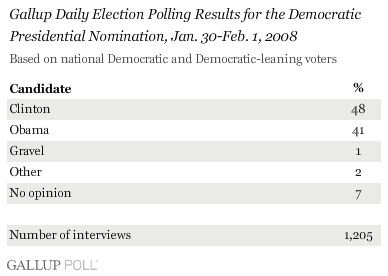 Methodology: Gallup is interviewing 1,000 U.S. adults nationwide each day during 2008. The results reported here are based on combined data from Jan. 30-Feb. 1, 2008, including interviews with 1,080 Republican and Republican-leaning voters, and 1,205 Democratic and Democratic-leaning voters.
For results based on these samples, the maximum margin of sampling error is ±3 percentage points.
In addition to sampling error, question wording and practical difficulties in conducting surveys can introduce error or bias into the findings of public opinion polls.