PRINCETON, NJ -- A new USA Today/Gallup poll, conducted Jan. 30-Feb. 2, finds Hillary Clinton and Barack Obama in a statistical tie for the Democratic presidential nomination, with Clinton preferred by 45% of Democrats nationally and Obama by 44%. In the Republican contest, John McCain leads Mitt Romney by 42% to 24%, and Mike Huckabee is in third place with 18%.
Given the current state of both races, this week's Super Tuesday elections have tremendous potential for solidifying McCain's position as the probable Republican nominee and for clarifying who is likely to win the Democratic prize. The new poll indicates that whatever the outcome, Democrats nationwide will be equally satisfied with their nominee. They show equal levels of enthusiasm for the prospects of Clinton and Obama each being on the ballot in November. In addition, they are no more likely to believe one of the candidates is more electable in the fall than the other.
Specifically:
Fifty-five percent of Democrats (including independents who lean to the Democratic Party) say they would vote for Obama "enthusiastically" in November were he the Democratic nominee; 53% say the same of Clinton.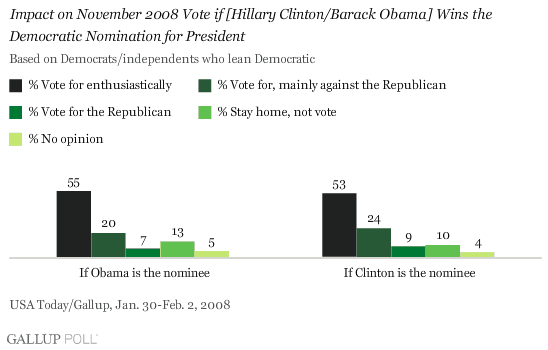 Forty-five percent of Democrats think Clinton has the better chance of beating the Republican candidate for president in November; 43% choose Obama.
By contrast, Gallup finds more lopsided attitudes among Republicans -- working strongly in McCain's favor. Republicans are less enthusiastic about voting for each of the leading potential nominees than the Democrats are about theirs; however, McCain is the clear leader on this score over Romney. McCain also beats Romney handily in perceptions of which of the two has the better chance of winning in November.
Just under half of Republicans (including independents who lean to the Republican Party) say they would vote enthusiastically for McCain in the fall, compared with only 35% who are enthusiastic about potentially voting for Romney.
Republicans choose McCain by nearly 3 to 1 -- 68% vs. 24% -- as the Republican more likely to beat the Democrat in November.
Democratic Enthusiasm for Clinton and Obama Is Fairly Broad
Enthusiasm among Democrats for Clinton and Obama as their party's potential nominees is fairly high among most subgroups of the party. While there has been much media attention as to how Clinton is playing among Democratic women and Obama among black Democrats, at least half of both groups say they would enthusiastically vote for Clinton as well as Obama.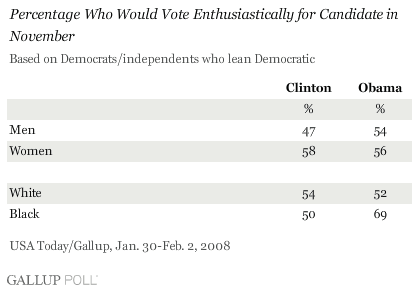 Obama has been performing particularly well in Gallup's election polls with younger voters. In the latest poll, he leads Clinton by nearly 20 points among 18- to 29-year-old Democrats: 56% for Obama vs. 37% for Clinton. Accordingly, young Democrats are more likely to say they would vote enthusiastically for Obama in the fall than to say this about Clinton: 56% vs. 46%. Still, nearly half of young Democrats would be enthusiastic about voting for Clinton.
Democrats aged 65 and older -- who favor Clinton by a substantial 57% to 31% margin in the new poll -- are more enthusiastic about voting for Clinton than for Obama in the fall, but by only 10 points: 57% vs. 47%.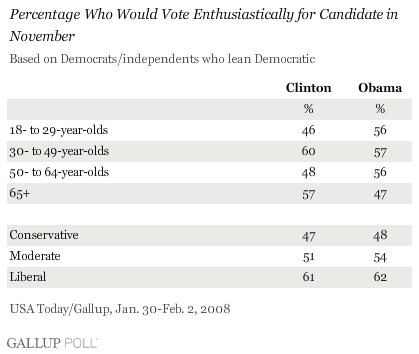 There are clear differences in support among political independents. Independents who lean toward the Democratic Party -- and who thus may be voting in the open Democratic primary elections this year -- favor Obama over Clinton by 52% vs. 35%. While 51% of Democratic leaners say they would vote enthusiastically for Obama in the fall, only 38% feel this way about Clinton. This compares with roughly 6 in 10 Democratic identifiers who are enthusiastic about both candidates.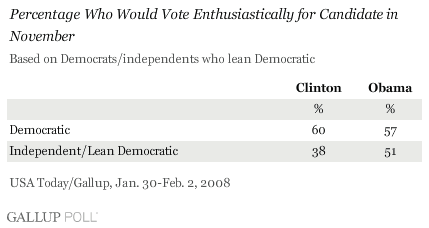 Broad Republican Enthusiasm Seen for McCain, but Not for Romney
McCain has turned his first-place showing in the Jan. 8 New Hampshire primary into a full-scale comeback, rising to the top of national Republican preference polls and scoring crucial wins in South Carolina and Florida. Some leading voices in the Republican conservative movement have since come out swinging against him. How influential they've been at convincing rank-and-file Republicans that McCain would unravel the "Reagan revolution" and be a greater a political ally to Democratic Sen. Ted Kennedy than to House Republican Leader John Boehner is unclear.
Republican conservatives are as enthusiastic as Republican moderates about voting for McCain in the fall (47% and 48% respectively). They are also more enthusiastic about voting for McCain than for Romney (47% vs. 40%).
At 47%, overall Republican enthusiasm for McCain is a bit lower than Democratic enthusiasm for both Clinton and Obama, but it registers above 40% among most major subgroups of Republicans. In contrast, enthusiasm for Romney being on the ballot in November averages 35%, but dips below 30% among moderates, liberals, and independent Republican leaners.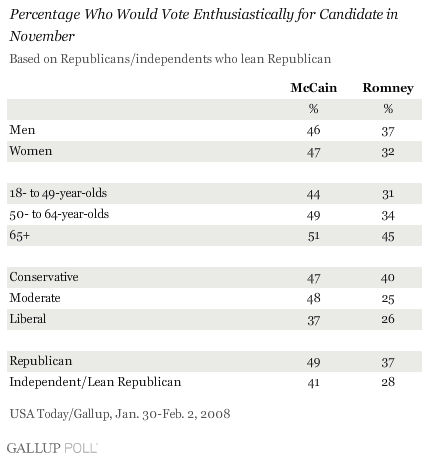 Bottom Line
The Democratic primary race between Clinton and Obama is too close to call, not just in terms of the horse race, but in Democratic perceptions of which candidate has the better chance in the general election, and in the enthusiasm voters feel for the candidates. One disparity between the front-runners -- and it could be an important one -- is that independents who lean Democratic are much more enthusiastic about voting for Obama than for Clinton in the fall.
There is much more clarity on the Republican side that McCain is the strongest candidate. He has stretched his lead over Romney to nearly 20 points, is widely viewed as having a better chance than Romney of winning in November, and generates more enthusiasm for his candidacy -- from Republican identifiers and conservatives as well as Republican leaners and moderates -- than does Romney.
Survey Methods
These results are based on telephone interviews with 2,020 national adults, aged 18 and older, conducted Jan. 30-Feb. 2, 2008. For results based on the total sample of national adults, one can say with 95% confidence that the maximum margin of sampling error is ±2 percentage points.
For results based on the sample of 867 Republicans or Republican leaners, the maximum margin of sampling error is ±4 percentage points.
For results based on the sample of 985 Democrats or Democratic leaners, the maximum margin of sampling error is ±3 percentage points.
Interviews are conducted with respondents on land-line telephones (for respondents with a land-line telephone) and cellular phones (for respondents who are cell-phone only).
In addition to sampling error, question wording and practical difficulties in conducting surveys can introduce error or bias into the findings of public opinion polls.