PRINCETON, NJ -- Hillary Clinton and Barack Obama remain fairly closely matched in national Democratic voters' nomination preferences, although Clinton appears to have stopped Obama's momentum over the past two days. Gallup Poll Daily tracking data from Feb. 2-4 show Clinton with 47% of the top choices of Democratic voters and Obama the preferred nominee of 42%.
Clinton has led Obama in Gallup's daily interviewing conducted Sunday and Monday. This suggests that her position may be stronger in Super Tuesday voting than some have anticipated given Obama's rapid closing of the 20-percentage point gap with Clinton that existed two weeks ago. Still, fluidity in the Democratic race in recent days has increased (with support for Obama higher on some individual days than others, and occasionally surpassing support for Clinton), suggesting shifting vote preferences as the media buildup to Super Tuesday has intensified (and as campaign advertising and news has barraged Democratic voters in many Super Tuesday states).
Most of Gallup's interviewing on Tuesday will be conducted before the Super Tuesday voting results are known, so it will be Wednesday before tracking data reflects them (Thursday before they are reported on Gallup.com).
John McCain continues to lead among Republicans nationally, although his margin over second-place Mitt Romney is now slightly smaller than it has been in the past. Romney's support is flat, but Mike Huckabee has gained, putting him into a statistical tie with Romney for second place in the national tracking.
McCain leads Mitt Romney 41% to 24% among Republican voters in the Feb. 2-4 national data. Huckabee now has 21% of the GOP vote. -- Frank Newport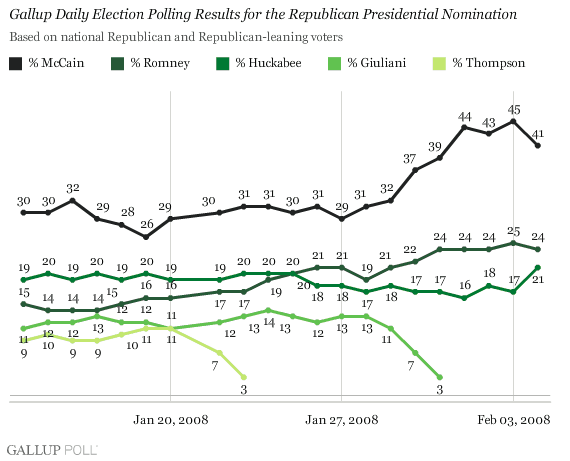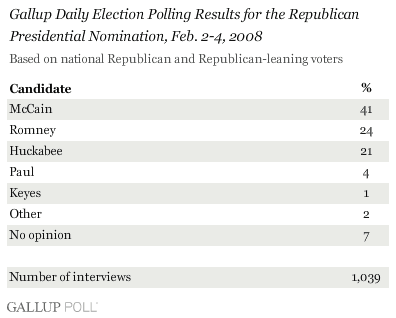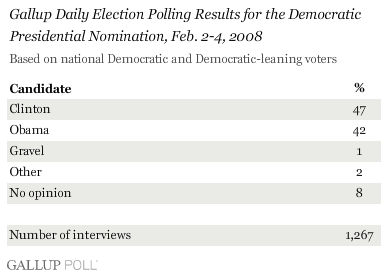 Methodology:
Gallup is interviewing 1,000 U.S. adults nationwide each day during 2008. The results reported here are based on combined data from Feb. 2-4, 2008, including interviews with 1,039 Republican and Republican-leaning voters and 1,267 Democratic and Democratic-leaning voters. For results based on these samples, the maximum margin of sampling error is ±3 percentage points. In addition to sampling error, question wording and practical difficulties in conducting surveys can introduce error or bias into the findings of public opinion polls.