PRINCETON, NJ -- Late last week, the National Association of Realtors reported that its December 2007 Pending Home Sales Index was down 24.2% from December 2006. New Gallup polling results suggest that such reports -- reflecting a virtual depression in much of the nation's residential real estate markets -- are likely to continue. Americans no longer simply assume that housing prices will increase in their local areas or that they can put their houses on the market and sell them quickly.
Far Fewer Americans See Housing Price Increases
Not quite three years ago, in May 2005, 7 in 10 Americans believed that over the coming year, the average price of houses in their areas would increase; only 1 in 20 expected them to decrease. In April 2006, only 60% expected an increase in home values and 11% -- double the 2005 reading -- expected a decrease. By April 2007, 52% of consumers expected house prices to increase and 18% -- nearly another doubling -- expected them to decline.
Ten months later, barely half of the April 2007 percentage expect home prices to rise. In a new USA Today/Gallup poll, conducted Jan. 30-Feb. 2, only 29% of Americans expect home prices in their local areas to increase over the year ahead. At the same time, the percentage of consumers expecting home prices to decrease has doubled from the 2007 reading and now stands at 35%. More Americans now expect housing values to decrease in their local residential real estate markets than expect them to increase.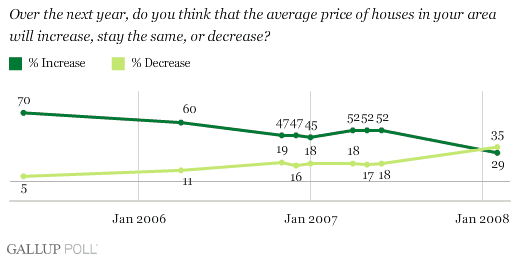 Consumers Are Having Difficulty Selling Their Homes
Three in 10 consumers say they know someone close to them who currently has their house on the market but has been unable to sell it for 12 months or longer. The same percentage (30%) say they know someone who has taken their house off the market in the past three months because it did not sell. Further, 14% of Americans say they know someone close to them who has filed for bankruptcy or had a foreclosure during the past three months.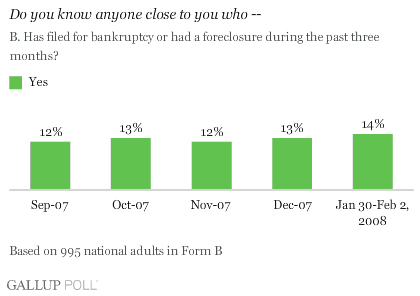 Deteriorating Housing Market Psychology
In the past, most national housing-market recessions have been characterized by surging interest rates that significantly reduced housing affordability. In such housing environments, many sellers simply took their homes off the market while some builders eliminated their inventories and others went out of business; when the Fed acted to reduce interest rates, home buyers and home sellers returned to the market. Although the housing cycle took some time, and was often complicated by rising unemployment associated with a recession, housing values were largely maintained, and it wasn't too long after lower interest rates took effect before the housing sector began to recover.
Gallup's polling reflects the highly different nature of the current housing recession/depression. Right now, buyers are fearful of making a housing purchase because the value of the homes they buy might actually decline. The usual assumption by everyone in the housing marketplace that prices will simply increase every year has proven untrue: According to the S&P/Case-Shiller home-price index, home prices in 20 U.S. metropolitan areas have fallen for 11 straight months. At the same time, many home sellers are not willing to accept the lower prices being dictated by conditions in today's residential real estate markets. They leave their homes on the market and after an extended period, they often take them off the market to wait for a better time to sell. Since selling an existing home is essential before a person moves up to a better home, this tends to further slow an already struggling real estate market.
Turning the current housing market psychology around will not be easy. Lower mortgage rates can help. So will an increase in the Fannie Mae, Freddie Mac, and FHA loan limits. However, the real key to a housing recovery is increased consumer confidence that housing prices have bottomed out and that it is once again "safe" to buy. This is not likely to happen in the immediate term as underwriting standards continue to tighten, an economic slowdown or recession unfolds, and new job growth disappears or unemployment rates increase. Don't be surprised if all kinds of inventive new "solutions" are proposed to revive the housing sector, as it becomes clear that it is the housing market psychology -- not just mortgage finance -- that needs to be fixed if there is to be a significant housing recovery anytime soon.
Survey Methods
Results are based on 2,020 telephone interviews with national adults, aged 18 and older, conducted Jan. 30-Feb. 2, 2008. For results based on the total sample of national adults, one can say with 95% confidence that the maximum margin of sampling error is ±2 percentage points. For results based on the Form B sample of 995 adults, the maximum margin of sampling error is ±3 percentage points. In addition to sampling error, question wording and practical difficulties in conducting surveys can introduce error or bias into the findings of public opinion polls.