PRINCETON, NJ -- Hillary Clinton and Barack Obama remain locked in a statistical tie among Democrats nationally for the Democratic presidential nomination.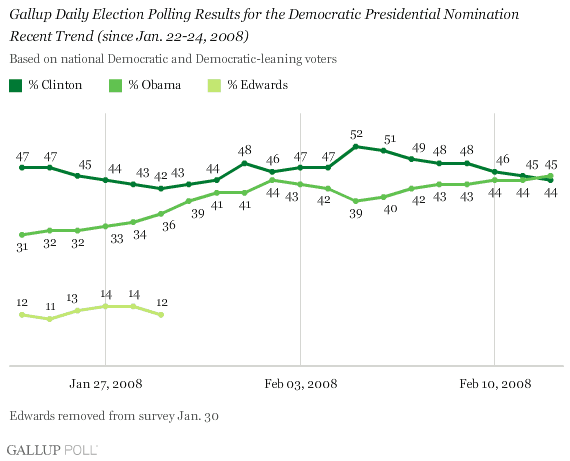 In Gallup Poll Daily tracking conducted Feb. 10-12, 45% of national Democratic and Democratic-leaning voters support Obama, and 44% support Clinton. Although this is little changed from the three-day rolling average Gallup reported Feb. 12 (based on Feb. 9-11 polling), it continues to represent gains by Obama and losses by Clinton compared to the point a week ago when Clinton enjoyed a 13-percentage point lead over Obama.
Beginning Feb. 14, Gallup Poll Daily tracking will reflect any impact Obama's sweeping victories in Virginia, Maryland, and the District of Columbia may have on voters.
The Republican race is also unchanged from Feb. 12. John McCain continues to win the support of a majority of Republican and Republican-leaning voters across the country for the Republican presidential nomination (51%), while Mike Huckabee attracts less than 30%.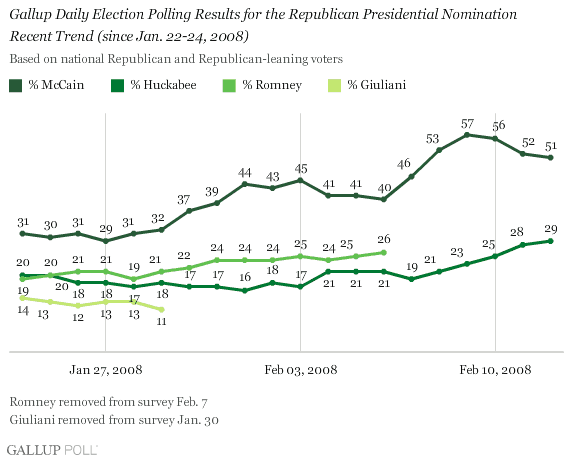 Of the three days included in the Feb. 10-12 rolling average, Huckabee's best day was Feb. 11, after his strong showing in two of three Republican elections held on Feb. 9. Support for Huckabee receded slightly on Tuesday night, but remains above where it was less than a week ago. -- Lydia Saad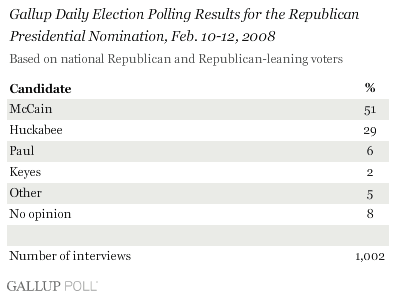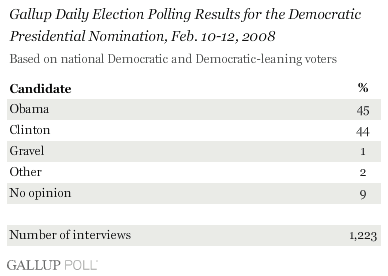 Methodology
: Gallup is interviewing 1,000 U.S. adults nationwide each day during 2008. The results reported here are based on combined data from February 10-12, 2008, including interviews with 1,002 Republican and Republican-leaning voters, and 1,223 Democratic and Democratic-leaning voters. For results based on these samples, the maximum margin of sampling error is ±3 percentage points. In addition to sampling error, question wording and practical difficulties in conducting surveys can introduce error or bias into the findings of public opinion polls.