PRINCETON, NJ -- For the fifth consecutive day, Gallup Poll Daily election tracking results show a statistical dead heat between Barack Obama and Hillary Clinton. Forty-seven percent of Democratic and Democratic-leaning voters nationwide currently prefer Obama for the party's presidential nomination, and 45% prefer Clinton.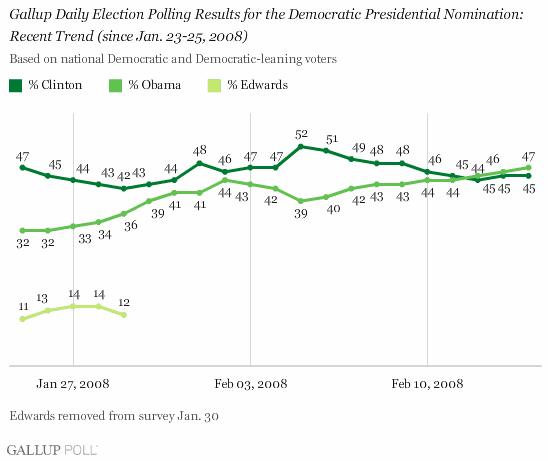 While the candidates have been essentially even from a statistical perspective in the last few days, during that time the numbers have shifted from a slight advantage for Clinton to a slight advantage for Obama.
At 47%, Obama's current level of support is the highest to date for him. His national support has increased one point in each of the last three days of tracking, setting a new personal best each time.
John McCain's GOP nomination is all but assured now as former rival Mitt Romney endorsed him Thursday and asked his delegates to support McCain at the GOP convention. Mike Huckabee continues to campaign, though McCain is now just a few delegates short of clinching the nomination. The latest Gallup Poll Daily update shows McCain as the choice of 53% of nationwide Republican and Republican-leaning voters and Huckabee the preferred candidate of 28%.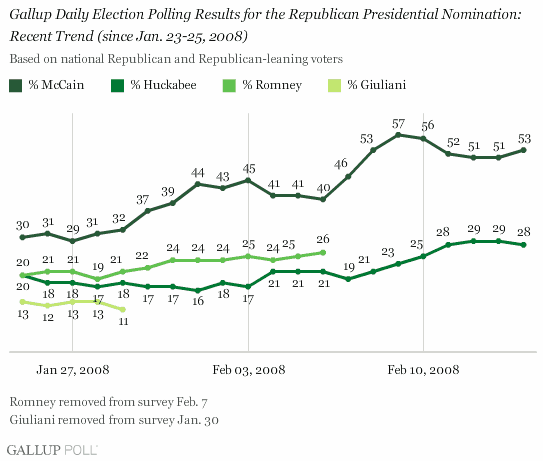 Support for both Republican candidates has been fairly steady the last four days. -- Jeff Jones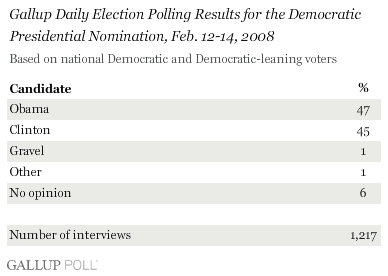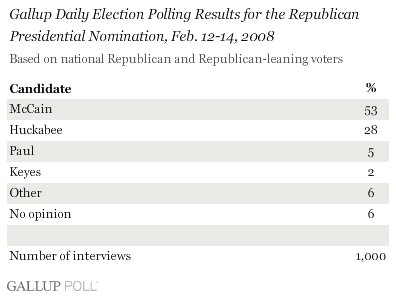 Methodology: The results reported here are based on combined data from Feb. 12-14, 2008, including interviews with 1,000 Republican and Republican-leaning voters, and 1,217 Democratic and Democratic-leaning voters. For results based on these samples, the maximum margin of sampling error is ±3 percentage points. In addition to sampling error, question wording and practical difficulties in conducting surveys can introduce error or bias into the findings of public opinion polls.