PRINCETON, NJ -- President George W. Bush is starting his last year in office with the American public feeling more negative than positive about his leadership, on multiple fronts.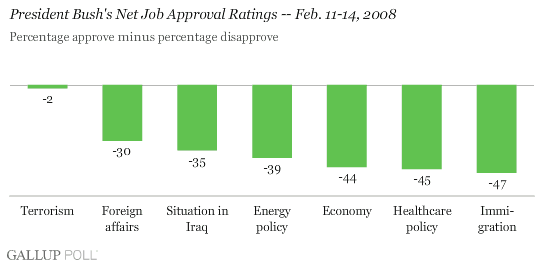 More Americans disapprove than approve of Bush's job performance on all seven national issues included in a new Feb. 11-14 Gallup Poll. He is rated least negatively for the way he is handling terrorism: 47% of Americans approve and 49% disapprove, yielding a net -2 job performance score. With only 22% approving and 69% disapproving, his ratings are the most negative for immigration. However, his ratings on healthcare and the economy are nearly as bad.
The net result is an overall job approval rating that's more than 2-to-1 negative: 65% of Americans disapprove of how Bush is doing overall, and only 31% approve. Bush's approval rating has consistently fallen below 40% for more than a year -- since September 2006.
Ratings on Economy Plummet
Compared with a year ago, public approval of Bush has held fairly constant on terrorism, foreign affairs, healthcare, immigration, and energy policy, albeit at low levels. His approval score on Iraq is up slightly, from 26% to 31%. However, it is down substantially on the economy, from 41% approving in February 2007 (and 35% in August 2007) to 27% today.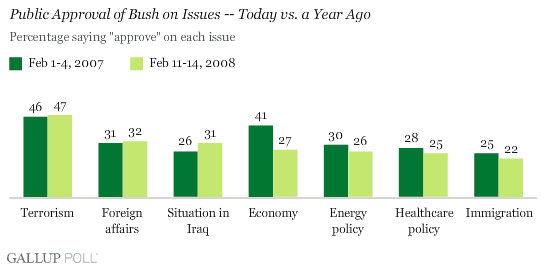 Bush has not scored majority approval for any of these issues since August 2006, when 55% still approved of the job he was doing on terrorism. This fell to 46% two months later, and has since remained below 50%.
A majority of Americans have not approved of Bush on foreign affairs since February 2005, on Iraq since March 2004, on the economy since January 2004, on energy policy since January 2003, and on healthcare policy since March 2002. At no time since Gallup began measuring public attitudes about Bush's handling of immigration in January 2005 has a majority approved.
Bush continues to enjoy majority approval from Republicans nationwide on terrorism, foreign affairs, Iraq, the economy, and healthcare. Extremely small percentages of Democrats approve of Bush on most of the issues, except for terrorism (24% approve).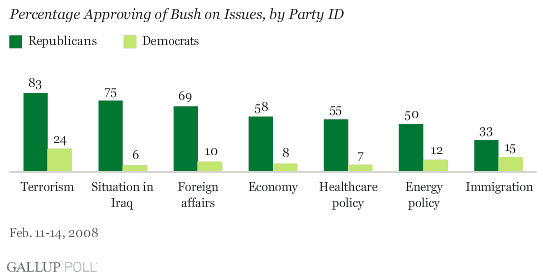 The increase in approval of Bush on the Iraq war over the past year is because of enhanced ratings from Republicans (from 64% in February 2007 to 75% today) and independents (from 19% to 28%). Most of the decrease in approval of Bush on the economy is because of Republicans (from 83% in February 2007 to 58% today).
Survey Methods
Results are based on telephone interviews with 1,007 national adults, aged 18 and older, conducted Feb. 11-14, 2008. For results based on the total sample of national adults, one can say with 95% confidence that the maximum margin of sampling error is ±3 percentage points.
Results based on 276 Republicans have a maximum margin of sampling error of ±6 percentage points. Results based on 389 Democrats have a maximum margin of sampling error of ±5 percentage points.
Interviews are conducted with respondents on land-line telephones (for respondents with a land-line telephone) and cellular phones (for respondents who are cell-phone only).
In addition to sampling error, question wording and practical difficulties in conducting surveys can introduce error or bias into the findings of public opinion polls.