PRINCETON, NJ -- The latest Gallup Poll Daily tracking update finds Barack Obama with a five-percentage point lead, 47% to 42%, over Hillary Clinton among Democratic voters nationwide.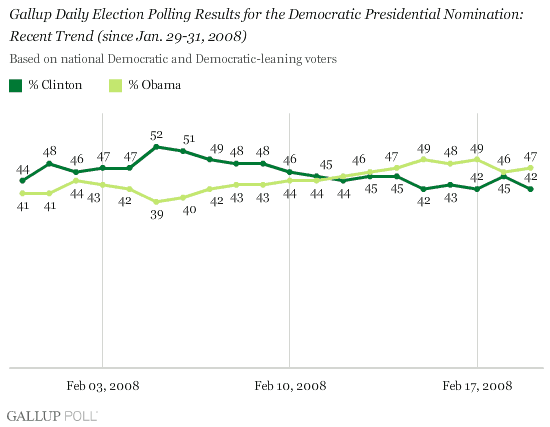 These results are based on interviewing conducted Feb. 17-19, 2008, mostly before the results of Tuesday's primaries were known. Obama won Wisconsin and Hawaii, and in recent days has emerged as the national leader in Gallup Poll Daily tracking. He held a significant lead in four of the past five releases with the exception of the Feb. 16-18 release, which showed Clinton and Obama in a virtual tie.
Fifty-eight percent of Republican voters nationwide favor John McCain as the GOP presidential nominee, the highest percentage for him to date. Mike Huckabee is a distant second at 24%, with 5% supporting Ron Paul. McCain has been above the 50% level in all tracking results since Feb. 6-8, which roughly coincides with Mitt Romney's departure from the race -- Jeff Jones.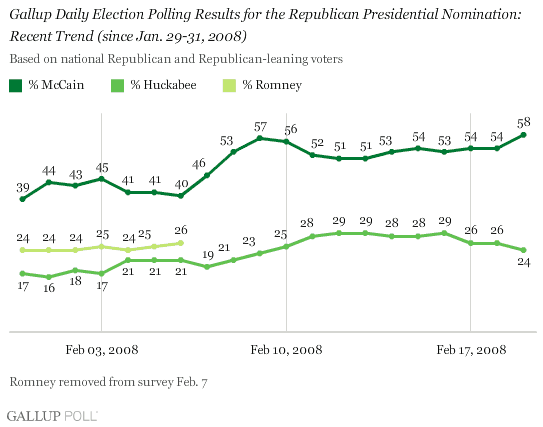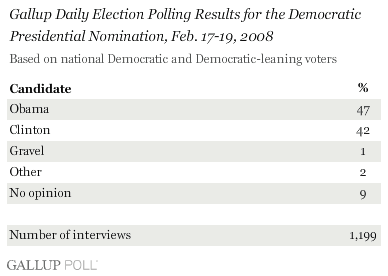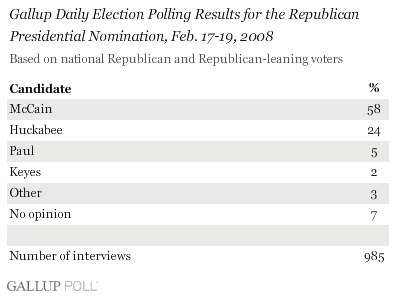 Methodology: Gallup is interviewing no fewer than 1,000 U.S. adults nationwide each day during 2008. The results reported here are based on combined data from Feb. 17-19, 2008, including interviews with 985 Republican and Republican-leaning voters, and 1,199 Democratic and Democratic-leaning voters. For results based on these samples, the maximum margin of sampling error is ±3 percentage points. In addition to sampling error, question wording and practical difficulties in conducting surveys can introduce error or bias into the findings of public opinion polls.