PRINCETON, NJ -- Americans are now more likely to identify themselves as Democrats than at any time since 2000.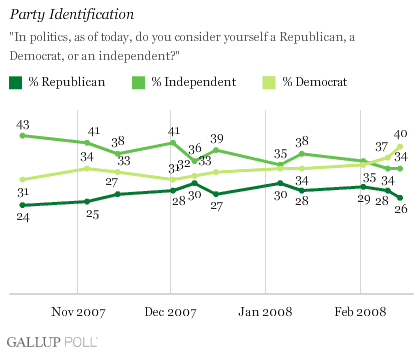 Forty percent of Americans in the Feb. 11-14 Gallup Poll -- in response to the question, "In politics, as of today, do you consider yourself a Republican, a Democrat, or an independent?" -- said they identified with the Democratic Party, while 26% identified with the Republican Party and 34% with neither (most of these considered themselves independents).
The 40% Democratic identification figure is unusually high. The last time 40% of Americans identified as Democrats was August 2000. Before that, there have been just a handful of Gallup Poll telephone surveys -- going back to 1985 -- in which 40% or more of Americans identified as Democrats. The highest Democratic identification in a Gallup telephone poll was 42% in July 1987.
The gap between Democratic and Republican identification -- now at 14 percentage points -- is also almost a record high. The gap was higher only in December 1998 -- immediately after President Bill Clinton had been impeached by the Republican-controlled House of Representatives -- when 41% of Americans identified as Democrats and only 20% as Republicans.
The highest level of identification with the Republican Party, 39%, has been reached at three points: in May 1991 (a few months after the first Persian Gulf War), December 2003 (in a poll in the field at the time of Saddam Hussein's capture), and September 2004 (after a successful Republican convention at which George W. Bush was nominated for a second term in office).
Last year, as often happens in a year in which there is no national election, Americans were increasingly likely to identify as independents. This year, as presidential election voting has begun in primaries and caucuses, the Democrats have been the beneficiary as Americans have become more likely to express identification with a party. As 2007 ended, an average of two Gallup Polls conducted in December showed 32.5% of Americans identifying as Democrats, 37.5% as independents, and 28.5% as Republicans. Now, the shift is evident. Identification with the Republican Party and with no party have slipped slightly, while identification with the Democratic Party has gained.
There are several other indications that the Democratic Party is riding high at the moment. First, the percentage of Americans with a favorable image of the Democratic Party (56%) is significantly higher than is the case for the Republican Party (41%).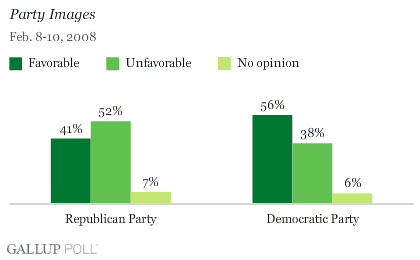 In addition, a Feb. 8-10 USA Today/Gallup poll asked Americans to say whether three specific dimensions applied or did not apply to the two parties. The dimensions were: 1) can bring about the changes this country needs; 2) is able to manage the federal government effectively, and 3) has mostly honest and ethical members in Congress.
In each instance, the American public was more likely to say the characteristic applies to the Democratic Party than to the Republican Party. The biggest difference -- almost 20 points -- is on the dimension of bringing about change, perhaps not surprising given the strong emphasis on change in Barack Obama's campaign (and, to some degree, that of Hillary Clinton). Also, because there has been a Republican administration in the White House since 2001, it may be natural for Americans to say the Democratic Party would be most able to bring about change were its standard-bearer to move into the White House.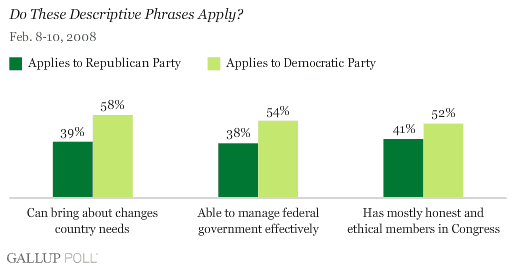 Bottom Line
The data reviewed here underscore the strong position of the Democratic Party at this point in the election year. A near-record number of Americans indicate that they currently identify as Democrats; the image of the Democratic Party is much more favorable than that of the Republican Party; and Americans say the Democratic Party is better positioned to bring about change and is more likely to be able to manage the government effectively.
These things can change, of course, between now and Election Day. In addition, recent polling has shown that John McCain, the likely Republican nominee, does relatively well when pitted against the two leading Democratic candidates, suggesting that the Republican Party's image troubles don't necessarily transfer directly to specific candidates.
Survey Methods
Results are based on telephone interviews with 1,007 national adults, aged 18 and older, conducted Feb. 11-14, 2008, and 1,016 national adults, aged 18 and older, conducted Feb. 8-10, 2008. For results based on these total samples of national adults, one can say with 95% confidence that the maximum margin of sampling error is ±3 percentage points.
Interviews are conducted with respondents on land-line telephones (for respondents with a land-line telephone) and cellular phones (for respondents who are cell-phone only).
In addition to sampling error, question wording and practical difficulties in conducting surveys can introduce error or bias into the findings of public opinion polls.