PRINCETON, NJ -- A higher percentage of Americans are currently worried about maintaining their standard of living than were worried during the 1991-1992 recession.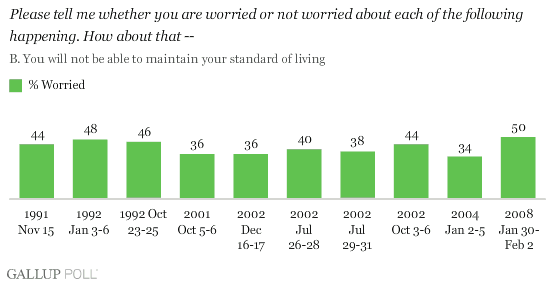 Family Finances Squeezed in Many Ways
Americans cite many reasons for their financial stress. Eighty-six percent of Americans say their families' financial situations have been very (57%) or somewhat (29%) negatively affected by the rise in gasoline and home heating prices. Three in four consumers point to the rise in food prices and healthcare costs as creating financial stress for their families. Around 6 in 10 consumers feel their financial situations are being negatively affected by the recent decline in the stock market (61%), by more people losing their jobs (58%), and by the rise in the cost of a college education (57%). Other sources of financial stress include the outsourcing of jobs overseas (53%) and problems in the housing market (47%).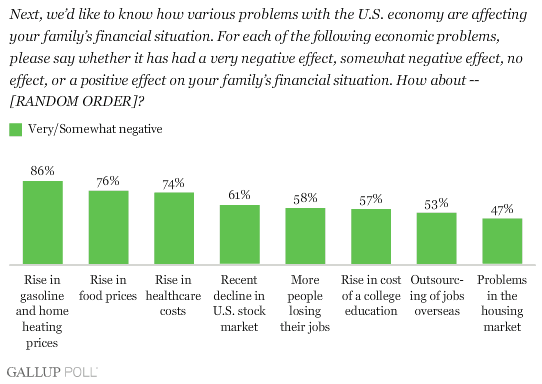 It's clear most consumers are being squeezed by higher prices for food, energy, healthcare, and a college education. At the same time, significant percentages believe that people losing their jobs, declines in the stock market, and all the problems associated with the housing market have negatively affected their families' financial situations. None of this suggests a recovery in consumer spending anytime soon.
Survey Methods
Results are based on telephone interviews with 2,020 national adults, aged 18 and older, conducted Jan. 30-Feb. 2, 2008. For results based on the total sample of national adults, one can say with 95% confidence that the maximum margin of sampling error is ±2 percentage points.
For results based on the 995 national adults in the Form B half-sample, the maximum margin of sampling error is ±3 percentage points.
Interviews are conducted with respondents on land-line telephones (for respondents with a land-line telephone) and cellular phones (for respondents who are cell-phone only).
In addition to sampling error, question wording and practical difficulties in conducting surveys can introduce error or bias into the findings of public opinion polls.