PRINCETON, NJ -- Hillary Clinton enjoys a significant edge in support over Barack Obama among white Democrats who are highly religious.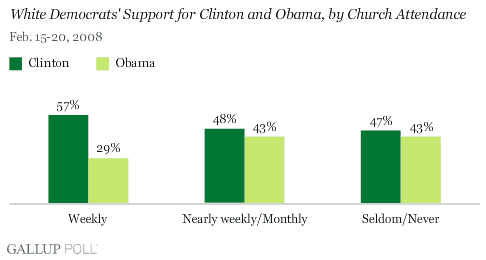 All in all, in interviews conducted Feb. 15-20 as part of Gallup Poll Daily election tracking, 57% of white, non-Hispanic Democratic voters who attend church support Clinton, while only 29% support Obama. Among those who attend church less frequently or never, Clinton's support drops while Obama's climbs.
This analysis is based on white Democrats. There is less of a relationship between candidate support and religion among black Democrats, who are both highly religious and highly likely to support Obama.
Much of the attention to the relationship between religion and the election this year has been focused on the Republican primaries. Baptist preacher Mike Huckabee has consistently performed disproportionately well among highly religious Republicans in polls and primary voting, and, prior to his leaving the race, Mitt Romney faced questions about his Mormon faith and how well his candidacy would play among evangelical Christians.
But the data reviewed here show that religion makes a difference on the Democratic side of the election as well. Underlying demographic patterns help account for this relationship.
Church attendance is related to gender, and women are more likely than men to support Clinton. (In this sample of white Democrats, 44% of men support Clinton, compared with 54% of women.) An analysis of the support patterns for Clinton and Obama by religion and gender, however, shows that it is not just the gender factor that accounts for the overall relationship. Men who attend church weekly are more likely to support Clinton and less likely to support Obama than are men who attend less frequently or not at all. Women who attend church weekly are also somewhat more likely to support Clinton over Obama than women who attend less frequently or never, although the difference is not as pronounced.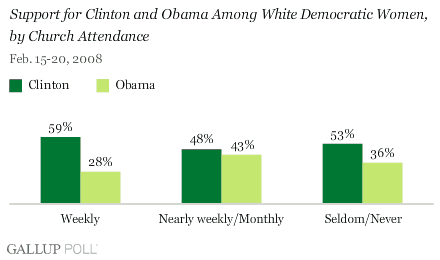 Another underlying demographic factor that helps account for the relationship is age. Church attendance is positively correlated with age. (In this sample of white Democratic voters, for example, the percentage attending church weekly more than doubles, from 16% to 34%, in a comparison of those who are 18 to 34 and those who are 55 and older.) In addition, older Democrats are more likely than younger Democrats to support Clinton.
There are too few 18- to 34-year-olds who attend church weekly in this sample to provide the basis for meaningful analysis. But the relationship between religiosity and support for Clinton does hold among 35- to 54-year-old white Democrats. Among those in this age group who attend church weekly, 56% support Clinton compared with 32% who support Obama. Among those who attend less frequently, the gap is narrower.
Even among the 55-and-older group of white Democrats, who tend to strongly support Clinton, there is a modest relationship between religiosity and candidate choice. The Clinton over Obama gap among weekly church attenders 55 and older is 37 points, 61% to 24%, while it is a somewhat smaller 24 points (56% to 32%) among those in this age group who seldom or never attend.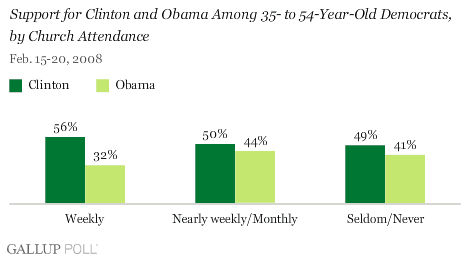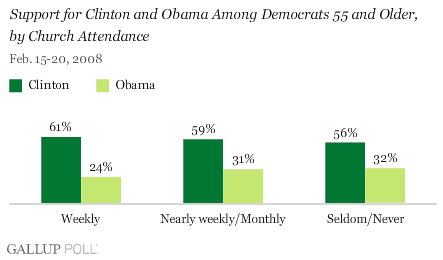 Implications
Gaining the allegiance of highly religious voters can be a significant plus in an election. Religious voters are strongly attached to their positions, motivated, easy to reach based on targeted media and through church contact, and can form an important core of a winning election strategy.
Most of the attention in past elections has been focused on the Republicans' ability to mobilize this group in support of their candidate, based in part on specific values issues.
Clinton, as seen in this analysis, at this point in the campaign has been able to disproportionately gain the support of religious white Democrats. Whether this national pattern can bolster her efforts to prevail over Obama as the Democratic nominee is less clear. For one thing, the percentage of the white Democratic electorate that is highly religious is smaller than is the case among Republicans. In the sample used for this analysis, 25% of white Democrats attend church weekly, while 57% say they seldom or never attend church. Thus, the allegiance of highly religious white Democrats has limited impact in that they constitute a minority of white Democratic voters. Still, in a close election, small voter segments can make a difference. Additionally, of course, the current targets for Clinton are the March 4 Texas and Ohio primaries, and it is unclear to what degree the national patterns are replicated in these two states.
In general, one does not typically associate Clinton with conservative positions on the values positions that the typical religious voter cares about: abortion, gay marriage, and stem-cell research. But Democratic voters in the remaining primary states may have other concerns that she can tap into, and if the Clinton campaign is able to devise a strategy for nurturing her connection to religious voters, it could make a difference.
Survey Methods
Results are based on telephone interviews with 1,795 Democrats and Democratic-leaning independent non-Hispanic white voters aged 18 and older, conducted Feb. 15-20, 2008. For results based on these total samples of national adults, one can say with 95% confidence that the maximum margin of sampling error is ±2 percentage points. The margin of sampling error is larger for specific subsamples.
Interviews are conducted with respondents on land-line telephones (for respondents with a land-line telephone) and cellular phones (for respondents who are cell-phone only).
In addition to sampling error, question wording and practical difficulties in conducting surveys can introduce error or bias into the findings of public opinion polls.