PRINCETON, NJ -- Barack Obama and Hillary Clinton remain essentially even in national Democratic and Democratic-leaning voters' nomination preferences.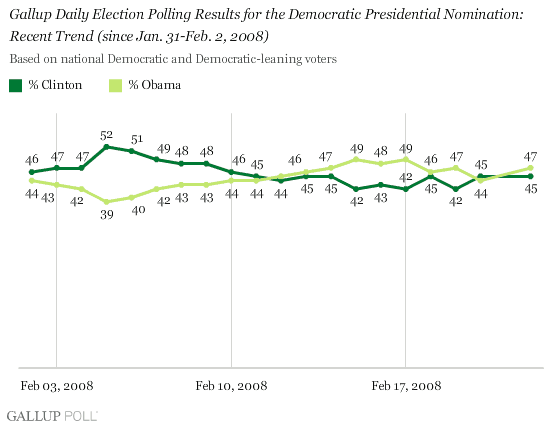 The latest Gallup Poll Daily tracking results, based on interviewing conducted Feb. 19-20 and Feb. 22, show 47% of national Democratic and Democratic-leaning voters favoring Obama and 45% preferring Clinton. The polling includes two days of interviewing following Obama's big wins in Wisconsin and Hawaii, and suggests that those wins have not yet produced a surge of support among national Democrats as to establish him as the clear leader over Clinton. The two candidates have been statistically tied in three of the past four releases. Obama held a significant lead for the prior three releases -- his only leads in the Gallup Poll Daily tracking polling thus far. The candidates will spend much of the next 10 days campaigning in the critical states of Ohio and Texas.
John McCain's lead continues to expand, and he now leads second-place Mike Huckabee by a better than three-to-one margin, 63% to 20%. McCain has been above 60% support among national Republican and Republican-leaning voters in the Feb. 18-20 and Feb. 19-20 and Feb. 22 releases, and above 50% in the past 14 releases. The initial indications suggest his support among Republicans has not been affected in a negative way by the recent New York Times article accusing him of an improper relationship with a female lobbyist. -- Jeff Jones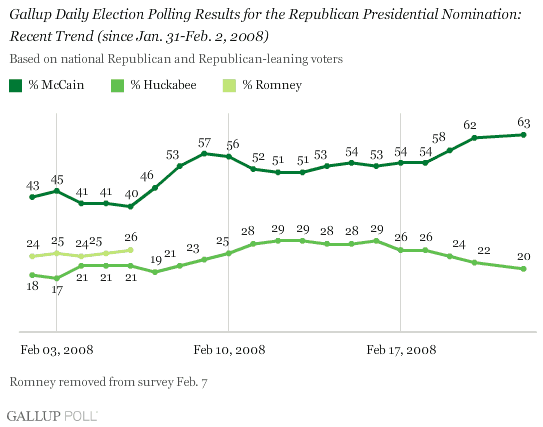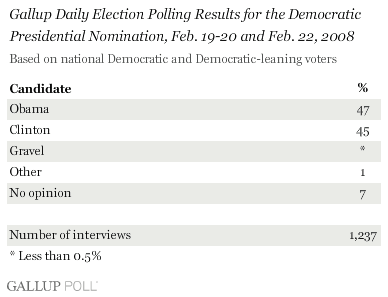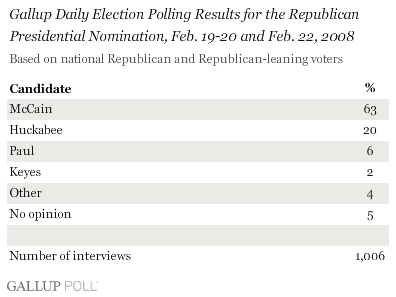 Methodology: Gallup is interviewing no fewer than 1,000 U.S. adults nationwide each day during 2008. The results reported here are based on combined data from Feb. 19-20 and Feb. 22, 2008, including interviews with 1,006 Republican and Republican-leaning voters, and 1,237 Democratic and Democratic-leaning voters. Daily tracking interviewing was not conducted on Feb. 21. For results based on these samples, the maximum margin of sampling error is ±3 percentage points. In addition to sampling error, question wording and practical difficulties in conducting surveys can introduce error or bias into the findings of public opinion polls.