PRINCETON, NJ -- Barack Obama has a 48% to 43% lead over Hillary Clinton in Gallup Poll Daily tracking of national Democratic preferences. John McCain leads Mike Huckabee among national Republicans 63% to 22%.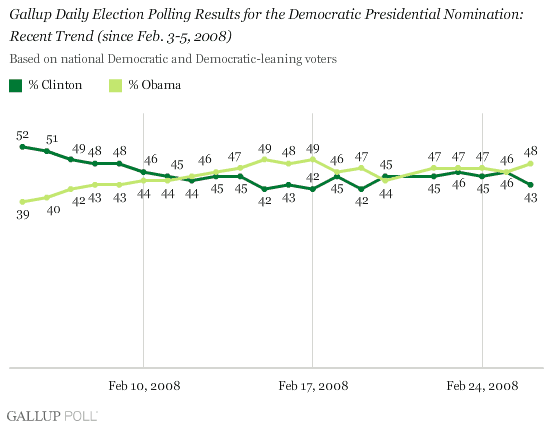 Gallup Poll Daily tracking conducted Feb. 24-26 shows Obama leading Clinton by a margin of five percentage points, 48% to 43%. This is the first time in a week that either Democratic frontrunner has eked out a significant advantage in the race in the tracking poll. Obama was last ahead Feb. 17-19 in Gallup Poll Daily tracking, when he also led Clinton by five points, 47% to 42%. Clinton has not had a significant lead in nearly three weeks (since Feb. 7-9).
National Republican preferences for the GOP presidential nomination have been at a standstill for about a week, with McCain consistently leading Huckabee by 40 to 45 percentage points.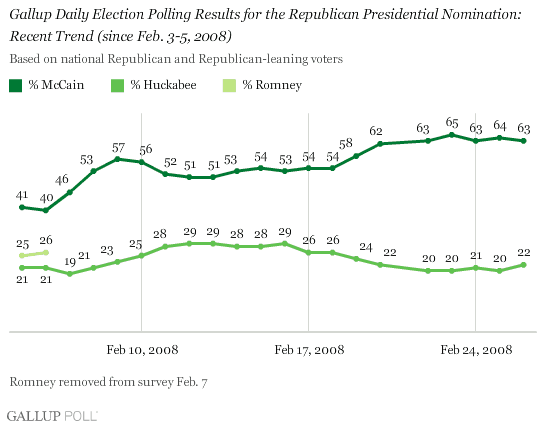 In the latest three day rolling average, McCain is favored by 63% of Republican voters (including independents who lean Republican) and Huckabee is favored by 22% -- a 41-point margin for McCain. -- Lydia Saad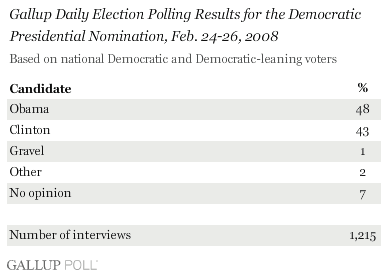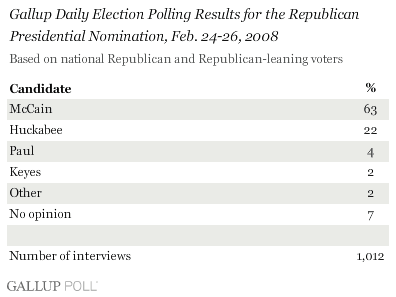 Methodology: Gallup is interviewing no fewer than 1,000 U.S. adults nationwide each day during 2008. The results reported here are based on combined data from Feb. 24-26, 2008, including interviews with 1,012 Republican and Republican-leaning voters, and 1,215 Democratic and Democratic-leaning voters. For results based on these samples, the maximum margin of sampling error is ±3 percentage points. In addition to sampling error, question wording and practical difficulties in conducting surveys can introduce error or bias into the findings of public opinion polls.