PRINCETON, NJ -- The gender gap in voting for president may be significantly larger if Hillary Clinton rather than Barack Obama is the Democratic nominee.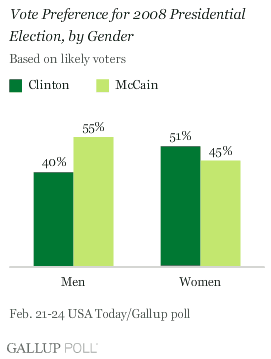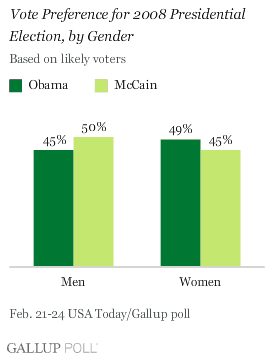 But this is not because Clinton would perform significantly better among female voters than Obama would. Rather, it is because male voters are much more likely to prefer the Republican John McCain in a matchup with Clinton than they would be in an Obama-McCain contest.
That is just one example of several possible differences in how various demographic groups might vote in the 2008 presidential election under the two possible scenarios: Clinton vs. McCain or Obama vs. McCain.
These results are based on the latest USA Today/Gallup poll, which interviewed a large sample of 1,653 Americans who are considered likely voters. This larger sample allows for an in-depth look at current candidate preference by subgroup.
A contest pitting the 71-year-old McCain against the 46-year-old Obama would surely offer a stark contrast by age. But regardless of whether the Democrats nominate Obama or Clinton to face McCain, initial indications are that voting by young and old will likely differ this November, with younger voters more likely to support the Democrat and older voters McCain. But the generational divide would be much wider if Obama is the Democratic candidate instead of Clinton.
For example, McCain's advantage over the Democratic candidate among senior citizens would be 10 percentage points if he were running against Clinton but 20 points versus Obama. At the other end of the age spectrum, Obama's advantage over McCain among the youngest voters is 39 points, compared with a 15-point Clinton edge in this group.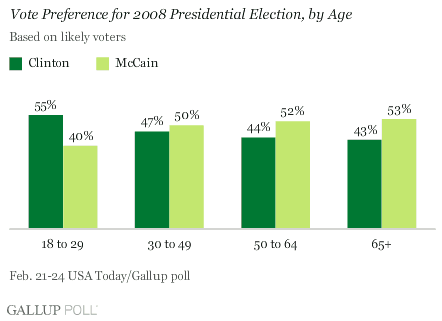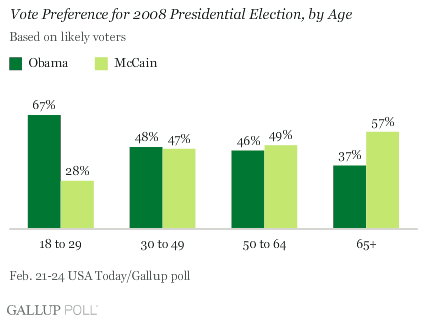 Obama owes many of his Democratic primary and caucus wins thus far to the support of college-educated voters. According to the current poll, Obama's appeal to college-educated voters may continue in the general election phase of the campaign.
In an Obama-McCain matchup, voters who attended college prefer Obama while those who did not attend prefer McCain. The poll suggests that there would be essentially no educational differences in a Clinton-McCain matchup.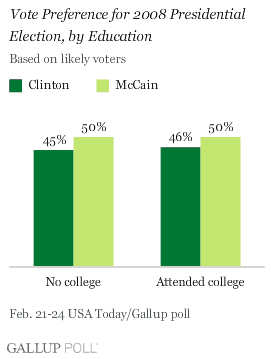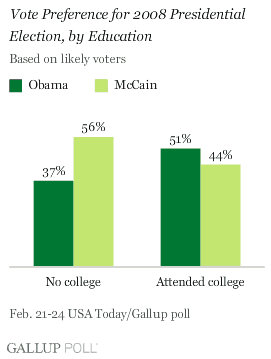 The poll also asked voters which of the following characteristics would be most important to their vote -- experience, candidate issue positions, or the candidate's perceived leadership skills and vision.
In a Clinton-McCain contest, the candidates would essentially tie among both "experience" and "leadership" voters, but McCain would have an edge among "issues" voters.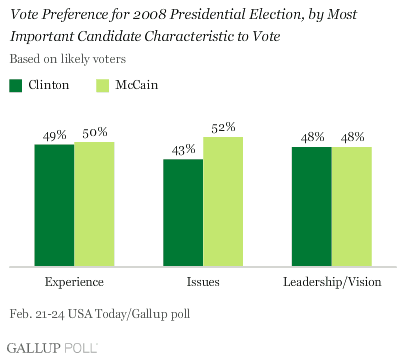 A McCain-Obama matchup would present voters with a clear choice on the experience and leadership dimensions, with those valuing experience overwhelmingly preferring McCain for president, and those preferring leadership firmly in Obama's camp. Whereas McCain has an advantage over Clinton with issues voters, he and Obama essentially tie among this group.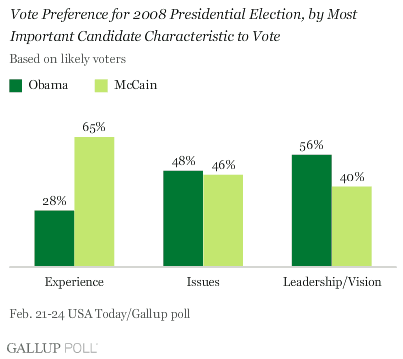 These are a few examples in which support patterns may differ significantly in the fall. But many other key subgroups would probably vote for the same party's candidate regardless of whether the Democrats nominate Clinton or Obama, including subgroups of race, ideology, religiosity, marital status, and veteran status.
Also, as discussed previously on this site (see "McCain Competitive With Democrats in Latest Trial Heats" in Related Items), a McCain-Clinton contest would likely be more of a partisan fight than a McCain-Obama contest, in which many party-aligned voters may choose to vote for the candidate of the other party.
Survey Methods
Results are based on telephone interviews with 1,653 likely voters, aged 18 and older, conducted Feb. 21-24, 2008. For results based on the total sample of national adults, one can say with 95% confidence that the maximum margin of sampling error is ±3 percentage points.
Margins of error for subgroups will be larger than the margin of error for the entire sample of likely voters.
Interviews are conducted with respondents on land-line telephones (for respondents with a land-line telephone) and cellular phones (for respondents who are cell-phone only).
In addition to sampling error, question wording and practical difficulties in conducting surveys can introduce error or bias into the findings of public opinion polls.