PRINCETON, NJ -- The most recent USA Today/Gallup poll finds 46% of Americans saying Barack Obama has the experience necessary to be president, and 46% saying he does not.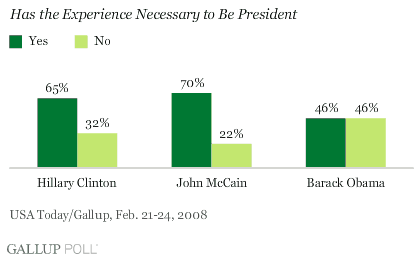 The Feb. 21-24 poll finds a sharp contrast between these attitudes about the three-year senator from Illinois and views of his rivals for the presidency -- Washington veterans John McCain and Hillary Clinton. Seventy percent of Americans believe McCain has the necessary experience to be president, slightly more than say this about Clinton (65%).
When Americans are asked to choose among the three candidates the one most ready to be president based on his or her experience, McCain wins more decisively, with Obama a distant third.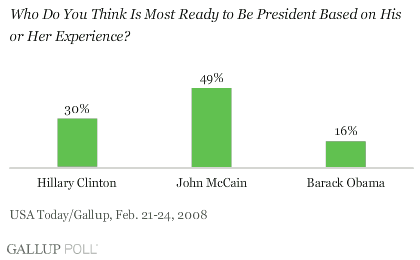 McCain's advantage on this dimension is not entirely because Clinton and Obama "split" the Democratic vote, so to speak. McCain dominates among Republicans as expected, but he also leads by a wide margin among independents. A majority of Democrats say Clinton is most ready to be president, with Obama and McCain closely matched for second.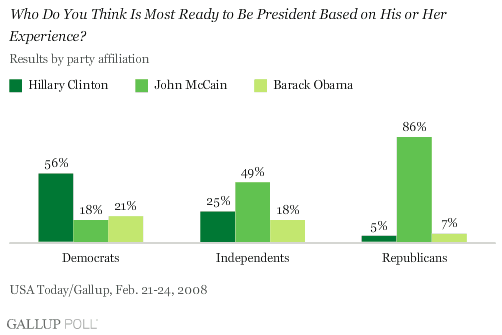 The expected party differences occur when Americans are asked to rate each candidate individually on having the necessary experience to be president. The party gaps are most evident for Clinton, with 85% of Democrats saying she has the necessary experience but only 33% of Republicans agreeing. A majority of all three major party groups think McCain has sufficient experience. Democrats are about as likely to say Obama has the necessary experience as to say this about McCain.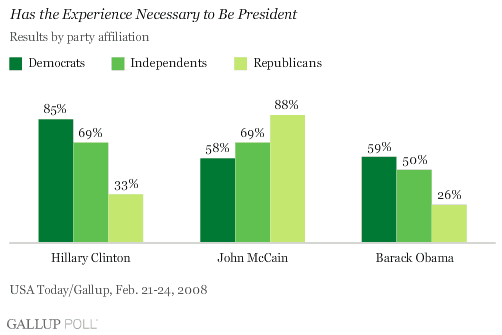 While experience is often an important entry on a candidate's résumé, it may not be what voters are most looking for this year. When asked which of three candidate characteristics is most important to their 2008 vote, only 22% of Americans say experience. Thirty-four percent say the candidate's issue positions, and the most, 42%, say the candidate's leadership skills and vision.
These importance ratings show mild variation by party. Democrats choose leadership skills and vision by a wide margin over both issue positions and experience, something clearly working in Obama's favor. Independents choose leadership by a slim margin over issue positions, and Republicans' preferences are almost evenly divided between issue positions and leadership.
Implications
Obama's relative lack of experience has been an issue in the presidential campaign to date, and it could become a bigger issue if he were McCain's Democratic opponent in the general election. As many Americans believe Obama, the three-year U.S. senator, lacks the experience needed to be president as believe he possesses it. However, experience does not seem to be very high on Americans' list of qualifications for the next president, so this apparent weakness for Obama may not be fatal. Americans are more likely to be looking for a candidate with leadership skills and vision, characteristics on which Obama has obvious strengths.
Survey Methods
Results are based on telephone interviews with 2,021 national adults, aged 18 and older, conducted Feb. 21-24, 2008. For results based on the total sample of national adults, one can say with 95% confidence that the maximum margin of sampling error is ±2 percentage points.
For results based on the sample of 1,010 national adults in Form A and the 1,011 national adults in Form B, the maximum margins of sampling error are ±3 percentage points.
Interviews are conducted with respondents on land-line telephones (for respondents with a land-line telephone) and cellular phones (for respondents who are cell-phone only).
In addition to sampling error, question wording and practical difficulties in conducting surveys can introduce error or bias into the findings of public opinion polls.