WASHINGTON, D.C. -- The European Commission is asking several Balkan countries to reform their judicial systems to pave the way for European Union membership. Gallup Polls in these countries suggest many citizens would agree there is room for improvement.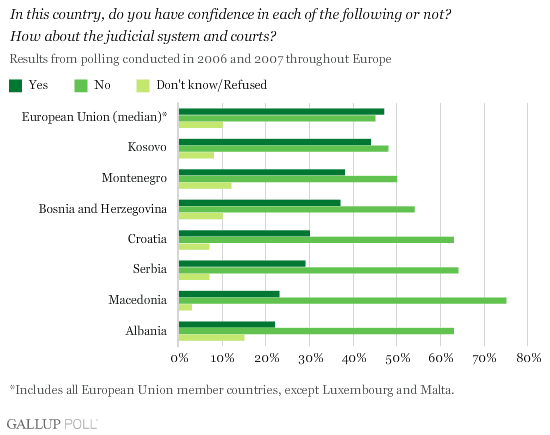 Respondents from most of the Balkan countries and special areas surveyed are much less likely than those in many of the current European Union countries to express confidence in their judicial systems. In December 2006 and January 2007, a regional median of 30% for Albania, Bosnia and Herzegovina, Croatia, Kosovo, Macedonia, Montenegro, and Serbia (excluding Kosovo) express confidence in their judicial systems, compared to a regional median of 47% for 25 EU member countries surveyed.
Croatia and Macedonia are most likely the first in line for EU membership, having been official candidates since 2005. The European Commission recommendations highlighted reform of the judicial system and anti-corruption efforts as key to these countries eventual entrance into the EU. Specifically, it recommended improving transparency and impartiality in the judiciary in Croatia and improving professionalism, competence, and impartiality in Macedonia's judiciary. Just 30% of Croatians and 23% of Macedonians surveyed say they have confidence in the judicial system in their country. More than 7 in 10 respondents in each country (77% in Croatia; 74% in Macedonia) believe corruption is widespread throughout the government, and more than 8 in 10 in each country say corruption is widespread within businesses (83% in Croatia; 86% in Macedonia).
Survey Methods
Results are based on telephone and face-to-face interviews with approximately 1,000 adults in Albania, Austria, Belgium, Bosnia and Herzegovina, Bulgaria, Croatia, Cyprus, Czech Republic, Denmark, Estonia, Finland, France, Germany, Greece, Hungary, Ireland, Italy, Kosovo, Latvia, Lithuania, Macedonia, Montenegro, Netherlands, Poland, Portugal, Romania, Serbia, Slovakia, Slovenia, Spain, Sweden, and the United Kingdom, aged 15 and older, conducted throughout 2006 and 2007. For results based on the total sample of national adults, one can say with 95% confidence that the maximum margin of sampling error is ±3 percentage points. In addition to sampling error, question wording and practical difficulties in conducting surveys can introduce error or bias into the findings of public opinion polls.