PRINCETON, NJ -- In the first release of Gallup Poll Daily tracking on the 2008 general election, Republican John McCain is competitive when matched up against either Barack Obama or Hillary Clinton, with the Democrats having a slight advantage among registered voters in both races, but not beyond the margin of sampling error.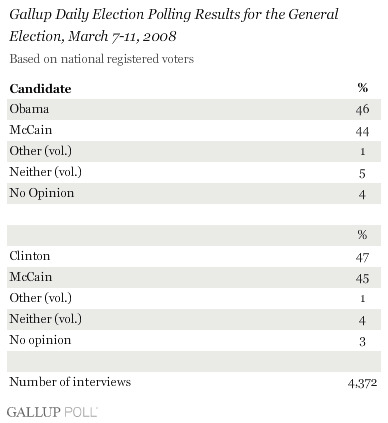 These results are based on interviews with 4,372 registered voters nationwide. All voters were asked their preferences in both pairings: McCain vs. Obama and McCain vs. Clinton, with the order of the pairings randomly rotated across the sample. The daily general election results will initially be reported as five-day rolling averages. Wednesday's results are based on interviewing conducted March 7-11.
One focus in the ongoing campaign for the Democratic presidential nomination is the relative strength of Obama and Clinton against McCain in November's general election. These data suggest that, at this point, no candidate can claim an advantage -- Obama gets 46% of the vote to McCain's 44%, while Clinton receives 47% to McCain's 45%.
Obama expanded his lead over Clinton in total pledged Democratic convention delegates last night with a win in the Mississippi primary. The latest Gallup Poll Daily tracking update on Democratic nomination preferences, based on March 9-11 polling (most of which was conducted before the Mississippi results were known), shows 47% of national Democratic voters favoring Obama and 45% Clinton. Since March began, the candidates have been in a statistical dead heat all but one day -- Obama held a 5-point advantage in March 7-9 polling. -- Jeff Jones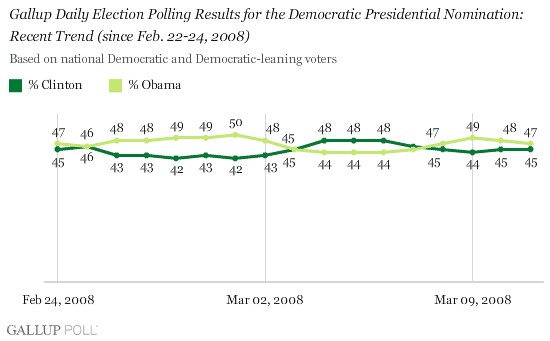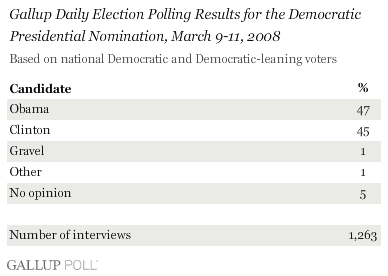 Methodology: Gallup is interviewing no fewer than 1,000 U.S. adults nationwide each day during 2008.
The general election results are based on combined data from March 7-11, 2008. For results based on this sample of 4,372 registered voters, the maximum margin of sampling error is ±2 percentage points.
The Democratic nomination results are based on combined data from March 9-11, 2008. For results based on this sample of 1,263 Democratic and Democratic-leaning voters, the maximum margin of sampling error is ±3 percentage points.
In addition to sampling error, question wording and practical difficulties in conducting surveys can introduce error or bias into the findings of public opinion polls.
To receive Gallup Poll Daily tracking reports each day as soon as they are published, please register here and add Gallup Daily to your e-mail subscriptions.