PRINCETON, NJ -- Hillary Clinton is rated as "honest and trustworthy" by 44% of Americans, far fewer than say this about John McCain (67%) and Barack Obama (63%).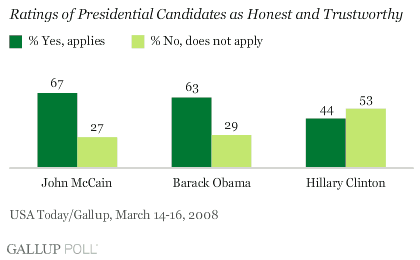 The latest USA Today/Gallup poll, conducted March 14-16, asked Americans to rate the presidential candidates on honesty and nine other character dimensions. The 23-point gap separating Clinton and McCain on honesty is the largest between any two candidates for any dimension tested in the poll. The accompanying table shows how Americans rate the candidates on each dimension.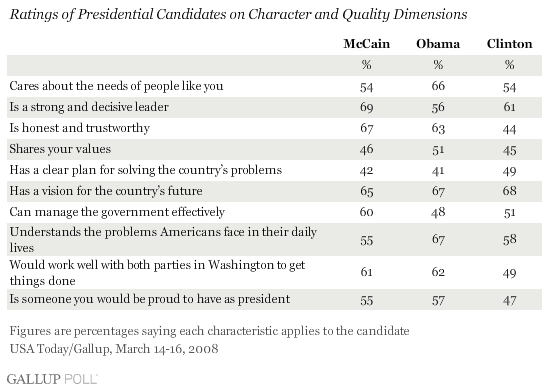 In addition to his strong showing on honesty, McCain also fares well on leadership. Sixty-nine percent of Americans describe the Arizona senator as "a strong and decisive leader," giving him an advantage over both Clinton (61%) and Obama (56%) in this regard.
Obama's strengths lie in his perceived empathy -- two in three Americans say he "understands the problems Americans face in their daily lives" and "cares about the needs of people like you." Clinton and McCain are in the 50% range on both of these dimensions.
Obama (51%) also edges McCain (46%) and Clinton (45%) on "shares your values."
Clinton is the leader on what proves to be a weakness for both McCain and Obama -- having a clear plan for solving the country's problems. Forty-nine percent say Clinton does, compared with 41% for Obama and 42% for McCain. Clinton has tried to emphasize this theme in her campaign in order to draw a distinction between her and Obama, and it rates as Obama's (and McCain's) lowest score.
Clinton has perhaps been less successful in convincing voters that she can better navigate her way through the Washington policy process than the other candidates. McCain (60%) leads both Clinton (51%) and Obama (48%) in terms of being able to manage the government effectively. Also, Obama (62%) and McCain (61%) finish well ahead of Clinton in terms of being able to "work well with both parties in Washington to get things done."
All three candidates are rated well with respect to having a vision for the country's future -- 68% say this about Clinton, 67% about Obama, and 65% about McCain.
One final dimension underscores another potential vulnerability for Clinton -- 47% of Americans say she is someone they would be proud to have as president (51% say they would not be proud to have Clinton). Obama (57%) and McCain (55%) both score above the majority level on this measure, which highlights that both tend to fare better on basic likability measures than Clinton.
Implications
It is clear that voters are able to distinguish among the three major presidential candidates and rate some areas as strengths and some areas as weaknesses for each. Clinton would appear to have more weaknesses in the public's eyes than McCain or Obama, though that might reflect the fact that she is a better-known figure (and has lower favorable ratings). Currently, she holds a significant lead over Obama on only 2 of the 10 character dimensions evaluated here (strong and decisive leader, and having a clear plan for solving the country's problems) and McCain on one (clear plan). Despite this, she remains competitive with McCain in general-election matchups and she has held off Obama's attempts to wrap up the Democratic nomination.
Survey Methods
Results are based on telephone interviews with 1,025 national adults, aged 18 and older, conducted March 14-16, 2008. For results based on the total sample of national adults, one can say with 95% confidence that the maximum margin of sampling error is ±3 percentage points.
Interviews are conducted with respondents on land-line telephones (for respondents with a land-line telephone) and cellular phones (for respondents who are cell-phone only).
In addition to sampling error, question wording and practical difficulties in conducting surveys can introduce error or bias into the findings of public opinion polls.