WASHINGTON, D.C. -- Montenegrins are less likely than are other Balkan residents that Gallup surveyed to believe corruption is widespread in their government, which bodes well for incumbent Filip Vujanović and the ruling Democratic Party of Socialists (DPS) in Sunday's presidential election.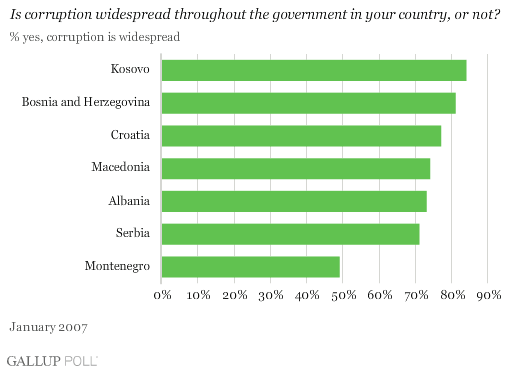 The election is Montenegro's first presidential ballot since achieving independence from Serbia in mid-2006. The country's presidency is mostly ceremonial, but the vote will test the prevailing political winds ahead of next year's parliamentary election. Vujanović's main opponent, Nebojsa Medojevic, leads a new opposition party called Movement for Changes (PzP), which has focused on corruption issues such as the DPS' alleged links to organized crime.
That's a potentially potent strategy, given that 59% of Montenegrins surveyed in January 2007 agree with the statement that organized crime is the most important problem in the country, while just 18% disagree. However, as the previous graph suggests, residents don't necessarily associate such corruption with the DPS-led government. Moreover, Montenegro is the only Balkan country where people are more likely to say they have confidence in the national government (50%) than to say they do not have confidence in the national government (37%).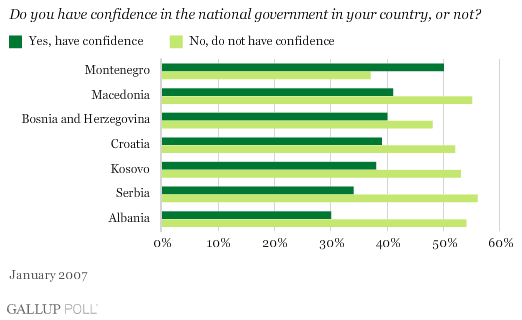 Vujanović did generate criticism in some quarters last year for defending the Serbian Orthodox Church from attempts by the Montenegrin Orthodox Church to seize its property. But among the broader electorate, the move may be as likely to help Vujanović as it is to hurt him; almost half of Montenegrins (46%) say they are members of the Serbian church, while just 14% say they belong to the Montenegrin Church.
Bottom Line
It seems unlikely that the PzP's focus on government corruption will resonate with enough Montenegrins that Vujanović will be unseated in Sunday's election. Medojevic may produce a strong enough showing to make a clear statement, however -- particularly if overall voter turnout is low.
With the critical question of independence behind them, Montenegrins may be less engaged with politics than they were in 2006, when 71% turned out for the parliamentary elections. Asked in last year's poll to rate their level of attention to current affairs on a 5-point scale, where "5" is the most attention, just 16% chose one of the top two points. Moreover, only 17% of Montenegrins say they believe people like them could influence how political decisions are made in the country, while 64% disagree.
Survey Methods
Results are based on face-to-face interviews with 834 adults in Montenegro, aged 15 and older, conducted in January 2007. For results based on the total sample of national adults, one can say with 95% confidence that the maximum margin of sampling error is ±4 percentage points.