PRINCETON, NJ -- Barack Obama has gained support in the latest Gallup Poll Daily tracking report for April 4-6, and now leads Hillary Clinton by a statistically significant margin, 52% to 43%.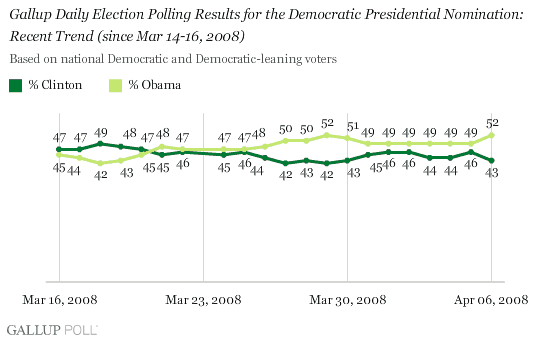 Obama's current 52% support level matches his highest of the year, although his margin over Clinton was slightly larger, at 52% to 42%, in March 27-29 polling. So far this year Obama has been unable to sustain a significant lead over Clinton for more than a few days. (To view the complete trend since Jan. 3, 2008, click here.)
Obama had a particularly strong showing in Sunday's interviewing, and it will remain to be seen if he is able to enlarge and sustain a margin of victory in the days ahead. Two events have been in the news in recent days that, in theory, could affect Democrats' support levels for their two candidates. Bill and Hillary Clinton released their tax returns for the last eight years on Friday, reporting that they made over $100 million during that time period. Sunday Clinton's chief campaign strategist, Mark Penn, resigned his position after reports that the public relations firm of which he is president had a conflict of interests with the Clinton campaign.
Obama remains tied with presumptive Republican nominee John McCain when registered voters nationally as given a hypothetical November general election matchup between the two. McCain retains a slight two percentage point margin over Clinton. -- Frank Newport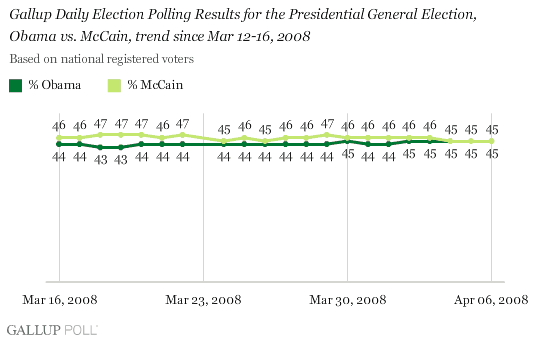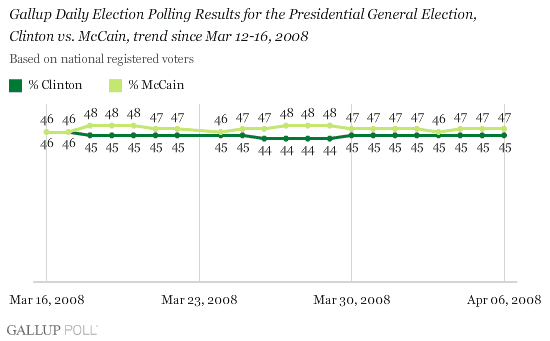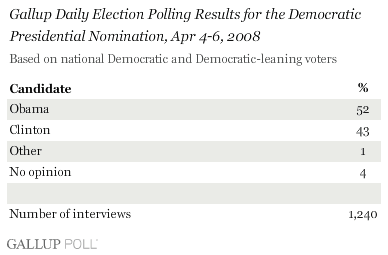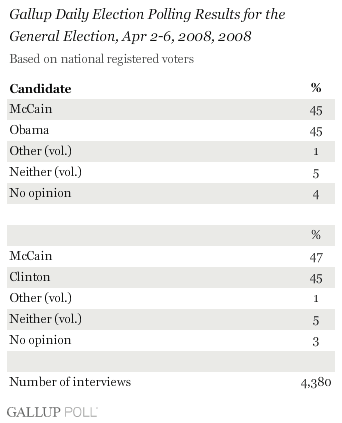 Survey Methods
Gallup is interviewing no fewer than 1,000 U.S. adults nationwide each day during 2008.
The general election results are based on combined data from April 2-6, 2008. For results based on this sample of 4,380 registered voters, the maximum margin of sampling error is ±2 percentage points.
The Democratic nomination results are based on combined data from April 4-6, 2008. For results based on this sample of 1,240 Democratic and Democratic-leaning voters, the maximum margin of sampling error is ±3 percentage points.
In addition to sampling error, question wording and practical difficulties in conducting surveys can introduce error or bias into the findings of public opinion polls.
To receive Gallup Poll Daily tracking reports each day as soon as they are published, please register here and add Gallup Daily to your e-mail subscriptions.