PRINCETON, NJ -- Roughly one in four Democrats nationally say their preference for whether Hillary Clinton or Barack Obama wins the Democratic presidential nomination has changed at least once since the start of the primary season in January. Most of the converts -- 19% of all Democrats and Democratic leaners -- have moved out of Clinton's ranks and into Obama's, while 7% have taken the reverse path, switching from Obama to Clinton.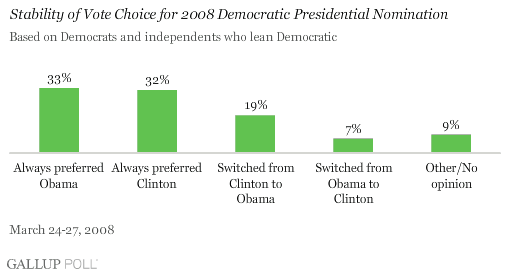 According to the March 24-27 Gallup Panel survey, a third of Democrats and independents who lean Democratic say they have consistently preferred Obama for the nomination and another third say they have consistently preferred Clinton, while a total of 26% say they previously supported Clinton or Obama, but now favor the other candidate.
Switchers are found across the spectrum of Democratic voters, but are more heavily concentrated among nonwhites than among whites (34% vs. 22%). Most of the switching among nonwhites has benefited Obama: 29% now support him, compared with only 5% currently supporting Clinton.
An Unsettled Race
National Democratic support for Clinton and Obama has shifted at various times in 2008, often in reaction to specific primary election results or controversies besetting the candidates.
In mid-January, the Gallup Poll Daily tracking of Democratic preferences found Clinton leading Obama by a 20 percentage-point margin, 48% vs. 28%. More recently, Obama has been in front, with his lead over Clinton reaching 10 points (52% vs. 42%) in late March.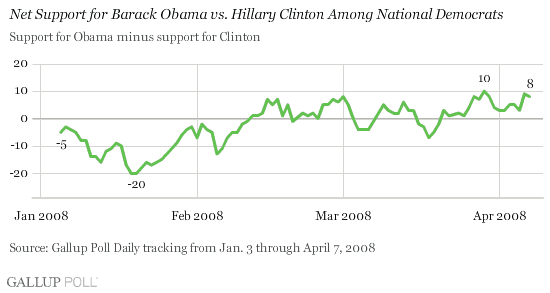 Bottom Line
Despite the cumulative amount of change in the Democratic race since January, only 26% of Democrats indicate they have changed their preference from one of the top two candidates to the other. Most appear to be steadfast in their support for either Clinton or Obama.
Survey Methods
Results are based on telephone interviews with 1,005 national adults, aged 18 and older, conducted March 24-27, 2008. Respondents were randomly drawn from Gallup's nationally representative household panel, which was originally recruited through random selection methods. The final sample is weighted so it is representative of U.S. adults nationwide.
For results based on the total sample of national adults, one can say with 95% confidence that the maximum margin of sampling error is ± 4 percentage points.
In addition to sampling error, question wording and practical difficulties in conducting surveys can introduce error or bias into the findings of public opinion polls.