PRINCETON, NJ -- Gallup Poll Daily tracking shows a tightening of the national Democratic race, with Barack Obama now holding just a 3-percentage point advantage over Hillary Clinton, 47% to 44%.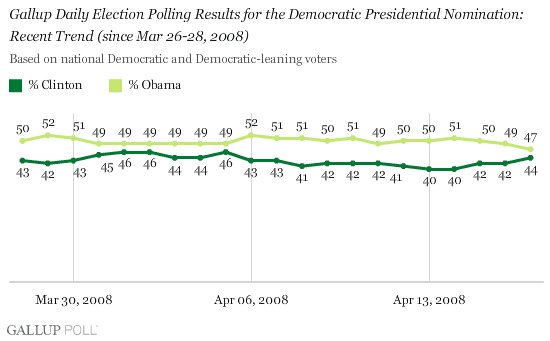 These results are based on interviewing conducted April 15-17, with Thursday night's interviewing the first conducted following the April 16 debate in Philadelphia. The initial indications are that Obama may have been hurt by the debate, which was noted for its negative tone and focus on the candidates' recent "gaffes" and Obama's associations with the controversial Rev. Jeremiah Wright and William Ayers (a former member of the radical Weather Underground group).
In Thursday night's interviewing, Clinton received a greater share of national Democratic support than Obama, the first time she has done so in an individual night's interviewing since April 3. That stronger showing for Clinton helped to snap Obama's streak of statistically significant leads in the three-day rolling averages Gallup reports each day. Until today, he had led Clinton by a statistically significant margin in each of the prior 11 Gallup releases.
The full impact of the debate -- and the ensuing media coverage of it -- will be apparent in the coming days, and it will soon be clear if the debate has produced a shift back to a more competitive race, or if Clinton may have received just a temporary boost in support. The next big event on the Democratic primary calendar is Tuesday's Pennsylvania primary.
There has been slight movement in the general election trial heats, with Obama's margin over Republican John McCain dropping by a point and Clinton's margin increasing by a point. In the latest polling on the general election, based on April 13-17 interviewing, registered voters prefer Obama to McCain by 45% to 44% and Clinton to McCain by 46% to 44%. -- Jeff Jones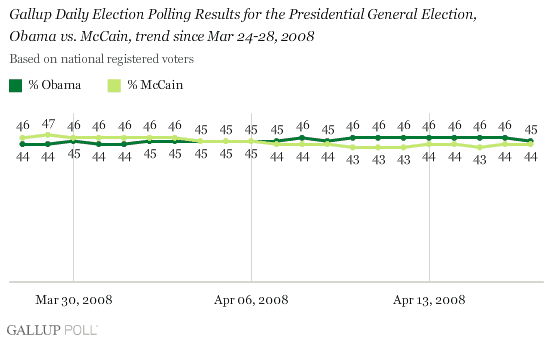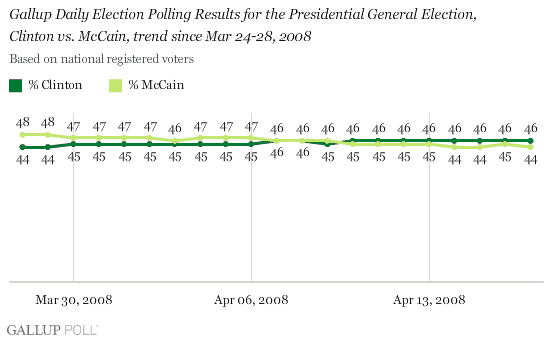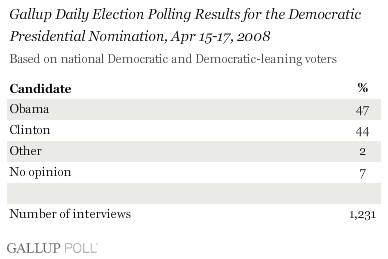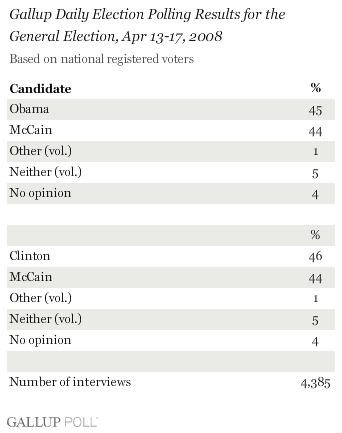 Survey Methods
For the Gallup Poll Daily tracking survey, Gallup is interviewing no fewer than 1,000 U.S. adults nationwide each day during 2008.
The Democratic nomination results are based on combined data from April 15-17, 2008. For results based on this sample of 1,231 Democratic and Democratic-leaning voters, the maximum margin of sampling error is ±3 percentage points.
The general election results are based on combined data from April 13-17, 2008. For results based on this sample of 4,385 registered voters, the maximum margin of sampling error is ±2 percentage points.
In addition to sampling error, question wording and practical difficulties in conducting surveys can introduce error or bias into the findings of public opinion polls.
To receive Gallup Poll Daily tracking reports each day as soon as they are published, please register here and add Gallup Daily to your e-mail subscriptions.
To provide feedback or suggestions about how to improve Gallup.com, please e-mail feedback@gallup.com.