PRINCETON, NJ -- Support for Barack Obama's nomination bid has rebounded among national Democratic voters, who now favor him over Hillary Clinton by a seven percentage point margin, 49% to 42%.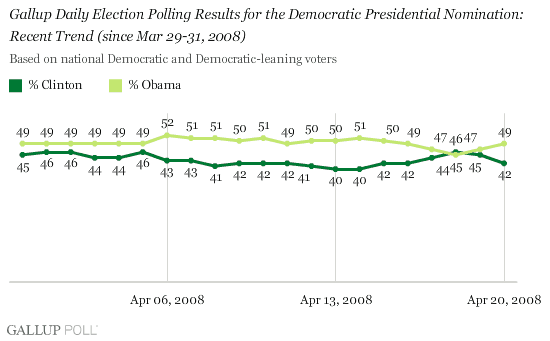 This is first time Obama has had a statistically significant advantage over Clinton since the race collapsed into a dead heat late last week. Prior to that, Obama was enjoying his longest front-runner streak since the start of Gallup Poll Daily tracking in January.
Today's results, from Gallup Poll Daily tracking conducted April 18-20, show Obama doing quite well in the last two days of polling (on Saturday and Sunday), suggesting the latest difficulties troubling his campaign -- largely stemming from the April 16 Democratic debate in Philadelphia and the ensuing media coverage-- are subsiding.
Gallup Poll Daily trends suggest Clinton may have received a short-term boost in her standing after the Philadelphia debate, but that she has been unable to sustain those gains. Now the focus shifts to Tuesday's Pennsylvania primary that Clinton is describing as an important test of the candidates' momentum and ability to win the fall election. Any impact of the Pennsylvania election results on the sentiments of Democrats across the country will begin to be evident in Gallup Poll Daily tracking reports later this week.
Gallup Poll Daily tracking from April 16-20 shows no change from Sunday's report in the national voter preferences for Obama vs. John McCain in a hypothetical matchup for the fall election. The two remain tied at 45%.
McCain, who has run nip and tuck with both Democrats since Gallup began tracking the general election in March, is now one point ahead of Clinton, 46% to 45%. Although the race is essentially deadlocked, this is the first time in two weeks that McCain has edged out Clinton in national voter preferences. -- Lydia Saad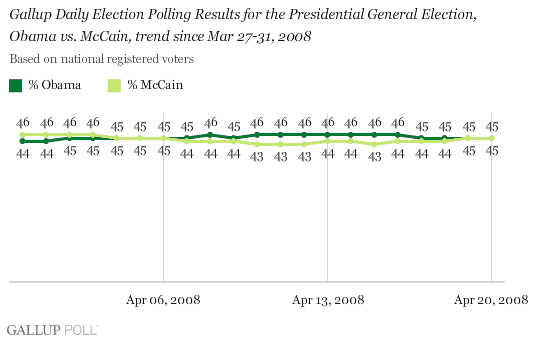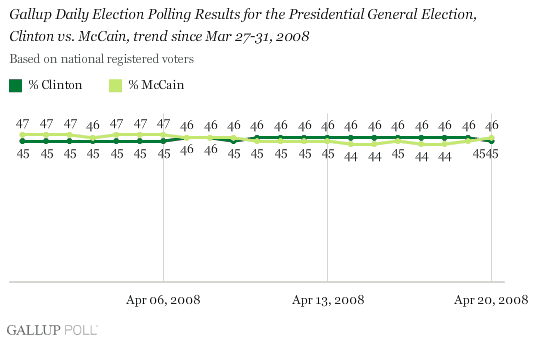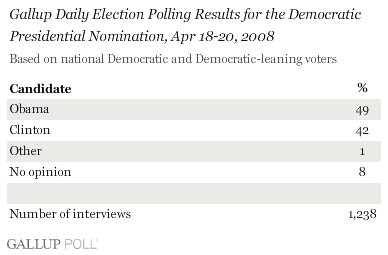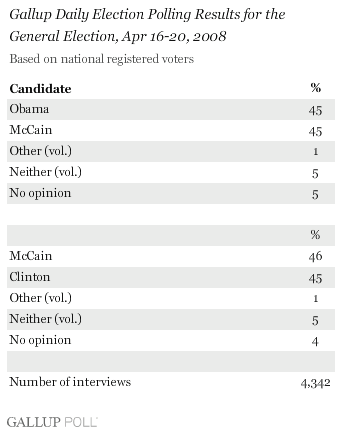 Survey Methods
For the Gallup Poll Daily tracking survey, Gallup is interviewing no fewer than 1,000 U.S. adults nationwide each day during 2008.
The Democratic nomination results are based on combined data from April 18-20, 2008. For results based on this sample of 1,238 Democratic and Democratic-leaning voters, the maximum margin of sampling error is ±3 percentage points.
The general election results are based on combined data from April 16-20, 2008. For results based on this sample of 4,342 registered voters, the maximum margin of sampling error is ±2 percentage points.
In addition to sampling error, question wording and practical difficulties in conducting surveys can introduce error or bias into the findings of public opinion polls.
To provide feedback or suggestions about how to improve Gallup.com, please e-mail feedback@gallup.com.