PRINCETON, NJ -- The 5½ years John McCain spent as a prisoner of war in Vietnam, enduring solitary confinement and torture, and at one point refusing to be sent home ahead of other POWs, have earned him the mantle of "war hero" in the eyes of 66% of Americans.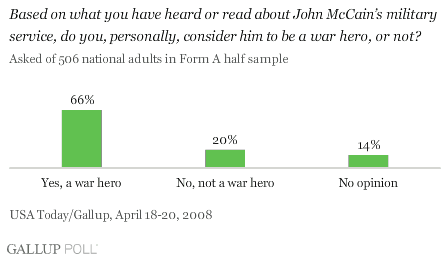 This is according to a USA Today/Gallup poll of the nation's adults, conducted April 18-20.
In contrast to the situation regarding the previous Vietnam War veteran to seek the presidency -- Democratic Sen. John Kerry -- there is bipartisan public agreement that McCain deserves this acclaim. Whereas nearly 6 in 10 Democrats (58%) currently say McCain is a war hero, in September 2004 only 29% of Republicans called Kerry a hero. There is also more universal agreement among Republicans today about McCain's war service than there was among Democrats four years ago about Kerry's. (As a result, fewer than half of Americans, overall, in 2004 -- 48% -- considered Kerry a war hero.)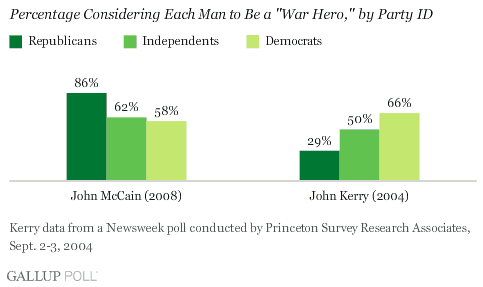 Indeed, McCain's broad-based reputation as a war hero may be a factor in his current success in going toe-to-toe with his likely Democratic opponents in Gallup Poll Daily trial heats for the fall election. McCain's relatively strong showing comes at a time when the Republican Party he's attached to is facing its worst image crisis in a decade, President George W. Bush's approval ratings are near the record lows for any president in over a half century, Americans' ratings of the Republican Party are near the lowest seen in the past decade, and the administration is fighting an unpopular war in Iraq that McCain supports.
When asked specifically how McCain's military service affects their vote for president, a fairly substantial 38% of Americans say it makes them more likely to vote for him, including 15% who say his service is a "major factor" in their vote decision. About a quarter of Republicans say it is a major factor, as do 14% of independents and 10% of Democrats. If sustained, this could be a critical advantage for McCain in attracting swing voters in a close election.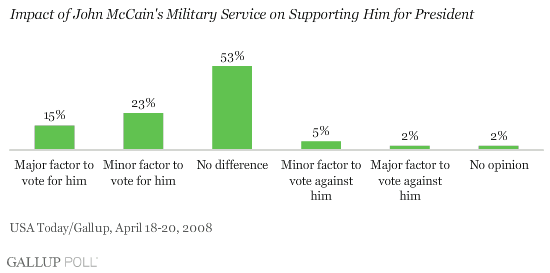 Basic Favorability
Another significant factor explaining why McCain is competitive with the Democrats for president at the moment is, no doubt, his general popularity as a public figure. Sixty percent of Americans have a favorable view of him; only 33% hold an unfavorable view. This immediately distinguishes McCain from President Bush, who is currently viewed much more unfavorably (66%) than favorably (32%).
Not only is McCain's favorable rating from Americans nearly twice as high as Bush's, but a majority of independents (62%) as well as more than a third of Democrats (36%) view him positively.
McCain's favorability is critical for his candidacy because both of his Democratic opponents are also well-liked by Americans. McCain and Obama are tied in favorability, each with a 60% favorable rating, including relatively high ratings from independents and members of the opposing party. Clinton has lower appeal among independents (only 48% have a favorable view of her); nevertheless, she is viewed favorably by 53% of all Americans.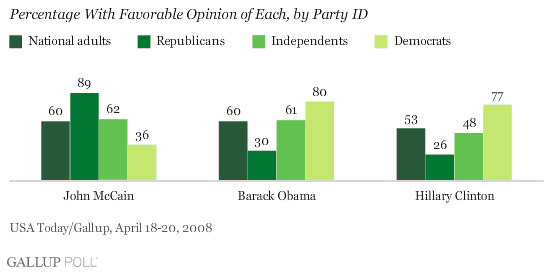 A Maverick?
In addition to his military experience, another reason McCain may be excelling in the popularity arena is his well-established reputation inside the nation's capital as a political maverick -- someone who has bucked the Republican Party on such issues as the 2001 Bush tax cuts and regulation of the tobacco industry, and has forged alliances with Democrats on climate change legislation, judicial nominations, and campaign finance reform. However, it is not clear how much this aspect of his career is helping to differentiate him from the troubled Republican Party.
In answer to a question designed to determine whether the public perceives McCain to be a maverick, only 45% of Americans say he is "a different kind of Republican." Slightly more, 48%, say he is "basically the same as most other Republicans."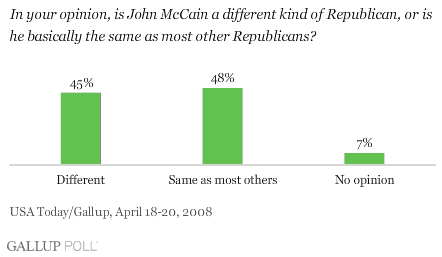 Sixty percent of Republicans consider McCain a different kind of Republican, compared with just under half of independents (46%) and only a third of Democrats (34%). Thus, in contrast to the bipartisan view that McCain is a war hero, his maverick image is more a matter of political debate.
Bottom Line
On paper, 2008 is a formidable year for a Republican to be seeking the presidency. Yet, since January, McCain has been roughly tied with both Clinton and Obama in trial heats for the fall election.
Two prominent theories as to why McCain has been able to rise above his party's image problems are that he has established himself as a political maverick who can work with Democrats, and his heroism in Vietnam. According to the new poll, it appears the latter may be the more influential of the two factors. While his war image may not directly translate into votes for his candidacy, it may help explain why the same Gallup Poll finds two-thirds of Americans calling McCain "honest and trustworthy," and about half saying he is someone who "cares about the needs of people like you," and "is someone you would be proud to have as president."
All of those perceptions are likely to contribute to McCain's overall favorability with the American public, and that, in turn, makes him a competitive candidate.
Survey Methods
Results are based on telephone interviews with 1,016 national adults, aged 18 and older, conducted April 18-20, 2008. For results based on the total sample of national adults, one can say with 95% confidence that the maximum margin of sampling error is ±3 percentage points.
For results based on the 506 national adults in the Form A half-sample and 510 national adults in the Form B half-sample, the maximum margins of sampling error are ±5 percentage points.
Interviews are conducted with respondents on land-line telephones (for respondents with a land-line telephone) and cellular phones (for respondents who are cell-phone only).
In addition to sampling error, question wording and practical difficulties in conducting surveys can introduce error or bias into the findings of public opinion polls.
To provide feedback or suggestions about how to improve Gallup.com, please e-mail feedback@gallup.com.