PRINCETON, NJ -- Democrats at the national level remain very closely divided in their preferences for their party's presidential nomination, with the latest Gallup Poll Daily tracking update showing 47% favoring Hillary Clinton and 46% supporting Barack Obama.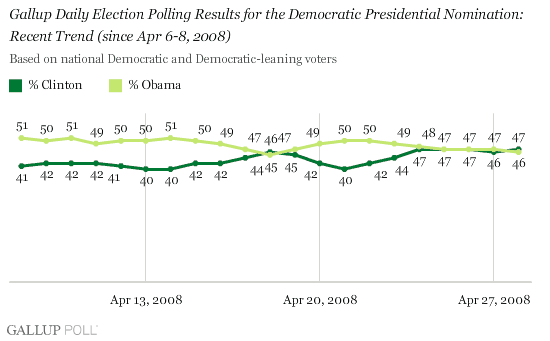 This marks the fifth consecutive Gallup Poll Daily tracking report in which the two Democratic candidates have been within a point of one another, as well as one of the few times in recent months in which the race has stabilized at the break-even point for more than a day or two. From a broad perspective, this situation marks a loss for Obama, who has generally been in the lead over Clinton for the last month. At the same time, Clinton -- coming off of her victory in the Pennsylvania primary, and almost certainly benefiting from the news media focus on controversies surrounding Obama -- has been unable to move into a significant lead. The next scheduled events that have the potential to shake up the race will be the North Carolina and Indiana primaries to be held one week from today. (To view the complete trend since Jan. 3, 2008, click here.)
There have been minor changes in the shape of the national registered voter preferences for the fall, with John McCain now leading Obama by a slim two percentage point margin, while Clinton has a slight 2-point margin over McCain. -- Frank Newport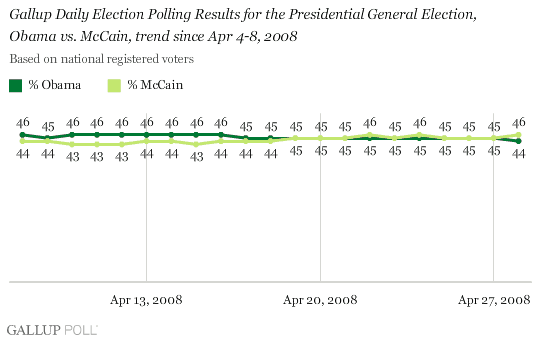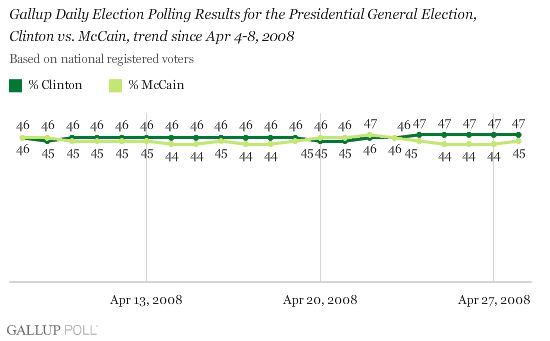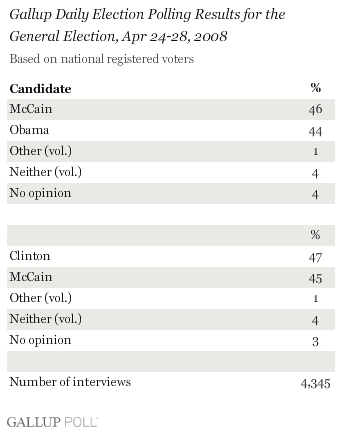 Register to get Gallup Poll Daily tracking reports delivered to you as soon as they are published!
Survey Methods
For the Gallup Poll Daily tracking survey, Gallup is interviewing no fewer than 1,000 U.S. adults nationwide each day during 2008.
The Democratic nomination results are based on combined data from April 26-28, 2008. For results based on this sample of 1,222 Democratic and Democratic-leaning voters, the maximum margin of sampling error is ±3 percentage points.
The general election results are based on combined data from April 24-28, 2008. For results based on this sample of 4,345 registered voters, the maximum margin of sampling error is ±2 percentage points.
In addition to sampling error, question wording and practical difficulties in conducting surveys can introduce error or bias into the findings of public opinion polls. To provide feedback or suggestions about how to improve Gallup.com, please e-mail feedback@gallup.com.