PRINCETON, NJ -- Gallup Poll Daily tracking shows Barack Obama is the current choice of 49% of Democratic voters nationwide for the party's presidential nomination, while 45% back Hillary Clinton.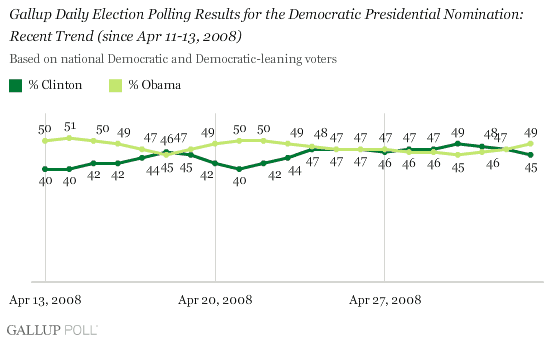 The four percentage point advantage for Obama is not statistically significant, and marks the 11th consecutive day that neither Clinton nor Obama has held a significant lead. Obama held leads throughout much of April, while Clinton has not held a significant lead in Gallup's national tracking polling since mid-March, and at that time for just one day. She has not consistently led since before the Super Tuesday primaries in early February. (To view the complete trend since Jan. 3, 2008, click here.)
Obama edged out Clinton in Saturday's Guam caucuses, winning by a mere seven votes of more than 4,500 ballots cast. The much more significant Indiana and North Carolina primaries will take place on Tuesday.
Clinton has been running better versus John McCain than Obama in the Gallup tracking general election trial heats for the last four days, though McCain has the edge over each Democrat. Registered voters currently prefer McCain to Clinton by 46%-45% and McCain to Obama by 47%-42%. -- Jeff Jones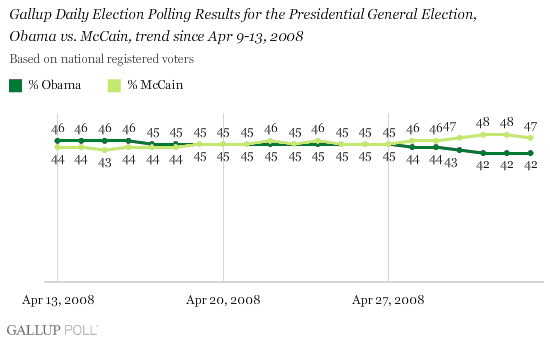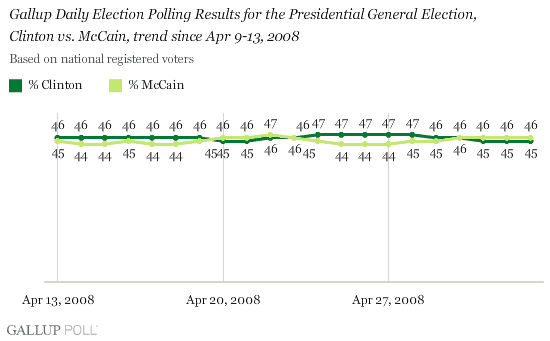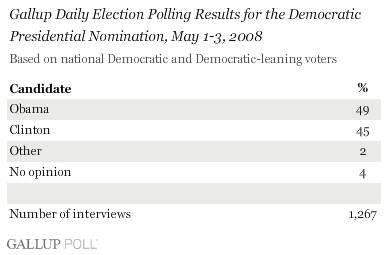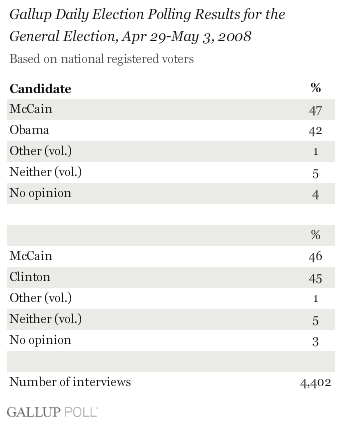 Register to get Gallup Poll Daily tracking reports delivered to you as soon as they are published!
Survey Methods
For the Gallup Poll Daily tracking survey, Gallup is interviewing no fewer than 1,000 U.S. adults nationwide each day during 2008.
The Democratic nomination results are based on combined data from May 1-3, 2008. For results based on this sample of 1,267 Democratic and Democratic-leaning voters, the maximum margin of sampling error is ±3 percentage points.
The general election results are based on combined data from April 29-May 3, 2008. For results based on this sample of 4,402 registered voters, the maximum margin of sampling error is ±2 percentage points.
In addition to sampling error, question wording and practical difficulties in conducting surveys can introduce error or bias into the findings of public opinion polls.
To provide feedback or suggestions about how to improve Gallup.com, please e-mail feedback@gallup.com.