WASHINGTON, D.C. -- Gallup Polls conducted in 35 African countries reveal that a regional median of just 37% of citizens are satisfied with their roads and highways.
These data provide a mandate for improvement for African transport and infrastructure ministers, who gathered in Algiers in late April to discuss the state of the transportation sector on the continent and noted the lack of "up-to-date, reliable data." A safe, efficient, and reliable regional transportation system (including road, air, and water networks) is considered an essential component of poverty alleviation and economic growth in Africa. With a road density, or road coverage, of about 7 kilometers per 100 square kilometers, Africa's road infrastructure is far less well developed than that of Asia or Latin America, where road density tops 18 and 12 kilometers per 100 square kilometers, respectively. Including all road types, Africa's network is only about 2 million kilometers, of which only 30% are paved.
The Gallup Polls show wide-ranging differences in citizens' satisfaction with roads from country to country, from a relatively high level of satisfaction of 64% in Ghana, Tunisia (62%), and Mozambique (59%) to a low of 8% in Liberia and Congo (11%), after taking the margin of error into account.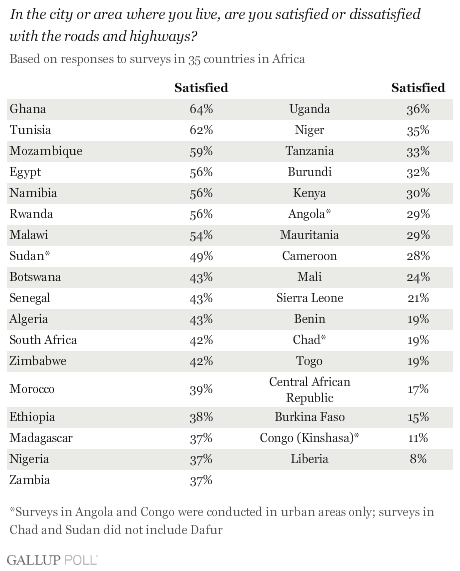 In just 7 out of 35 countries polled (Ghana, Tunisia, Mozambique, Egypt, Namibia, Rwanda, and Malawi), majorities say they are satisfied with the roads and highways in their local communities. At the other end of the spectrum, less than one-quarter of respondents express satisfaction with their road infrastructure in nine countries (Mali, Sierra Leone, Benin, Chad, Togo, Central African Republic, Burkina Faso, Congo, and Liberia).
Survey Methods
Results are based on face-to-face interviews conducted in 2006 and 2007. Randomly selected sample sizes typically number 1,000 adults, aged 15 and older, in the 35 countries polled. In Angola and Congo, surveys were conducted in urban areas. Surveys in Chad and Sudan did not include Darfur. For results based on the total sample of national adults, one can say with 95% confidence that the maximum margin of sampling error is ±5 percentage points. In addition to sampling error, question wording and practical difficulties in conducting surveys can introduce error or bias into the findings of public opinion polls.