WASHINGTON, D.C. -- A recent agreement between Serbia and the European Union that paves the way for Serbia's eventual EU membership has disheartened officials and residents from Bosnia and Herzegovina who are still waiting to sign a similar agreement. Gallup's most recent poll in Bosnia and Herzegovina found a strong majority saying their country's membership in the EU would be a good thing.
Many citizens of Bosnia and Herzegovina have expressed frustration over the agreement with Serbia, whom they say has failed to arrest those guilty of war crimes, a requirement for EU membership. With their own pre-accession agreement stalled because of "translation issues," some residents of Bosnia and Herzegovina likely perceive hesitation on the part of the EU. In 2007, about one in four (23%) told Gallup they did not believe the European Commission wanted their country to join the European Union, although a majority (55%) disagreed.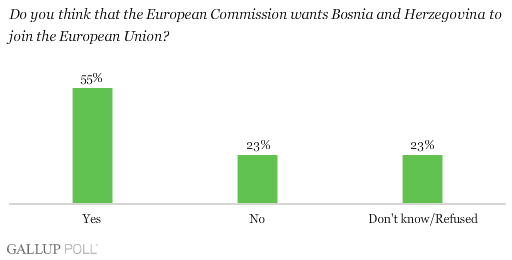 When asked whether they thought their own leaders were doing what was necessary to join the EU, citizens from Bosnia and Herzegovina were roughly divided with 39% saying "yes" and 43% saying "no." While it is uncertain how long it will take Bosnia and Herzegovina to complete the path to EU membership, public opinion reflects hope and frustration among the people there.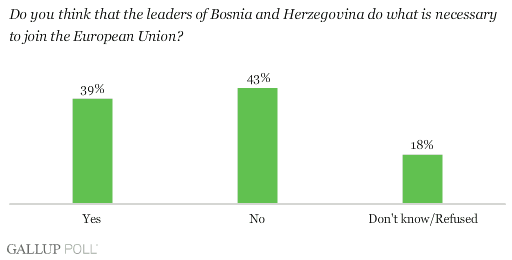 Survey Methods
Results are based on face-to-face interviews with approximately 2,000 adults in December 2006 and January 2007, aged 15 and older, in Bosnia and Herzegovina. For results based on the total sample of national adults, one can say with 95% confidence that the maximum margin of sampling error is ±2 percentage points. In addition to sampling error, question wording and practical difficulties in conducting surveys can introduce error or bias into the findings of public opinion polls.