PRINCETON, NJ -- Gallup Poll Daily tracking has documented a surge in Democratic voters' support for Barack Obama over Hillary Clinton in recent days, swelling from a four percentage-point lead for Obama during the first part of May to a record 16-point lead for him in polling from May 16-18.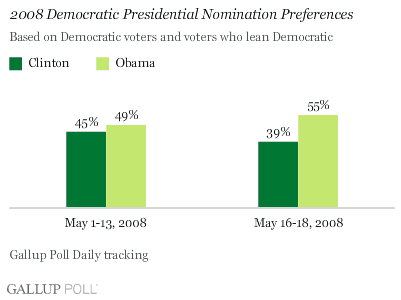 Prior to now, Obama's largest lead over Clinton was 11 percentage points, achieved briefly in mid-April. However, for most of the past month, Clinton and Obama have been fairly closely matched, with neither sustaining a significant lead for more than a few days. It thus remains to be seen whether this improvement in Obama's standing is a variation of the same pattern, or represents a turning point in the race.
Obama Swamps Clinton Among Young Voters and Others
The broadening of Obama's appeal for the nomination seen in Gallup's May 16-18 polling is fairly widespread, with the percentage favoring him increasing among most demographic categories of Democratic voters. However, as a result, certain groups that were already highly supportive of Obama for the nomination -- men, 18- to 29-year-olds, postgrads, and upper-income Democrats -- are now overwhelmingly in his camp. Obama is currently favored among these groups by a 2-to-1 margin, or better, over Clinton.
At the same time, support for Clinton among some of her traditionally stalwart support groups -- women, Easterners, whites, adults with no college education, and Hispanics -- has fallen below 50%.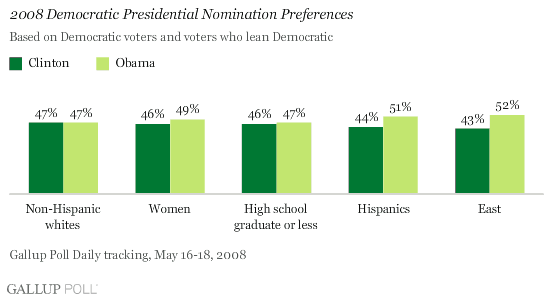 The only major demographic group still supporting Clinton to the tune of 51% or more is women aged 50 and older. This group's preferences have changed little during May, at the same time that Clinton's support among younger men (those 18 to 49) has declined by nearly 10 points.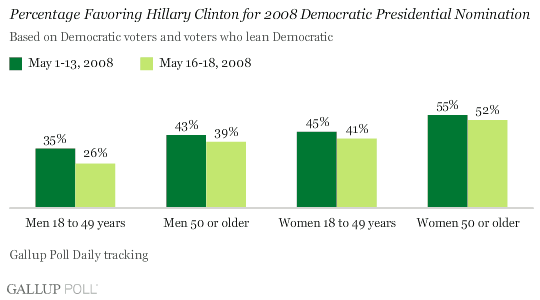 Bottom Line
After nearly 20 grueling weeks on the campaign trail since he shook up the Democratic primary race by winning the Iowa caucuses, Obama has finally stretched his lead over his chief rival into the teens.
Having previously captured nearly the maximum level of support from black voters, Obama's latest gains have come from a broad spectrum of rank-and-file Democrats. At least for now, he has expanded his position as the preferred candidate of men, young adults, and highly educated Democrats, and has erased Clinton's advantages with most of her prior core constituency groups, including women, the less well-educated, and whites.
Survey Methods
For the Gallup Poll Daily tracking survey, Gallup is interviewing no fewer than 1,000 U.S. adults nationwide each day during 2008.
The Democratic nomination results for May 1-13, 2008, are based on interviews with 5,474 Democratic and Democratic-leaning voters. The maximum margin of sampling error for samples of this size is ±1 percentage point.
The Democratic nomination results for May 16-18, 2008, are based on interviews with 1,261 Democratic and Democratic-leaning voters. The maximum margin of sampling error for samples of this size is ±3 percentage points.
Interviews are conducted with respondents on land-line telephones (for respondents with a land-line telephone) and cellular phones (for respondents who are cell-phone only).
In addition to sampling error, question wording and practical difficulties in conducting surveys can introduce error or bias into the findings of public opinion polls.
To provide feedback or suggestions about how to improve Gallup.com, please e-mail feedback@gallup.com.