PRINCETON, NJ -- Barack Obama continues to hold a solid lead over Hillary Clinton in national Democratic voters' nomination preferences, 53% to 42%, in Gallup Poll Daily tracking.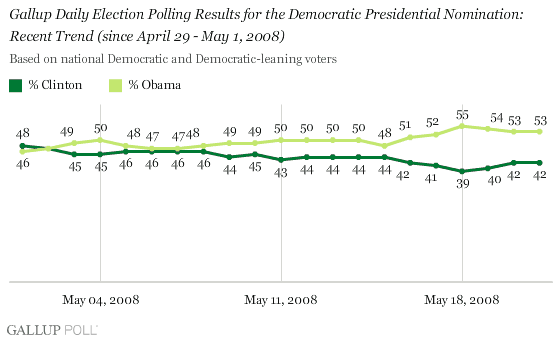 The result, based on May 19-21 polling, is the first to include interviewing following Tuesday's Kentucky and Oregon primaries. The early indication is that the split of those contests (Obama winning Oregon, Clinton Kentucky) is not changing the dynamics of the race.
Obama is establishing himself as the clear leader -- he opened up a double-digit lead five days ago, and has led by at least 11 percentage points each day since then. While he has generally been ahead of Clinton in Gallup Poll Daily tracking since the Feb. 5 Super Tuesday primaries, he never established a consistent, significant lead until the past few days. (To view the complete trend since Jan. 3, 2008, click here.)
Only three contests remain -- the June 1 Puerto Rico primary and June 3 South Dakota and Montana primaries -- leaving Clinton little time to reverse Obama's gaining momentum. Perhaps more consequential than those primaries is the May 31 Democratic Party meeting to decide the fate of the disputed Michigan and Florida convention delegations.
Obama has held a 3-point advantage over John McCain in the registered voters' general election preferences each of the last three days. In the latest update, based on May 17-21 polling, 47% of registered voters say they would vote for Obama if the election were held today, and 44% for McCain.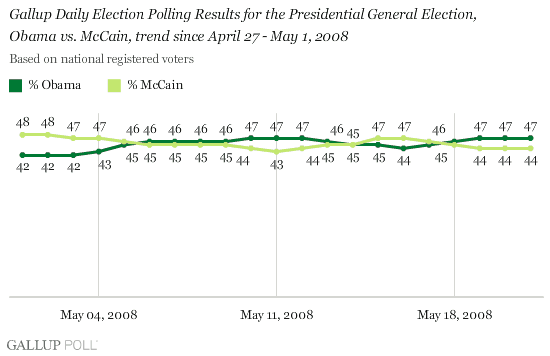 Clinton has a slightly larger lead over McCain, 49% to 44%. That matches her best showing versus McCain since Gallup began tracking the general election in mid-March. -- Jeff Jones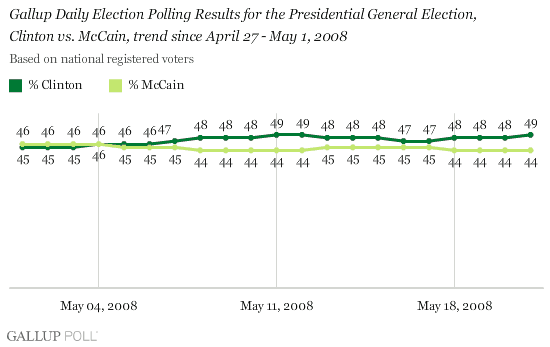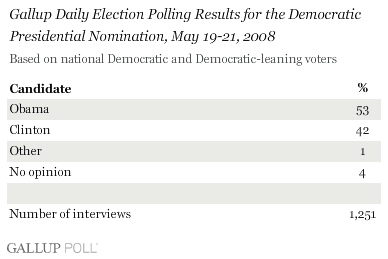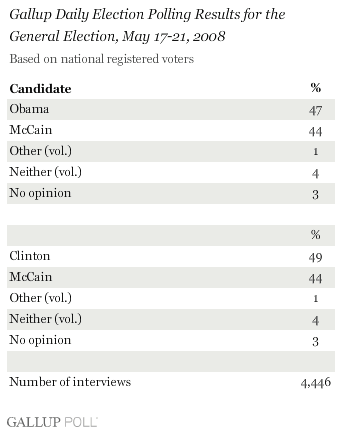 Survey Methods
For the Gallup Poll Daily tracking survey, Gallup is interviewing no fewer than 1,000 U.S. adults nationwide each day during 2008.
The Democratic nomination results are based on combined data from May 19-21, 2008. For results based on this sample of 1,251 Democratic and Democratic-leaning voters, the maximum margin of sampling error is ±3 percentage points.
The general election results are based on combined data from May 17-21, 2008. For results based on this sample of 4,446 registered voters, the maximum margin of sampling error is ±2 percentage points.
Interviews are conducted with respondents on land-line telephones (for respondents with a land-line telephone) and cellular phones (for respondents who are cell-phone only).
In addition to sampling error, question wording and practical difficulties in conducting surveys can introduce error or bias into the findings of public opinion polls.
To provide feedback or suggestions about how to improve Gallup.com, please e-mail feedback@gallup.com.