PRINCETON, NJ -- A majority of Americans say they are worse off financially than a year ago, marking the first time in Gallup's 32-year history of asking the question that more than half of Americans give this pessimistic assessment.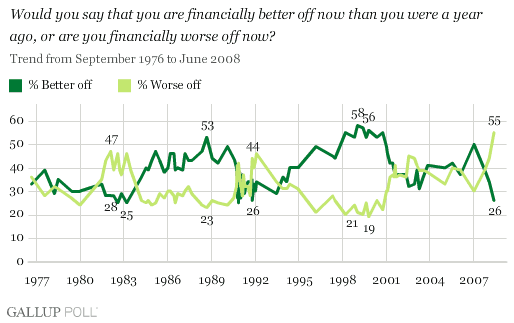 The previous high on this "worse off than a year ago" measure was back in 1982, in the first years of the Reagan administration, when 47% of those interviewed said they were worse off. When Gallup last asked this question in late January/early February of this year, 44% said they were worse off.
Only 26% of Americans now say they are better off financially than a year ago. This is one point shy of the all-time low reading on this measure, 25%, recorded several times from 1982 to 1990.
At the same time, Americans remain on a relative basis at least somewhat optimistic about the future. Fifty-two percent believe they will be better off financially a year from now than they are now, while just 31% say they will be worse off.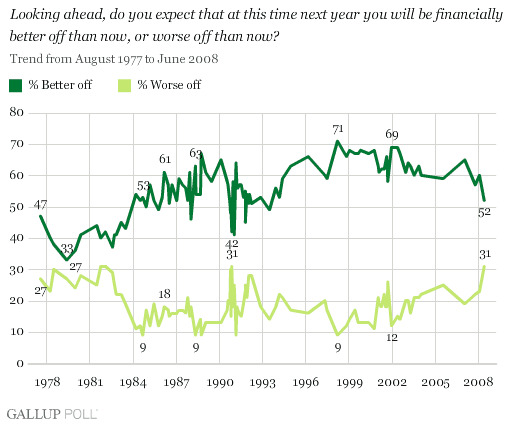 This "optimism" measure is actually quite a bit more positive than it has been at other times. The lowest reading on the "will be better off" measure is 33%, recorded in 1979, and the readings have been below 50% at several other points since then. The highest optimism reading occurred in March 1998, when 71% said they anticipated being better off in a year than they were at the moment.
Implications
The bad news from these data is clear: A record number of Americans have become convinced that their personal financial situations have deteriorated over the last year. Perhaps the high price of gasoline and the impact it is having on Americans' budgets is a major factor in these perceptions (although it should be noted that the negative read on the measure is worse than at other times when there was a sudden run-up in the price of gas). Because Americans are usually more positive about their personal situations than the situation "out there" more broadly, the record-high negative reading when the public is asked about its own financial situations suggests that the current economic downturn is having a significant personal impact.
The good news is that Americans have not lost their typical pattern of optimism: a little more than half retain some optimism that their financial situations will get better in the year ahead. In fact, a review of the history of asking these two questions shows that optimism is certainly the rule. There has never been a time when Americans have been more pessimistic than optimistic about their finances; and despite the sharp uptick in negative mood, that generally more optimistic attitude continues today.
Survey Methods
Results are based on telephone interviews with 1,012 national adults, aged 18 and older, conducted May 30-June 1, 2008. For results based on the total sample of national adults, one can say with 95% confidence that the maximum margin of sampling error is ±3 percentage points.
Interviews are conducted with respondents on land-line telephones (for respondents with a land-line telephone) and cellular phones (for respondents who are cell-phone only).
In addition to sampling error, question wording and practical difficulties in conducting surveys can introduce error or bias into the findings of public opinion polls.
To provide feedback or suggestions about how to improve Gallup.com, please e-mail feedback@gallup.com.