PRINCETON, NJ -- Hillary Clinton is emerging from the bitterly contested Democratic primary campaign with her public image among Democrats largely intact. More than three-quarters of Democrats (74%) still view her favorably, identical to national Democratic views of Barack Obama.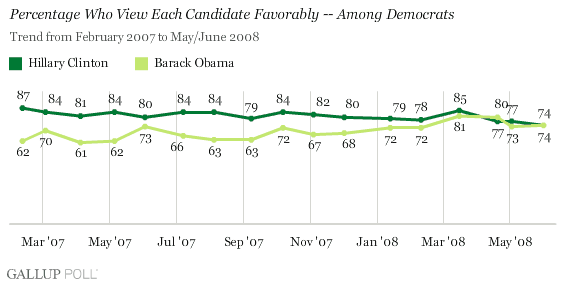 For most of 2007, 80% or more of national Democrats said they had a favorable view of Clinton. Positive views of her dipped below 80% in January and February of this year, rebounded to 85% in March, but have since been in the mid- to high 70s. Over the same period, Obama's favorability rose by 12 points, from 62% last February to 74% today. This was as Obama became better known nationally, and more people were able to rate him.
While Clinton's favorable rating among Democrats is slightly lower today than it once was, it has remained nearly flat among political independents. Also, after about a year of receiving minimal favorable ratings from Republicans (ranging from 12% to 19%), she is now viewed favorably by a slightly more robust 24% of Republicans, similar to the 21% to 28% seen in February and March 2007.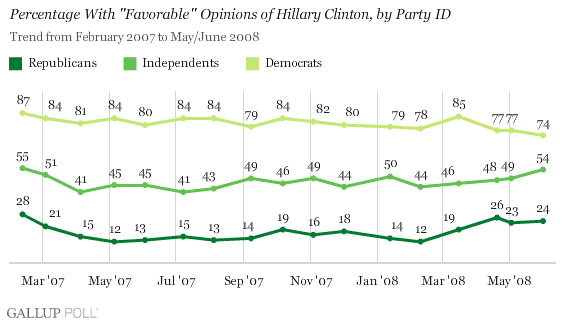 Beyond maintaining fairly strong favorability ratings among Democrats, Clinton also continues to be highly competitive in USA Today/Gallup general-election trial heats against Republican John McCain. Although this is quickly becoming irrelevant in terms of her efforts to convince superdelegates to back her nomination bid, it is an additional example of how her general appeal with the public has held up in spite of her impending Democratic defeat.
In February 2007, Clinton was favored by 50% of national registered voters to McCain's 47%. Today she holds an even stronger six-point lead on the same presidential ballot question, 49% to 43%.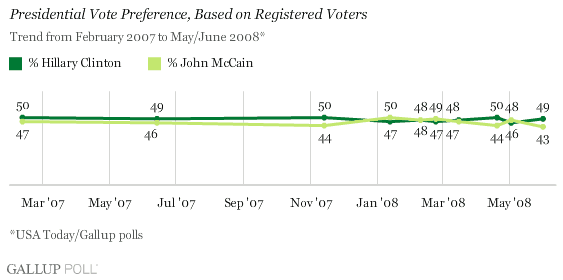 Of course, these positive indicators of Clinton's popularity belie the fact that national Democrats now favor Obama over Clinton for the Democratic nomination by a substantial margin. The latest USA Today/Gallup poll on the Democratic nomination, conducted May 30-June 1, 2008, finds Obama leading Clinton in national Democratic preferences by 13 points, 53% to 40%.
About a year ago, Clinton led second-place Obama by 14 points, 42% to 28%, with John Edwards then favored by 14%. And at the height of Clinton's front-runner position, in October 2007, she led Obama by 29 points, 50% to 21%.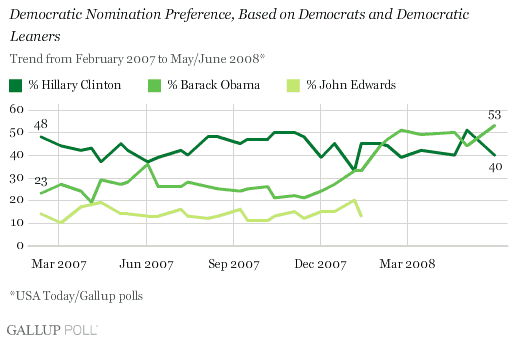 Thus, whereas Clinton's overall favorability among Democrats has declined by 13 points from its high point in February 2007, her position relative to Obama in national Democratic preferences has swung by as much as 42 points.
Bottom Line
2008 was supposed to be the year of complaining that the front-loaded primary schedule allowed the party front-runners to sew up their respective nominations too early. While they lasted, these critiques focused on the disproportionate influence of Iowa and New Hampshire compared with the more populous and nationally representative states that would hold their elections as "late" as March or April.
Instead, it has become the year of examining how Clinton, a candidate with a substantial lead in national Democratic preferences heading into the primaries and overwhelming advantages in party support, could lose the elected delegate war.
One thing is clear: Clinton did not lose on the basis of greatly diminished popular appeal -- within her party, among political independents, or among registered voters for the fall election. She still has considerable strengths in those areas. Whether that makes her an attractive choice to be Obama's running mate is something Gallup will be exploring on gallup.com in the coming days.
Survey Methods
The most recent results are based on telephone interviews with 1,012 national adults, aged 18 and older, conducted May 30-June 1, 2008. For results based on the total sample of national adults, one can say with 95% confidence that the maximum margin of sampling error is ±3 percentage points.
Interviews are conducted with respondents on land-line telephones (for respondents with a land-line telephone) and cellular phones (for respondents who are cell-phone only).
In addition to sampling error, question wording and practical difficulties in conducting surveys can introduce error or bias into the findings of public opinion polls.
To provide feedback or suggestions about how to improve Gallup.com, please e-mail feedback@gallup.com.