PRINCETON, NJ -- In an election year in which race is front and center, American blacks have grown more negative toward Hillary Clinton, with her favorable image sinking from 84% to 58% over the last year, while blacks' favorable opinions of Barack Obama have soared from 68% to 86%. Blacks have also become more negative toward John McCain.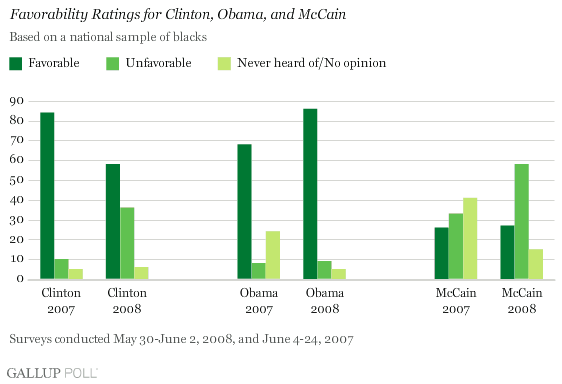 A new USA Today/Gallup survey, conducted May 30-June 2, 2008, shows that American blacks are significantly more likely now than they were a year ago to have an unfavorable opinion of Clinton. While in June of last year, an overwhelming 84% of blacks said their opinion of Clinton was favorable, that has dropped to 58% today. Unfavorable opinions of Clinton among blacks have jumped from 10% last June to 36% today.
The last year, of course, witnessed the rise of Obama from a little-known Illinois senator to his now being poised to be the first black candidate to win a major party's nomination for president in U.S. history. During that time, Clinton, formerly part of a political power couple with very strong ties to the black community, became Obama's opponent, and it appears that a perhaps inevitable fallout from that occurrence was a drop in her standing in the eyes of blacks across the country.
Indeed, blacks' opinions of presumptive Democratic nominee Obama have become more positive as he has become better known over the past year. Obama's image among blacks was an already very positive 68% favorable and 8% unfavorable last year at this time; now it's 86% favorable and 9% unfavorable. (Separately, year-to-year data show that among black Democrats, Clinton went from being competitive with Obama as first choice for the Democratic Party's nominee last year -- 42% for Obama, 43% for Clinton -- to the point where an overwhelming majority of 82% of black Democrats favor Obama in the current survey, compared to 15% for Clinton.)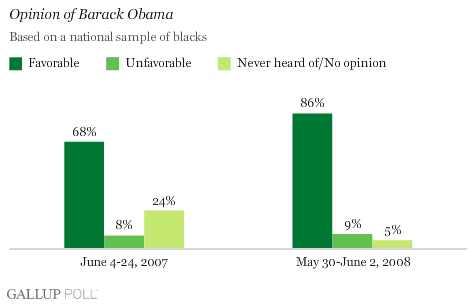 Clinton can perhaps take some comfort in the fact that the presumptive Republican nominee, McCain, has also seen his image become more negative in the eyes of black Americans over the last year. In June 2007, McCain's image among blacks was 26% favorable and 33% unfavorable, with 41% saying they either didn't have an opinion or had never heard of McCain. Now, as he has become better known, blacks' opinions of McCain have moved decidedly into the negative column: 58% are now unfavorable, while 27% are favorable.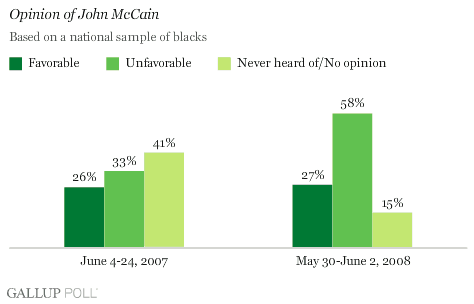 A good deal of news coverage has been given to Obama's former minister, the Rev. Jeremiah Wright, over the past several months. Wright, for many years the minister of Trinity United Church of Christ in Chicago, was vaulted into the national spotlight when video excerpts of his sermons surfaced on the Internet. His image became even more controversial after a fiery speech at the National Press Club in Washington. The new USA Today/Gallup survey suggests that Wright certainly cannot claim to have the allegiance of the majority of blacks in this country: 54% of blacks say they have an unfavorable opinion of the controversial minister, while only 18% say their opinion is favorable.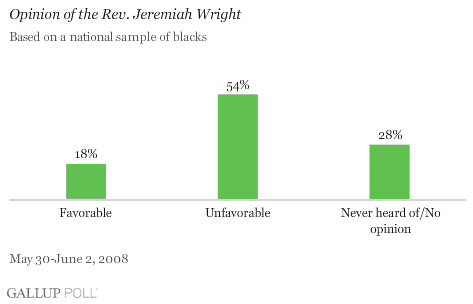 By contrast, blacks' opinions of another controversial minister, the Rev. Al Sharpton, are significantly more positive.
Survey Methods
Results are based on telephone interviews with 250 blacks, aged 18 and older, conducted May 30-June 2, 2008, some of which were drawn from Gallup's May 30-June 1 national sample and some of which were drawn from a special black oversample conducted May 30-June 2. The combined sample of blacks is weighted to be representative of U.S. blacks. For results based on the total sample, one can say with 95% confidence that the maximum margin of sampling error is ±7 percentage points.
Interviews are conducted with respondents on land-line telephones (for respondents with a land-line telephone) and cellular phones (for respondents who are cell-phone only).
In addition to sampling error, question wording and practical difficulties in conducting surveys can introduce error or bias into the findings of public opinion polls.
To provide feedback or suggestions about how to improve Gallup.com, please e-mail feedback@gallup.com.