PRINCETON, NJ -- Since Hillary Clinton decided to concede the Democratic nomination to Barack Obama last week, Obama has established a lead over Republican John McCain in general-election polling. Obama's gains have come more from women than men, though he has picked up among both groups in recent days.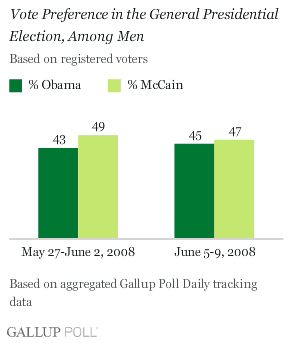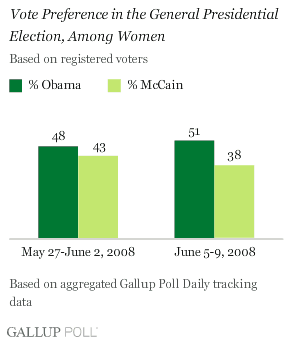 Obama's lead among women has now expanded from five percentage points to 13, while his deficit among men has shrunk from six points to two.
These figures are based on aggregated Gallup Poll Daily tracking interviews with national registered voters conducted May 27-June 2 (the week immediately before Obama clinched the nomination on June 3), which showed Obama and McCain tied at 46%, and June 5-9 (the five days since it was reported that Clinton would suspend her campaign), which show Obama ahead, 48% to 42%. Obama clinched the nomination on the evening of June 3, and the news media reported Clinton would suspend her campaign on the evening of June 4. Thus, the data give a clear picture of voter support before and after Clinton's exit.
While campaigning for president, Clinton demonstrated an especially strong appeal to women. She led McCain by 52% to 40% in her final full week as a candidate, exactly equal to the average since mid-March. By comparison, Obama held only an average 47% to 42% lead over McCain among women during the same time span. At least for now, he seems to be matching Clinton's performance among women versus McCain, given his current 13-point lead among female voters.
One of Clinton's core groups of supporters during the nomination phase of the campaign was older women. During the last few days of her active candidacy, Clinton led McCain by 51% to 41% among women aged 50 and older, while Obama trailed McCain among this group, 46% to 43%.
Since Clinton suspended her campaign, older women's vote preferences have shifted toward Obama, so that he now enjoys a six-point advantage over McCain.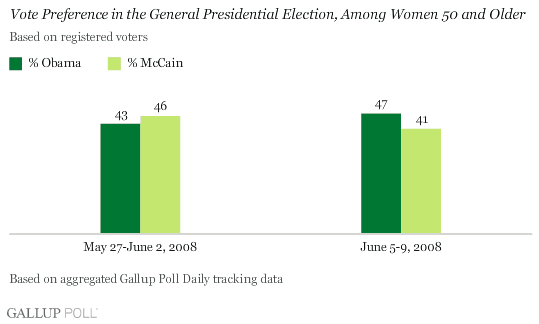 Obama had always run much better among younger women, in large part because of his strong appeal to younger voters. But his support has also risen among women aged 18 to 49 in the past few days, further expanding his already formidable 52% to 40% lead over McCain to 56% to 35%.
Obama has made major gains in the past few days among married women, erasing McCain's former 52% to 40% lead and pulling into a 45% to 45% tie. Meanwhile, the vote preferences among married men (a solid McCain group) and unmarried men and women (solid Obama groups) have changed little since Clinton decided to end her White House bid.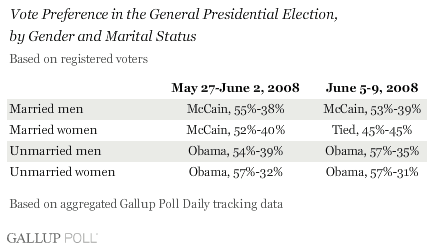 Obama has also seen his support among non-Hispanic white women increase modestly, though McCain still holds a slim 46% to 43% advantage among this group. Prior to Clinton's departure, McCain led Obama by 50% to 41% among white women.
Interestingly, while white women were a major part of Clinton's primary constituency, she maintained only a slim (if any) advantage in general-election trial heats versus McCain among this group. In the last week of her campaign, she only tied McCain among white women, at 47%. Thus, her strong performance against McCain among all female voters in presidential trial heats was primarily because of strong support from minority women.
Implications
Obama's recent gains in the polls have been greatly aided by increased support from female voters. Now that Clinton is no longer campaigning and the focus of voters' decision-making is a choice between Obama and McCain, female voters may be taking a second look at Obama. Indeed, his current 13-point advantage over McCain is essentially the same advantage that Clinton held over McCain throughout her active candidacy.
Obama's challenge in the general-election campaign will be to bring core Democratic groups that did not strongly support him in the primaries -- women, voters with less formal education, and conservative Democrats -- back into the fold. He appears to be already doing that among women. However, it is not clear whether this is just a temporary rally in support for him upon clinching the nomination, or whether he will be able to sustain a high level of support from female voters for the duration of the campaign.
Survey Methods
Results are based on telephone interviews with 5,270 registered voters, aged 18 and older, conducted May 27-June 2, and 4,390 registered voters, aged 18 and older, conducted June 5-9 as part of Gallup's daily election tracking polling. For results based on the total sample of national adults, one can say with 95% confidence that the maximum margin of sampling error is ±2 percentage points.
For results based on the sample of 2,669 female registered voters in the May 27-June 2 sample and 2,263 female registered voters in the June 5-9 sample, the maximum margins of sampling error are ±2 percentage points.
Interviews are conducted with respondents on land-line telephones (for respondents with a land-line telephone) and cellular phones (for respondents who are cell-phone only).
In addition to sampling error, question wording and practical difficulties in conducting surveys can introduce error or bias into the findings of public opinion polls.
To provide feedback or suggestions about how to improve Gallup.com, please e-mail feedback@gallup.com.