PRINCETON, NJ -- Barack Obama and John McCain are now about tied in Gallup Poll Daily tracking of voter preferences for the general election, nevertheless, in a June 9-12 Gallup Poll, Obama leads McCain 52% to 41% in public perceptions of who will win in November.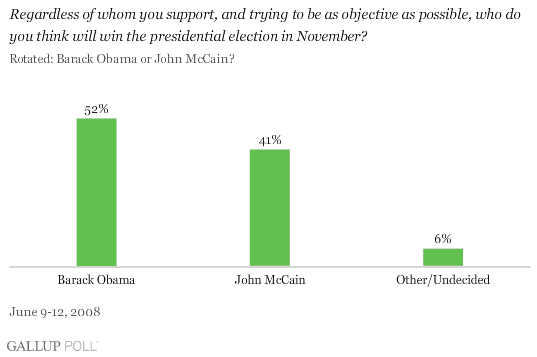 Democrats are slightly more confident that their presumptive nominee will prevail in November -- 76% say Obama will win -- than Republicans are about McCain's chances (67%). What tips the balance of national opinion more strongly in favor of Obama is that, by a nine-percentage point margin, independents join Democrats in believing Obama is likely to win.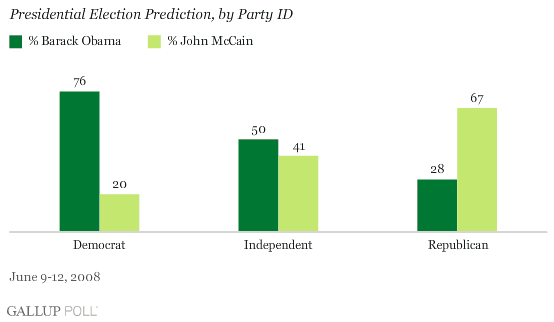 Gallup Poll Daily tracking of the presidential election over the same period as the June 9-12 Gallup Poll shows Obama beating McCain among registered voters in the East and West, while he roughly ties McCain in the Midwest and trails McCain by a substantial margin in the South. Nevertheless, roughly half of voters in all four regions believe Obama is the more likely of the two to win.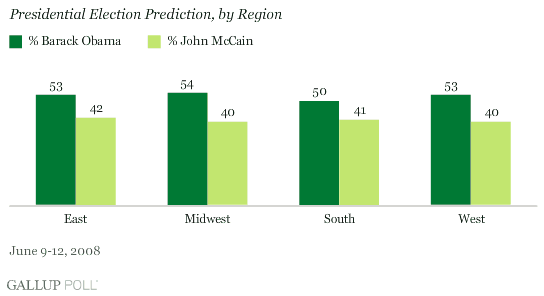 Similarly, perceptions of Obama's electability by age don't exactly line up with his presidential support patterns across the same groups. Gallup Poll Daily tracking spanning June 9-12 shows adults aged 18 to 34 to be his strongest support group, giving him a 24-point lead over McCain, compared with a virtual tie between Obama and McCain among those aged 35 to 54 and a six-point lead for McCain among those 55 and older.
While one might expect younger Americans to be the most idealistic about the chances of the first black nominee for either major party winning the presidency, they are in fact the least likely to believe he will win. Adults aged 18 to 34 are essentially divided between choosing Obama and McCain as the likely winner: 48% predict an Obama win vs. 45% for McCain. By contrast, the majority of Americans 55 and older say Obama will win.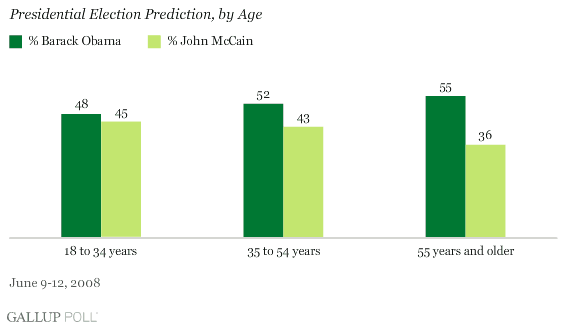 Gallup Poll Daily tracking shows women backing Obama over McCain, 50% to 38%, while men prefer McCain to Obama, 48% to 42%. Nevertheless, both genders are more likely to believe Obama rather than McCain will win the election.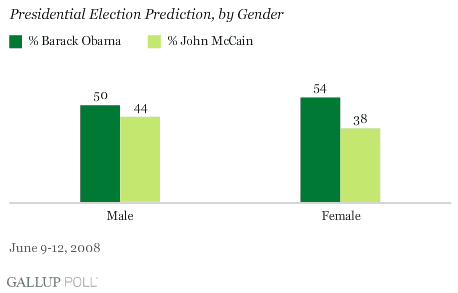 Bottom Line
They say perception becomes reality. At this early stage of the general election campaign, perceptions of who can win are working in Obama's favor, even among older generations of Americans and Southerners who are more likely to back McCain for the presidency.
Survey Methods
Results are based on telephone interviews with 822 national adults, aged 18 and older, conducted June 9-12, 2008. For results based on the total sample of national adults, one can say with 95% confidence that the maximum margin of sampling error is ±4 percentage points.
Gallup Poll Daily tracking results on the Obama-McCain race are based on telephone interviews with 2,536 registered voters interviewed June 9-10 and June 12, 2008.
Interviews are conducted with respondents on landline telephones (for respondents with a landline telephone) and cellular phones (for respondents who are cell phone only).
In addition to sampling error, question wording and practical difficulties in conducting surveys can introduce error or bias into the findings of public opinion polls.
To provide feedback or suggestions about how to improve Gallup.com, please e-mail
feedback@gallup.com
.