PRINCETON, NJ -- Barack Obama's lead over John McCain in the latest Gallup Poll Daily tracking update remains 46% to 42% for the second day in a row.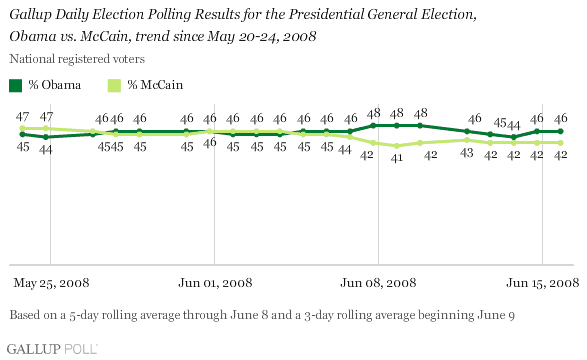 The latest release, based on June 14-16 interviewing with 2,605 registered voters nationwide, shows that Obama has retained his small, but statistically significant lead over McCain. Obama has held a lead ranging from two to seven percentage points since Hillary Clinton decided to abandon her presidential bid earlier this month. (To view the complete trend since March 7, 2008, click here.)
The presidential campaign may be entering a period of somnolence in these summer weeks prior to the late August and early September conventions in Denver and St. Paul. The candidates will be valiantly attempting to break into voters' consciousness by staging news events and announcements in the weeks ahead -- as was the case with the endorsement of Barack Obama by former vice president Al Gore in Michigan on Monday night -- but how much these types of events will affect voter preferences remains to be seen. There is discussion of the two candidates holding town hall type debates between now and the conventions, but nothing definite has been agreed upon at this point. Additionally, there will continue to be speculation and news reports about possible vice presidential running mates until both candidates make their preferences public, at which point the potential for voter preference perturbations will increase. -- Frank Newport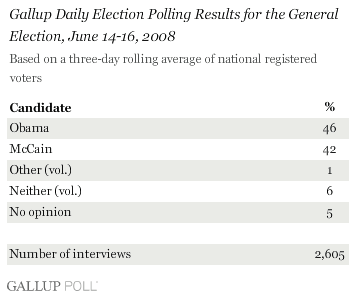 Survey Methods
For the Gallup Poll Daily tracking survey, Gallup is interviewing no fewer than 1,000 U.S. adults nationwide each day during 2008.
The general-election results are based on combined data from June 14-16, 2008. For results based on this sample of 2,605 registered voters, the maximum margin of sampling 5error is ±2 percentage points.
Interviews are conducted with respondents on land-line telephones (for respondents with a land-line telephone) and cellular phones (for respondents who are cell-phone only).
In addition to sampling error, question wording and practical difficulties in conducting surveys can introduce error or bias into the findings of public opinion polls.
To provide feedback or suggestions about how to improve Gallup.com, please e-mail feedback@gallup.com.