PRINCETON, NJ -- Gallup's annual update on confidence in institutions finds just 12% of Americans expressing confidence in Congress, the lowest of the 16 institutions tested this year, and the worst rating Gallup has measured for any institution in the 35-year history of this question.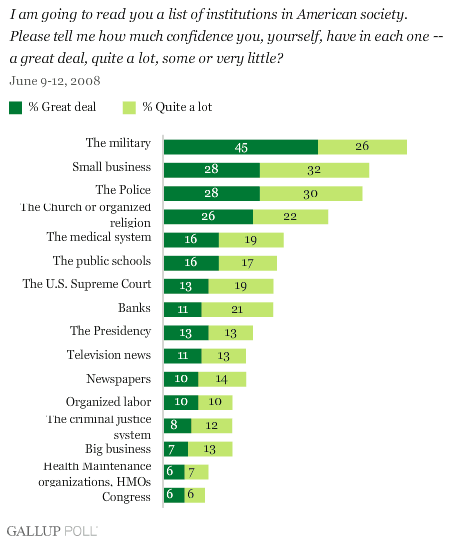 Gallup first asked about confidence in institutions in 1973, repeating the question biannually through 1983, and obtaining annual updates since then. This year's update comes from a June 9-12 Gallup Poll.
In the latest update, Congress ranks just below HMOs, for whom 13% of Americans express "a great deal" or "quite a lot" of confidence. Big business, the criminal justice system, organized labor, newspapers, television news, and the presidency all receive relatively low confidence ratings.
In contrast, Americans express the most confidence in the military, as they have each year since 1988 (with the exception of 1997, when small business edged it out). Small business ranks second in the current poll, just ahead of the police. These are the only three institutions that for whom a majority of Americans express a high degree of confidence.
From 1973 through 1985, organized religion was the top rated institution. Today, just 48% of Americans are confident in organized religion, one of its lowest ratings ever. The lowest score for religion to date was 45% in 2002 at the height of the Catholic Church's priest sex abuse scandal.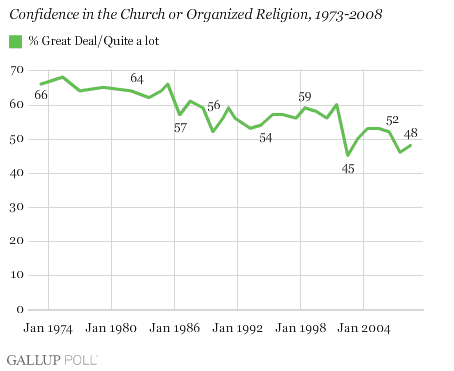 Crisis of Confidence?
Prior to this year's 12% confidence rating for Congress, HMOs had the registered the lowest historical score, of 13% in 2002. This rating does not include the 45% of Americans who now say they have "some" confidence in Congress; a nearly equal proportion -- 41% -- say they have "little" or "no" confidence in Congress.
Even though the Supreme Court (32% "great deal" or "quite a lot" of confidence) and presidency (26%) are rated more positively than Congress, all institutions are at or near their lowest ratings to date. The rating for the presidency is just one percentage point above its worst rating of 25% from 2007, while the Supreme Court's rating is its worst.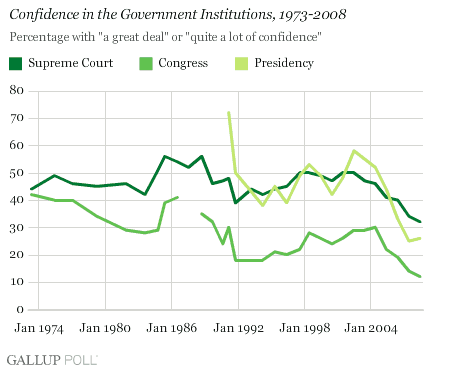 Government institutions are not alone in experiencing a decline in public confidence. While only one institution (banks) has seen a significant decline in confidence over the past year, all have dropped compared with 2004, the last presidential election year. The three government institutions and banks have had the greatest drops in confidence over that time, while the military and big business have seen the least change.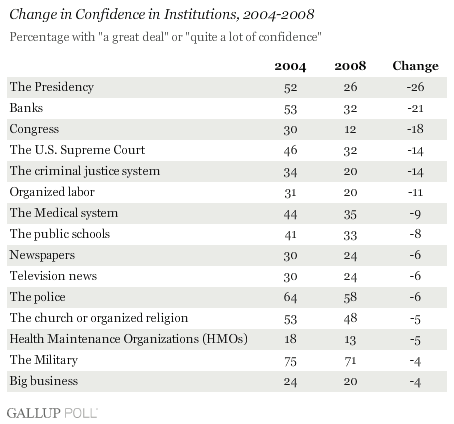 Long-term changes as above are usually more evident in these confidence measures than year-to-year changes. The current data are no exception -- there has been little change from the 2007 ratings, aside from a 9-point drop in confidence for banks (from 41% to 32%). Beyond that, the only other significant changes are modest increases in reported confidence for the police (58% up from 54%) and the medical system (35% up from 31%), but both cases mainly reflect a rebound to 2006 levels after experiencing declines in 2007.
Implications
The poor economy and lack of effective government action on important issues such as gas prices, the Iraq War, and immigration help contribute to the erosion of trust and confidence in government institutions. Earlier this week, Gallup reported historically low job approval ratings for the three branches of the federal government. These confidence in institutions ratings underscore the public's frustration and signal an electorate that may be hungry for change in Washington come the fall's elections.
Survey Methods
Results are based on telephone interviews with 822 national adults, aged 18 and older, conducted June 9-12, 2008. For results based on the total sample of national adults, one can say with 95% confidence that the maximum margin of sampling error is ±4 percentage points.
Interviews are conducted with respondents on land-line telephones (for respondents with a land-line telephone) and cellular phones (for respondents who are cell-phone only).
In addition to sampling error, question wording and practical difficulties in conducting surveys can introduce error or bias into the findings of public opinion polls.
To provide feedback or suggestions about how to improve Gallup.com, please e-mail feedback@gallup.com.