PRINCETON, NJ -- There is a significant political divide in beliefs about the origin of human beings, with 60% of Republicans saying humans were created in their present form by God 10,000 years ago, a belief shared by only 40% of independents and 38% of Democrats.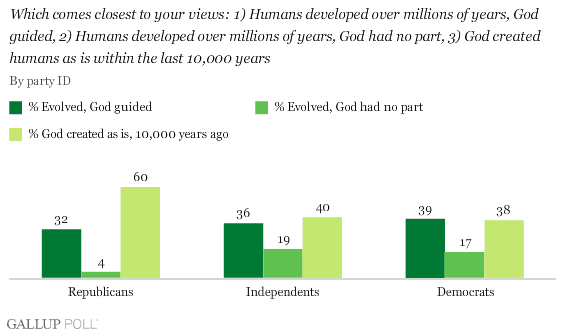 Gallup has been asking this three-part question about the origin of humans since 1982. Perhaps surprisingly to some, the results for the broad sample of adult Americans show very little change over the years.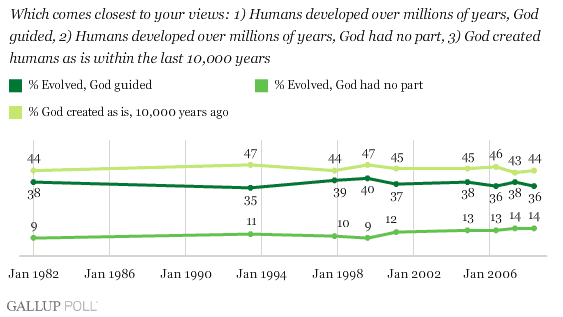 Between 43% and 47% of Americans have agreed during this 26-year time period with the creationist view that God created human beings pretty much in their present form at one time within the last 10,000 years or so. Between 35% and 40% have agreed with the alternative explanation that humans evolved, but with God guiding the process, while 9% to 14% have chosen a pure secularist evolution perspective that humans evolved with no guidance by God.
The significantly higher percentage of Republicans who select the creationist view reflects in part the strong relationship between religion and views on the origin of humans. Republicans are significantly more likely to attend church weekly than are others, and Americans who attend church weekly are highly likely to select the creationist alternative for the origin of humans.
Implications
Although it is not a front-burner issue (particularly in light of the economy and the price of gasoline) the issue of teaching evolution in schools came up on the campaign trail last year, and could resurface in one way or the other between now and the November election.
Presumptive Republican nominee John McCain is facing the challenge of gaining the confidence and enthusiasm of conservative Republicans. Turnout among this group could be an important factor in determining the final vote outcome in a number of key swing states. As seen here, Republicans are in general sympathetic to the creationist explanation of the origin of humans, and if the issue of what is taught in schools relating to evolution and creationism surfaces as a campaign issue, McCain's response could turn out to be quite important.
Survey Methods
Results are based on telephone interviews with 1,017 national adults, aged 18 and older, conducted May 8-11, 2008. For results based on the total sample of national adults, one can say with 95% confidence that the maximum margin of sampling error is ±3 percentage points.
Interviews are conducted with respondents on land-line telephones (for respondents with a land-line telephone) and cellular phones (for respondents who are cell-phone only).
In addition to sampling error, question wording and practical difficulties in conducting surveys can introduce error or bias into the findings of public opinion polls.
To provide feedback or suggestions about how to improve Gallup.com, please e-mail
feedback@gallup.com
.