PRINCETON, NJ -- In the June 15-19 USA Today/Gallup poll, Barack Obama leads John McCain among registered voters in a presidential preference test, 48% to 42%. The same poll finds Obama swamping McCain in Americans' perceptions of who has the better grasp of the problems Americans face, while McCain leads Obama by a slight margin as a "strong and decisive leader."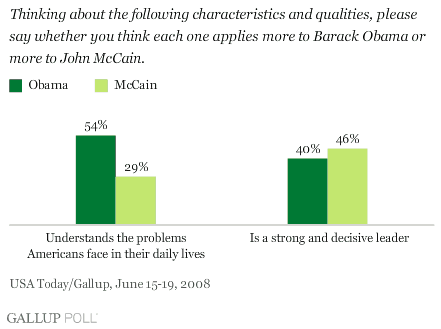 More generally, Obama is the more highly regarded of the two candidates on a number of positive personal and leadership characteristics, ranging from his empathy for average Americans, to his political independence, to his ability to solve the nation's problems. He leads McCain by a significant margin on 7 of 10 characteristics tested in the recent poll; he roughly ties McCain on two, and trails McCain on only one.
Empathy, Independence, and Effectiveness
The two dimensions on which Obama does best relative to McCain -- understanding the problems Americans face in their daily lives and caring about "the needs of people like you" -- both concern his perceived empathy for average Americans. He outscores McCain by more than 20 percentage points on both of these.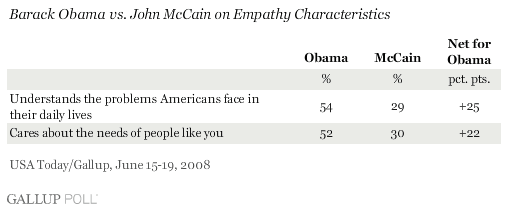 Obama also leads by double digits on two dimensions that tap Americans' perceptions of the candidates' political independence: being independent in his thoughts and actions, and standing up to special interests.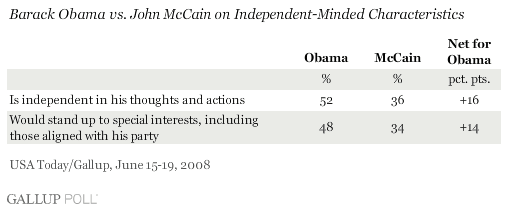 Obama performs well on two dimensions related to his effectiveness in achieving public policy objectives: working well with both parties to get things done, and having a clear plan for solving the country's problems (though on this latter dimension, a substantial 28% do not express a preference for either candidate).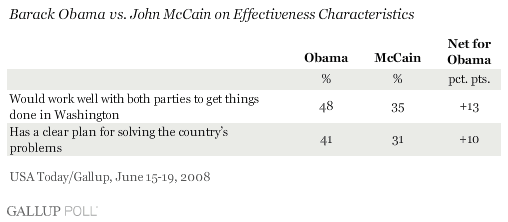 Obama and McCain are more closely matched when it comes to their personal ethics or values. Obama leads McCain, but only slightly, on the "shares your values" dimension, while the two are nearly tied in perceptions of who is more "honest and trustworthy." Again, many Americans do not see either candidate as superior on the honesty dimension -- something both candidates score well on when rated individually (see Gallup's earlier polling).

A Competent Chief Executive
McCain is slightly more likely than Obama to be credited as a "strong and decisive leader." He also ties Obama in perceptions of which candidate can better manage the government effectively.
While neither dimension is a strong advantage for McCain, his relatively good performance on them signals that Americans see him as someone who can lead people and government agencies. These are core responsibilities of the presidency, and ones on which he at least measures up to Obama.

Implications
Obama clearly wins Gallup's character ratings by volume; the question is whether he wins by a large enough margin on the dimensions that are most important to Americans when electing a president. Obama's six-point lead in the horse race in the same poll is an important summary indicator suggesting that he does.
Survey Methods
Results are based on telephone interviews with 1,625 national adults, aged 18 and older, conducted June 15-19, 2008. For results based on the total sample of national adults, one can say with 95% confidence that the maximum margin of sampling error is ±3 percentage points.
For results based on the 781 national adults in the Form A half sample and the 844 national adults in the Form B half sample, the maximum margins of error are ±4 percentage points.
Interviews are conducted with respondents on land-line telephones (for respondents with a land-line telephone) and cellular phones (for respondents who are cell-phone only).
In addition to sampling error, question wording and practical difficulties in conducting surveys can introduce error or bias into the findings of public opinion polls.
To provide feedback or suggestions about how to improve Gallup.com, please e-mail feedback@gallup.com.