PRINCETON, NJ -- Hispanic registered voters' support for Barack Obama for president remained consistent and strong in June, with Obama leading John McCain by 59% to 29% among this group.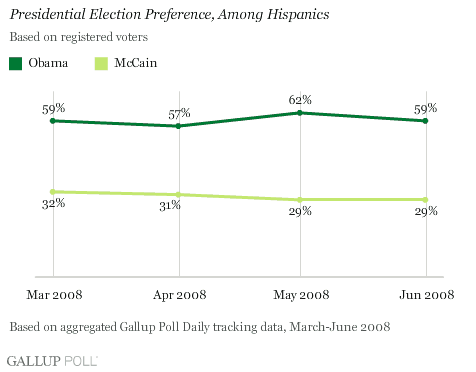 While Hispanics generally preferred Hillary Clinton to Obama for the Democratic presidential nomination, a solid majority of Hispanics have consistently backed Obama against McCain in general-election trial heats. Obama has led McCain by about a 2-to-1 margin since Gallup began tracking general-election voting preferences in early March.
Gallup has interviewed more than 4,000 Hispanic registered voters during this time period. An analysis of candidate support by subgroup within the U.S. Hispanic electorate reveals that many of the well-established divisions in this year's campaign -- such as the gender gap and the marriage gap -- are weak or nonexistent among Hispanic voters.
Rather, Hispanics of differing demographic backgrounds all tend to solidly support Obama. It thus appears that there isn't much beyond a shared Hispanic ethnicity or identity that explains Hispanic voting patterns.
Perhaps the only exceptions to this general pattern come among the minority of Hispanic voters who identify themselves as Republicans (18%) or who say they have conservative political views (36%). McCain leads Obama among Hispanic Republicans, and is about even with him among Hispanic conservatives.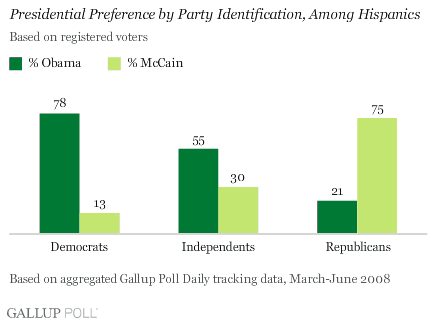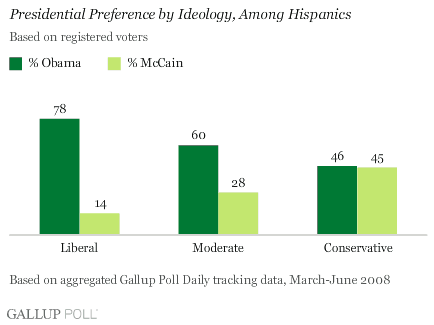 In an election pitting one of the younger recent presidential candidates against one of the older ones, candidate preferences by age group have varied. Differences in the Hispanic vote by age, however, are fairly small. While younger Hispanic voters show greater support for Obama than for McCain, support for McCain increases only slightly among older Hispanics.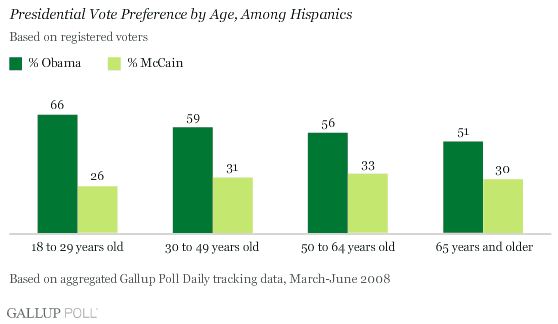 The accompanying table shows how McCain and Obama compare within various subgroups of Hispanics.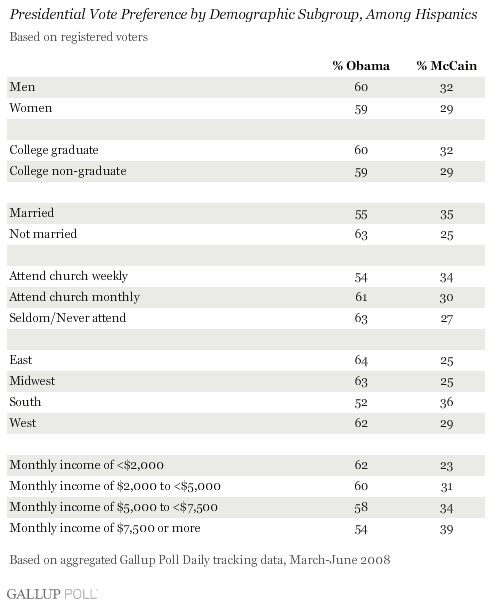 Implications
Some political experts assumed Obama's struggle to attract widespread Hispanic support in the primaries would carry over into the general-election campaign against the Republican candidate. But Hispanics have become a reliable Democratic voting bloc, and have so far shown little difficulty in transferring their loyalties from Clinton to Obama. Obama continues to lead McCain by about a 2-to-1 margin among Hispanic voters, as he has since March. Hispanic voters could be crucial in key swing states such as New Mexico, Colorado, and Florida.
While George W. Bush made a strong push for the Hispanic vote in the 2000 and 2004 elections, McCain faces an uphill climb to attract Hispanics' support, given their consistent and solid support for Obama in recent months.
Survey Methods
Results are based on telephone interviews with 4,604 Hispanic registered voters, aged 18 and older, conducted March 7-June 30, 2008, as part of Gallup Poll Daily tracking. For results based on the total sample of national adults, one can say with 95% confidence that the maximum margin of sampling error is ±2 percentage points.
For the sample of 1,123 Hispanic registered voters interviewed in June 2008, the maximum margin of sampling error is ±3 percentage points.
Interviews are conducted with respondents on land-line telephones (for respondents with a land-line telephone) and cellular phones (for respondents who are cell-phone only).
In addition to sampling error, question wording and practical difficulties in conducting surveys can introduce error or bias into the findings of public opinion polls.
To provide feedback or suggestions about how to improve Gallup.com, please e-mail feedback@gallup.com.