PRINCETON, NJ -- The nation's registered voters remain closely divided in their presidential preferences, with 46% of those interviewed in Gallup Poll Daily tracking from July 5-7 saying they will vote for Democrat Barack Obama and 44% favoring Republican John McCain.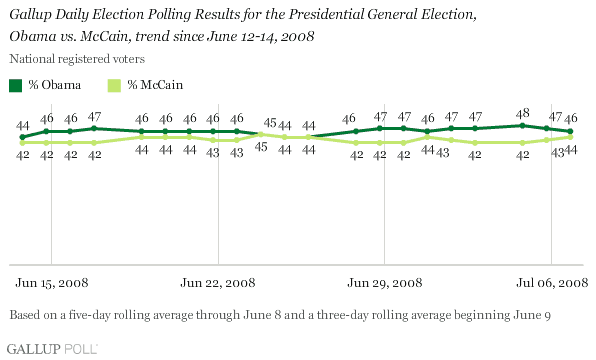 Obama's lead has been as great as seven percentage points over the past month, but has averaged only three points thus far in July, identical to his average lead for the month of June. (To view the complete trend since March 7, 2008, click here.)
The fact that Obama has consistently held an advantage over McCain among registered voters in Gallup Poll Daily tracking since early June suggests that he could very well win the election were it held today (depending on voter turnout patterns). The important question, however, and one addressed in detail Monday on Gallup.com, is whether his consistently narrow lead at this point in mid-summer bodes well for him in November.
In essence, the Gallup analysis finds that races that appear closely contested at the start of the summer tend to stay close for the duration of the campaign, up to and including Election Day. This describes the 2004, 2000, 1980, and 1960 elections.
The exceptions to this are years when, after being closely matched in early to mid-July, one of the candidates jumps into the lead following his party's national convention over the summer. In these cases -- including Bill Clinton in 1992, George H.W. Bush in 1988, and Richard Nixon in 1968 -- the candidate getting the big boost out of his convention ultimately won. -- Lydia Saad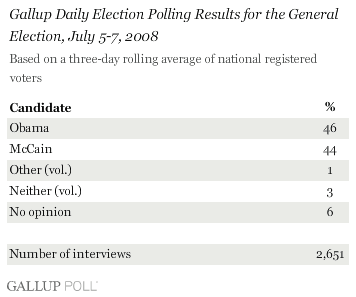 Survey Methods
For the Gallup Poll Daily tracking survey, Gallup is interviewing no fewer than 1,000 U.S. adults nationwide each day during 2008.
The general-election results are based on combined data from July 5-7, 2008. For results based on this sample of 2,651 registered voters, the maximum margin of sampling error is ±2 percentage points.
Interviews are conducted with respondents on land-line telephones (for respondents with a land-line telephone) and cellular phones (for respondents who are cell-phone only).
In addition to sampling error, question wording and practical difficulties in conducting surveys can introduce error or bias into the findings of public opinion polls.
To provide feedback or suggestions about how to improve Gallup.com, please e-mail feedback@gallup.com.