PRINCETON, NJ -- The latest Gallup Poll Daily tracking update shows Barack Obama maintaining a slight advantage over John McCain, with 47% of registered voters saying they would vote for Obama and 43% for John McCain if the presidential election were held today.
McCain's percentage of the vote has been remarkably steady of late, varying only two percentage points, between 42% and 44%, for over two weeks. In fact, McCain has received precisely 43% of the vote in each of the last four Gallup tracking reports. Obama's percentage of the vote has varied slightly more, but has generally been at 46%, 47%, or 48% for weeks. A focus on the "gap" between the two candidates can overemphasize change, but even the more volatile trend in the margin doesn't reflect much change in the nature of the race. This lack of change has occurred in an environment replete with a vast amount of news coverage on the candidates, their campaigns, and their statements, coupled with the fact that both candidates are very actively campaigning through these "dog days" of summer -- and the fact that the candidates are saturating the air waves with commercials in key swing states. The bottom line: at this point, the presidential race appears to remain quite competitive. (To view the complete trend since March 7, 2008, click here.) -- Frank Newport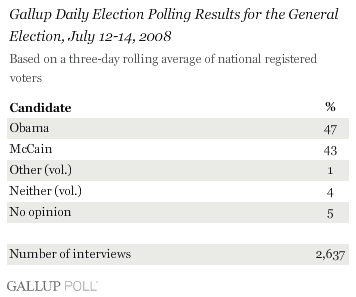 Survey Methods
For the Gallup Poll Daily tracking survey, Gallup is interviewing no fewer than 1,000 U.S. adults nationwide each day during 2008.
The general-election results are based on combined data from July 12-14, 2008. For results based on this sample of 2,637 registered voters, the maximum margin of sampling error is ±2 percentage points.
Interviews are conducted with respondents on land-line telephones (for respondents with a land-line telephone) and cellular phones (for respondents who are cell-phone only).
In addition to sampling error, question wording and practical difficulties in conducting surveys can introduce error or bias into the findings of public opinion polls.
To provide feedback or suggestions about how to improve Gallup.com, please e-mail feedback@gallup.com.