PRINCETON, NJ -- Congress' job approval rating has dropped five percentage points over the past month, from 19% in June to 14% in July, making the current reading the lowest congressional job approval rating in the 34-year Gallup Poll history of asking the question. The previous low was 18%, last reached in May.
The 75% currently disapproving of Congress is just shy of the record-high 78% in March 1992.
These results, from a July 10-13 Gallup Poll, follow 18 months of dismal job approval ratings for Congress, during which approval has usually registered below 30%, and has averaged only 25%.
Still, the 14% approval rating is extraordinary. Approval of Congress has fallen below 20% only six times in the 34 years Gallup has measured it. Including the latest reading, four of those have come in the past year: in July, June, and May 2008, and in August 2007. The two additional readings were from March 1992 (in the midst of the House bank check-kiting scandal) and June 1979 (during an energy crisis that resulted in surging gas prices and long gas lines), when either 18% or 19% of Americans approved of the job Congress was doing.
The most recent decline comes almost exclusively from Democrats, whose approval of Congress fell from 23% in June to 11% in July, while independents' and Republicans' views of Congress did not change much. As a result, Republicans are now slightly more likely than Democrats to approve of the job the Democratic-controlled Congress is doing (19% vs. 11%).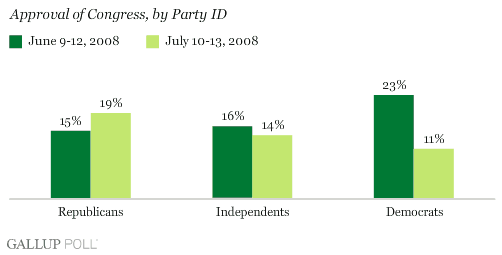 The 11% of Democrats now approving of Congress is slightly lower than Gallup found in 2006, toward the end of the Republican-led 109th Congress. Democratic approval of Congress initially surged after the Democratic takeover of the U.S. House and Senate, from 16% in December 2006 to 44% in February 2007, but by August 2007 it had fallen to 21%. Democrats' approval of Congress rebounded to 37% later that year, but has since been in a nearly continuous decline.
Republicans' approval of Congress dipped at the point of transition from Republican to Democratic control after the 2006 midterm elections, from 50% in November 2006 to 31% in February 2007 -- and has continued to trend downward except for a brief spike last fall after Gen. Petraeus' testimony before Congress.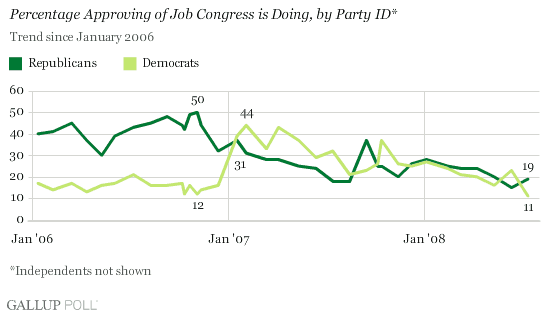 Bottom Line
Gallup's latest monthly update of public approval of Congress leads to several observations:
As economic conditions in the country are worsening, Congress is taking the brunt of it. Since the start of the year, public approval of Congress has fallen from 23% to 14%, while approval of President George W. Bush has been more stable: 32% approved of the job he was doing in early January versus 31% today, with a range of just 28% to 34%.

One reason for the growing congressional/Bush approval gap is that Bush benefits from a core group of Republicans nationally who continue to stick by him (67% of whom approve in the latest poll), and who, at this point, are likely to remain supportive of him through the close of his term. This contrasts with the paltry 11% of Democrats who currently approve of the job Congress is doing. By its nature, Congress may simply be less able to engender this kind of political loyalty -- it typically trails the sitting president in approval -- and thus, the current Democratic Congress lacks a reliable pool of Democratic support to keep its approval ratings afloat.

Finally, 2008 now looks an awful lot like 1979, and for some of the same reasons: mounting inflation, record-high gas prices, and a looming recession. Public approval of President Jimmy Carter in mid-July 1979 was 29%, very similar to Bush's current 31%. And approval of Congress was also comparable: 19% in June 1979 vs. 14% today.
Survey Methods
Results are based on telephone interviews with 1,016 national adults, aged 18 and older, conducted July 10-13, 2008. For results based on the total sample of national adults, one can say with 95% confidence that the maximum margin of sampling error is ±3 percentage points.
Interviews are conducted with respondents on land-line telephones (for respondents with a land-line telephone) and cellular phones (for respondents who are cell-phone only).
In addition to sampling error, question wording and practical difficulties in conducting surveys can introduce error or bias into the findings of public opinion polls.
To provide feedback or suggestions about how to improve Gallup.com, please e-mail feedback@gallup.com.