PRINCETON, NJ -- Barack Obama has expanded his lead over John McCain in the Tuesday through Thursday Gallup Poll Daily tracking rolling average, and now has a 47% to 41% advantage over his Republican challenger.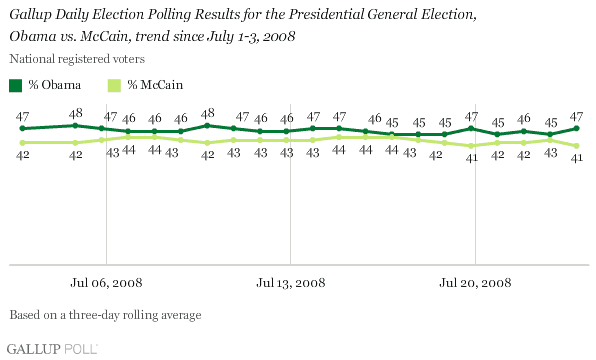 Obama's current lead matches his lead in the Gallup Poll Daily tracking rolling average for July 18-20, Friday through Sunday of last week. A six percentage point lead for Obama, also measured at several other points in July and June, is the highest he has enjoyed since he had a 7-point advantage over McCain in early June (which, in turn, was Obama's largest lead of the campaign).
The key question at this particular point in the campaign concerns the impact, if any, of this unusual week during which Obama conducted his highly-publicized world tour while McCain attempted to grab back part of the media spotlight by conducting domestic events and taking the opportunity to make critical comments about his presumed Democratic opponent.
European residents certainly evince a strong sentiment in favor of Obama winning the U.S. presidency -- much higher than the pro-Obama sentiment here at home. Gallup polling shows that residents of Germany, France, and the United Kingdom by very large margins would rather see Obama win instead of McCain. Residents of the U.S. have been favoring Obama by just about three points. The key is the degree to which the sentiments of European residents might "rub off" on U.S. voters as they have the opportunity to absorb news coverage of Obama's trip.
In a broad sense, there are several ways that Obama's European trip could affect U.S. voters:
1. Obama's trip could end up being the basis for a shift in voter preferences to the point where he pulls into a sustained lead over McCain. This could occur on a delayed basis. It's even possible that Obama's trip, while not having an immediate effect on tracking numbers, could lay the mental groundwork in the minds of voters to the point where they are more open to an Obama presidency at some point in the future (such as the Democratic convention). In particular, this might occur if his trip removes doubts voters might have about his ability to handle international affairs.
2. Voters could simply not pay much attention to the trip, and its net impact could end up being very minor. The data so far this summer have shown little significant movement in voter numbers, suggesting that voters may, to some degree, be tuning out the election coverage regardless of the candidates' efforts to stimulate interest.
3. Voters could pay attention to Obama's trip, but decide that the trip, per se, did not demonstrate anything that would cause a fundamental shift in their voting preferences. While the news media have made a great deal out of the trip, it's conceivable that it may not appear to be significant to the majority of voters.
4. Voters could pay attention to the trip, but shift support away from Obama if they viewed the trip or the way in which Obama conducted himself in a more negative light. Conservative commentators -- and of course the McCain campaign itself -- have certainly been arguing that there are negatives associated with the trip, including a speculation of presumptiveness that a presidential nominee would make a speech more appropriate for an actual president, the criticism that the content of his speeches did not contain anything new, or that the real issues facing the voters are domestic, not international.
The evidence is certainly mixed at this point as to which of these scenarios may end up being closest to reality. Obama's 6-point lead over the past weekend initially suggested that he was perhaps on the cusp of a jump in support as a result of (or at the least coincident with) his trip. But that lead was not sustained, and the Gallup averages reported in the middle of this week have been in and around the average 3-point advantage Obama has maintained for the last month and a half.
Now, on the basis of a strong showing in Thursday night's Gallup interviewing, Obama is back to a 6-point margin over McCain. On Thursday Obama made his highly-anticipated speech to a crowd estimated to be larger than 200,000 in Berlin, Germany, and it is not implausible that it might have affected enough voters to move his overall advantage in the horse race tracking a few points. The drop off in Obama's support earlier this week, however, suggests caution in assuming that the trip will have any lasting impact on the structure of the race.
This means that the jury is still out until the tracking results through the weekend and into next week are monitored carefully. To signify a real difference in the support patterns of voters in the U.S., the data would either need to show a sustained 6-point plus lead for Obama over a number of days, or conversely, a sustained pattern by which John McCain moves into the lead (something he has not done since early June) and sustains that lead.
Previous election year polling shows that the conventions have a high (but not 100%) probability of shaking up the race. The impact of events prior to the conventions is certainly more difficult to pin down. As noted, the structure of the race this year appears to have snapped into place in early June after Hillary Clinton dropped out of the race for the Democratic Party's nomination, and it simply has not changed much since. Whether or not it will change at this juncture remains to be seen. (To view the complete trend since March 7, 2008, click here.) -- Frank Newport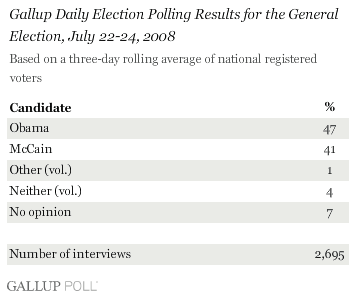 Survey Methods
For the Gallup Poll Daily tracking survey, Gallup is interviewing no fewer than 1,000 U.S. adults nationwide each day during 2008.
The general-election results are based on combined data from July 22-24, 2008. For results based on this sample of 2,695 registered voters, the maximum margin of sampling error is ±2 percentage points.
Interviews are conducted with respondents on land-line telephones (for respondents with a land-line telephone) and cellular phones (for respondents who are cell-phone only).
In addition to sampling error, question wording and practical difficulties in conducting surveys can introduce error or bias into the findings of public opinion polls.
To provide feedback or suggestions about how to improve Gallup.com, please e-mail feedback@gallup.com.